Magento Development Company
Develop Excellent eCommerce With Magento From Hyperlink InfoSystem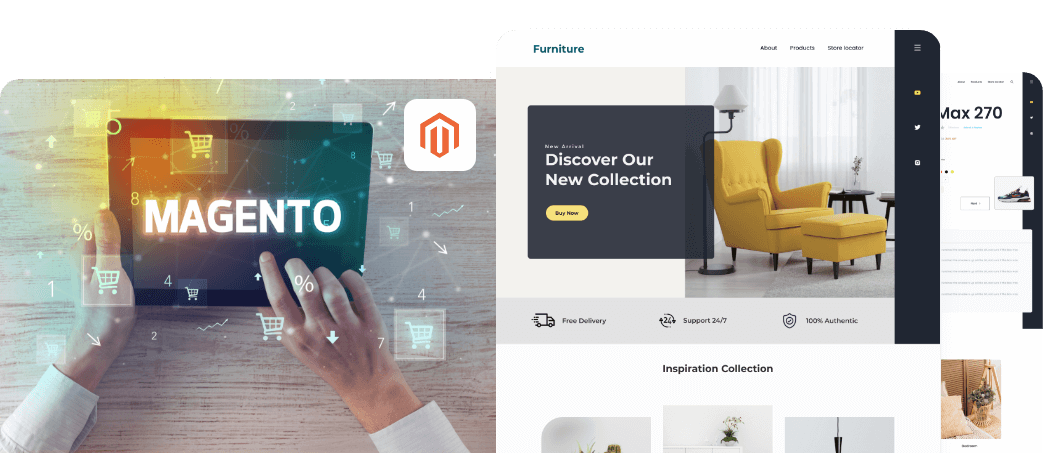 Having an e-commerce is a great opportunity that you should not overlook. And, offering your products and services through an online store allows you, among many other things, to have a global reach and to offer the service at any time.
However, if you decide to create e-commerce, you must analyze the e-commerce platform that best suits your needs.
Why Use Magento As An Ecommerce Platform
Magento is an e-commerce platform that makes a large number of functionalities available to the user, thanks to the fact that it is an open-source solution. Magento is a flexible and scalable platform. It is highly customizable to the needs of the user. Hyperlink InfoSystem as an expert in Magento development can help our clients with e-commerce websites developed using Magento.
Advantages of Using Magento as a CMS For Ecommerce
Below are some of the benefits that you stand to gain when you use Magento for the development of your e-commerce website:
Free Platform
It is an open-source solution that offers wide possibilities and is completely free. You will not have to pay for the updates that are on the sales platform or for the plugins. However, it also has modules and functionalities that are paid.
Popularity
Magento is one of the sales platforms that large companies choose. Its premium options for e-commerce are spectacular, and you can create something unique and complex in the market since the variety and options that Magento provides are incredible.
Security
Unlike other e-commerce platforms, the data security standard for the payment application used by Magento ensures that all the data of the cardholder from which the online payment is made are confidential. Therefore, Magento is a reliable sales platform, with compliance with security standards being one of its highest priorities.
Multi-showcase
This sales platform also allows you to have several online "shop windows" and manage them from the same back-end system. It is a really comfortable mode, especially for those companies that market several brands of products, having all the unified information and under the same manager.
Multiple Payment Options
Just as other e-commerce platforms have limited options for payment methods, quite the opposite happens with Magento. Apart from the typical ones such as PayPal or Virtual POS, this e-commerce platform goes a little further and gives the possibility of executing Google Checkout or placing an order through Amazon.
If you are still thinking about which e-commerce platform to choose to sell your products and services, without a doubt, Magento is a great option. Its flexibility, breadth of functionalities, level of customization, and complexity to develop your project without limits are just some of the benefits of using Magneto. If you are thinking of creating very powerful e-commerce, this CMS is the right one for your business. It has a lot of power and possibilities!
Contact Top Mobile App Development Company in Canada
The aspects of the mobile apps development are diverse. For the development, companies should turn to an experienced service provider such as Hyperlink InfoSystem. Hyperlink InfoSystem was established in 2011, and we have already successfully implemented numerous ideas and have extensive practical experience. Regardless of whether it is a native app for Android, iOS, or Windows, an asset management system, an individual CMS, or a special application to support internal processes - Hyperlink InfoSystem has so far been able to master every challenge to the satisfaction of its customers.
Here Are Some Of The Reasons Why You Should Contact Us:
Relying On Research
Our analysts conduct market and product research. We choose the best solutions and offer our own. We agree with the client, and then we develop the app. After the launch, we do not abandon the client, but rather, we continue to support the app.
We Create Quality Code
High-quality code can be maintained for a long time and painlessly. Hyperlink InfoSystem, have a framework that enables our clients to save on code support, implementation of new features, and adaptation to new technologies.
We Test All Scenarios
We have fans of their craft who will not be able to fall asleep if there is not enough pixel in the corner of one screen in the application. We kill all bugs, test all scenarios. Our QA department will give an answer to any question in the format: "What happens if ...". To do this, they write special guides and checklists.
Magento Features
What makes Magento so special? Well, it is actually a software that has characteristics similar to other e-commerce platforms, let's see what its main characteristics are:
Open source: that is, it follows the open-source philosophy, which allows access to source files for all who need it.
Free: it costs nothing. You can download and install it on your server or hosting plan without anyone charging you for it.
Multiplatform: it runs perfectly on Linux, Windows, and Unix servers, where PHP-MySQL is installed.
Multi-language: it offers hundreds of translations so you can have your virtual store in the mother tongue.
Thousands of Templates: gives you access to thousands of templates to customize the design of your store for free.
Free plugins: offers free plugins or modules to extend Magento's native functionalities.
Product Management: allows you to catalog, classify, register, cancel and modify products that you are going to offer in your online store
User Administration: allows you to manage the users who manage the administrative portal of the online store.
Customer management: it also offers the possibility of managing customers, their data, and purchases.
Payment configuration: you can configure your payment methods online (PayPal, Credit Card) and offline (Bank transfer, etc.) according to your convenience.
Shipment tracking: there are many modules that allow you to track the shipment to see its status after purchase.
Stock control: ideal to know how many products are left and have your customers notified at all times.
Ratings: allows users to rate the purchase, the product, and leave comments.
Statistics and reports: include marketing tools to generate reports of purchases, statistics, products, etc.
Discount Coupons: perfect for encouraging purchases by offering juicy discounts; it includes a system for you to easily configure them.
Currency management: allows you to sell in different types of currencies, as well as manage and apply taxes as you need.
Newsletters: configuration and sending of newsletters to keep your customers informed of all the promotions that exist.
Process We Follow
1. Requirement Gathering
We analyze the requirements with the clients to understand the functionalities to combined into the app. This process allows us to form a development plan and transform the client's thoughts into an efficient and functional app.
2. UI/UX Design
Our developers use efficient UI trends to design apps that are not only pleasant to the eye but also intuitiveness and flexible. Our applications do not only complete the needs of our clients but also are simple and convenient to the end-users.
3. Prototype
We develop a preliminary visualization of what the mobile app would look like. This helps to generate an idea of the appearance and feel of the app, and we examine the users' reactions to the UI and UX designs.
4. Development
Our team of experts in Native, Hybrid, and Cross-Platform app development, using languages such as Swift, Kotlin, PhoneGap, Ionic, Xamarin, and more to produce high-quality mobile apps for the various operating systems.
5. Quality Assurance
We have a team of developers who carefully test every app to ensure that they provide an excellent user experience and meet the requirements of our clients. Apps developed by our development team are bug-free because they perform through a series of experiments before deployment.
6. Deployment
We follow the best practices when deploying our apps on different app stores, where they can be easily noticeable to considered users.
7. Support & Maintenance
All digital solutions need development. The deployment of an app is not the ultimate stage. Even Post-deployment, we work with our clients to offer maintenance and support.
Process We Follow
1. Requirement Gathering
We follow the first and foremost priority of gathering requirements, resources, and information to begin our project.
2. UI/UX Design
We create catchy and charming designs with the latest tools of designing to make it a best user-friendly experience.
3. Prototype
After designing, you will get your prototype, which will be sent ahead for the development process for the product.
4. Development
Development of mobile application/ web/blockchain started using latest tools and technology with transparency.
5. Quality Assurance
Hyperlink values quality and provides 100% bug free application with no compromisation in it.
6. Deployment
After trial and following all processes, your app is ready to launch on the App store or Play Store.
7. Support & Maintenance
Our company offers you all support and the team is always ready to answer every query after deployment.
Latest Blogs
Explore the Latest Blogs on Trends and Technology.