Ecommerce Website Development
Top Ecommerce Website Development Company in Canada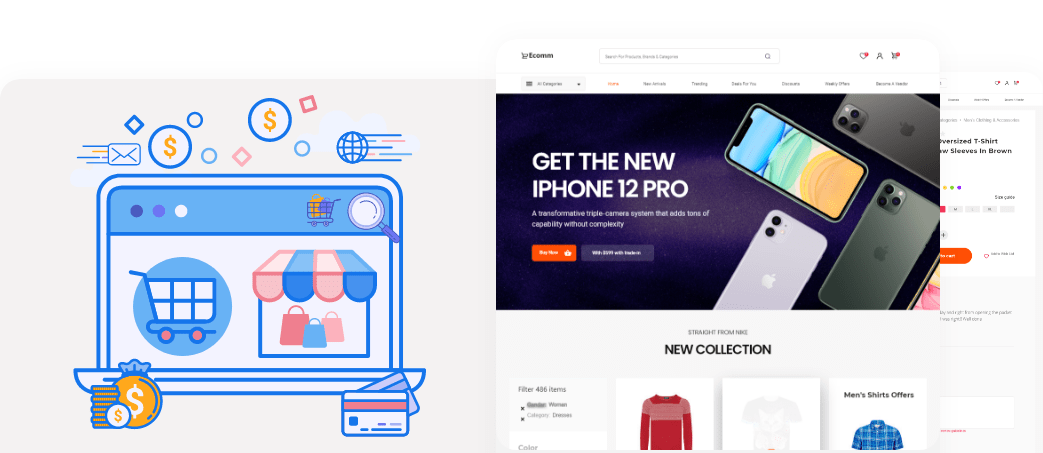 An e-commerce website is a website that allows you to sell directly either to end customers (B2C) or to other companies (B2B). An e-commerce or has all the features of a corporate website, plus an online product catalog website and plus the options of an online store.
There is a large number of e-commerce platforms on the market. A top e-commerce website development company like Hyperlink InfoSystem knows the best tool to develop an efficient e-commerce solution for you.
Objectives of Ecommerce Websites
As in a corporate website or in a product catalog, it is very important that you are clear about your objectives before starting the project for an online store. The main objective of an electronic commerce is to sell. The sale can be:
Sale to final customer also known as B2C.
Sales between companies, also called B2B.
Mixed sale, to end customer and companies.
For the customer to decide to buy in your store, they must take into account at least the following factors:
Company Information: Provide your company information, contact, and if possible include a phone number. The customer trusts more in a store that shows all their data than in those that do not display any clear contact.
Build Trust: Show your customer service policy, returns process, or trial period. The client must know their rights and have the peace of mind that they can exercise them without problems if the case arises.
Product Information: It should be clear and as extensive as possible. Bear in mind that the client almost always compares and although the price is important, we do not always buy from the cheapest place, but from the one that best advises us and offers us the greatest confidence.
Buying Must Be Easy And Fast: The purchase process must be as intuitive and easy as possible. The customer must always have the options of his online store visible. Pages must load quickly, waiting times greater than 4 or 5 seconds to load a page can cause the customer to decide to look elsewhere.
Update Your Products: We must update our products and offers on e-commerce the same way we do in a physical store. If a customer decides to re-enter after a few days and does not find anything new, it is possible that we will not attract as much attention as if they discover something new. And above all, do not show out-of-stock products or promotions that are not active, since you will be transmitting a feeling of neglect that will create distrust in the customer.
Your Target Audience: Be clear about who you are targeting and how you should communicate with your customers. An e-commerce aimed at a young audience is not the same as for older people. E-commerce between companies is not the same as one aimed at end customers.
Keep Your Customers Informed: It is almost always more difficult to get a new customer than to sell to a satisfied customer again. When you get a customer, make sure they are satisfied with their purchase and keep them informed about your promotions, offers, new products, etc. In addition to the web, using a mass email platform like mailnet for your email marketing campaigns can be of great help.
Attractive And Useful Graphic Design For Its Clients: An e-commerce must have a graphic design that is attractive to its clients but above all that is useful. Abusing certain aspects of web design can be counterproductive when it comes to facilitating the sale. Keep in mind that not everyone has a high resolution monitor, nor the same clarity of vision or ease of reading, avoid too small letters or combinations of colors that make it difficult to see.
Who Is Ecommerce Suitable For?
E-commerce on the Internet is full of success stories. Also, there are others that haven't achieved their goals. Ecommerce must have a business plan behind it, the same as any other activity that aims to sell products or services.
Setting up an e-commerce is a task that requires preparation, study, hours of dedication to create the website and constant work to promote your e-commerce, update content, attend to customers, etc.
That is why it is very important that before choosing the provider of your e-commerce, that is, the company that is going to provide you with the technology and technical support you need, you compare offers and ensure that they are a leading e-commerce website development agency. Hyperlink InfoSystem can help you make your online store a success.
Why Hire Us
Friendly And Knowledgeable Development Management Staff
It is important to bear in mind that the mobile applications that can have the most impact on the market are mobile applications developed by people who understand each other very well in such a way that the projects do not have problems or delays. They usually have a great connection and very good communication.
An Interdisciplinary Working Group
Many of the great mobile applications that have been developed to date have been the result of the integration of a group of leading experts in each of their categories. Keep in mind that a group of developers and programmers is not enough. It is also important to get the opinion of market researchers, marketers to evaluate the market experience, industrial engineers to help you determine the best processes, among others.
We Have Experience In Programming And Development Languages
We have a robust programming or custom software development team specialized in the development of mobile applications led by an important team of professionals who will be in charge of making your mobile application with a good rating in usability and user experience, in addition to being able to become a viral success.
Process We Follow
1. Requirement Gathering
We analyze the requirements with the clients to understand the functionalities to combined into the app. This process allows us to form a development plan and transform the client's thoughts into an efficient and functional app.
2. UI/UX Design
Our developers use efficient UI trends to design apps that are not only pleasant to the eye but also intuitiveness and flexible. Our applications do not only complete the needs of our clients but also are simple and convenient to the end-users.
3. Prototype
We develop a preliminary visualization of what the mobile app would look like. This helps to generate an idea of the appearance and feel of the app, and we examine the users' reactions to the UI and UX designs.
4. Development
Our team of experts in Native, Hybrid, and Cross-Platform app development, using languages such as Swift, Kotlin, PhoneGap, Ionic, Xamarin, and more to produce high-quality mobile apps for the various operating systems.
5. Quality Assurance
We have a team of developers who carefully test every app to ensure that they provide an excellent user experience and meet the requirements of our clients. Apps developed by our development team are bug-free because they perform through a series of experiments before deployment.
6. Deployment
We follow the best practices when deploying our apps on different app stores, where they can be easily noticeable to considered users.
7. Support & Maintenance
All digital solutions need development. The deployment of an app is not the ultimate stage. Even Post-deployment, we work with our clients to offer maintenance and support.
Process We Follow
1. Requirement Gathering
We follow the first and foremost priority of gathering requirements, resources, and information to begin our project.
2. UI/UX Design
We create catchy and charming designs with the latest tools of designing to make it a best user-friendly experience.
3. Prototype
After designing, you will get your prototype, which will be sent ahead for the development process for the product.
4. Development
Development of mobile application/ web/blockchain started using latest tools and technology with transparency.
5. Quality Assurance
Hyperlink values quality and provides 100% bug free application with no compromisation in it.
6. Deployment
After trial and following all processes, your app is ready to launch on the App store or Play Store.
7. Support & Maintenance
Our company offers you all support and the team is always ready to answer every query after deployment.
Latest Blogs
Explore the Latest Blogs on Trends and Technology.