Hire Drupal Developers in Canada
Develop Web Platforms With Drupal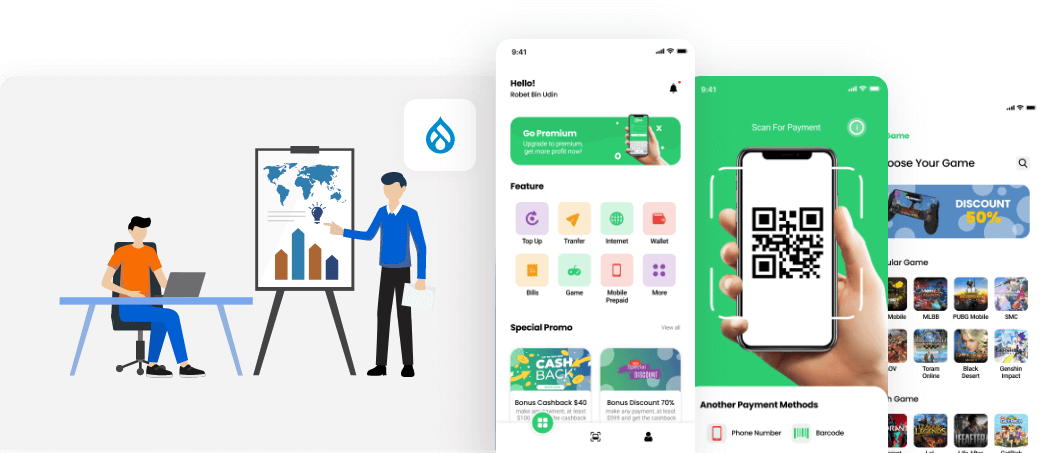 Drupal is considered the best CMS in the world. Indeed, this software is used by the largest companies wishing to create a modern, high-end and efficient site. This is as a result of the huge number of benefits that it offers.
Drupal is software that has been specially designed for expansion. In other words, users should add multiple modules, depending on its needs. It currently has thousands of modules. That said, whatever your expectations, there are many possibilities to create an attractive and relevant site.
Furthermore, Drupal is an open source site. You can therefore modify and change it easily and also freely. Drupal being a very popular software, is used by an infinite number of people in the four corners of the world. Thus, in case of concern or problem, it will be easier for you to find the solutions by just getting in touch with the users of this software.
Drupal is recognized as one of the most secure CMS. Indeed, the reviews left by the users allow the experts to modify the software according to their needs. And of course, users are all required to update regularly.
Want to create websites with different languages, to be able to convey your products everywhere in the world? Drupal is surely the right CMS for you. Indeed, unlike other software, it offers translations so that your site is translated into several languages. Regarding the management of your sites, you can create subdomains or subfolders.
You can easily create an e-commerce site with Drupal based on your needs and expectations. It ensures that you can easily stand out from any other competition by using the different modules.
Over time, Drupal has become one of the most flexible open CMS solutions out there. It offers up-to-date digital solutions and is supported by active community members and experienced developer teams from around the world. Its popularity is supported by its flexibility, scalability, and high security. Drupal came with amazing features.
Why Hire Drupal Developers
There are tons of benefits and characteristics of Drupal that makes it an amazing technology for website development. To make use of this technology for your business, you need to contact an excellent Drupal development agency in Canada. With this technology, you can create different solutions such as a forum, web apps, and many more. Hyperlink InfoSystem developers are a leading Drupal developers in Canada. You can contact us and we are always available to assist you.
We have experience in programming and development languages. We have a robust programming or custom software development team specialized in the development of mobile applications led by an important team of marketing professionals who will be in charge of making your mobile application with a good rating in usability and user experience , in addition to being able to become a viral success.
Features of Drupal
Drupal is equipped with excellent features compared to other CMS. Some of which are:
The Great Flexibility
Extendable definitions of any content and their structuring make it possible to create very different applications, from company presentations to completely individual information systems.
Strongly Suited For Community Sites
Due to the sophisticated rights system and the various functions for communication between users, Drupal is ideally suited for sites with social interaction (Web 2.0). Gartner Inc., the world's most important market research company for information technology, has classified Drupal as visionary in its magic square for social software, along with just a few other information systems.
A particular strength are the particularly adaptable modeling options for user groups, authorizations and assigned content.
In addition to its own functionality, Drupal has excellent options for seamless integration of all common social network services, such as Facebook, Flickr, Twitter, YouTube.
Powerful CMS - Framework
The framework creates modules that are compatible with one another and enables flexible, individual extensions. Data, business logic and presentation level are neatly separated from one another. Individual extensions fit seamlessly into the overall system.
Multilingualism
Drupal makes it possible to provide all content and administration menus in multiple languages. The structure and links are retained, different automatic assignments of web addresses (URLs) to languages are possible - unlike other systems in which content has to be copied and practically the entire structure has to be maintained several times.
High Security
Drupal achieves a recognized high level of security. For example, Drupal is approved as a platform for government websites in the United States. Among other things, websites of governments and websites of large companies with high user traffic were created worldwide with Drupal.
Scalability
This is another advantage of using Drupal over WordPress. Currently, Drupal is compatible with the most active sites globally, such as Twitter, The Economist, or Weather. Its scalability allows it to be able to handle regular traffic spikes or a large volume of visitors.
Drupal offers plenty of configuration options and enables short response times even for very large websites. This is evidenced by implemented websites with more than a million pages and 20,000 requests per second.
Strong Developer Community
Drupal is supported by a uniquely active and large developer community that is second to none. This makes Drupal particularly innovative and powerful when it comes to new solutions and the support of standards. Drupal is free software, without any restrictions in use. There is no cost to purchase, use, or maintain the generally available software.
Latest Blogs
Explore the Latest Blogs on Trends and Technology.