Drupal Development Company
Enjoy Up-to-date Digital Solutions With Drupal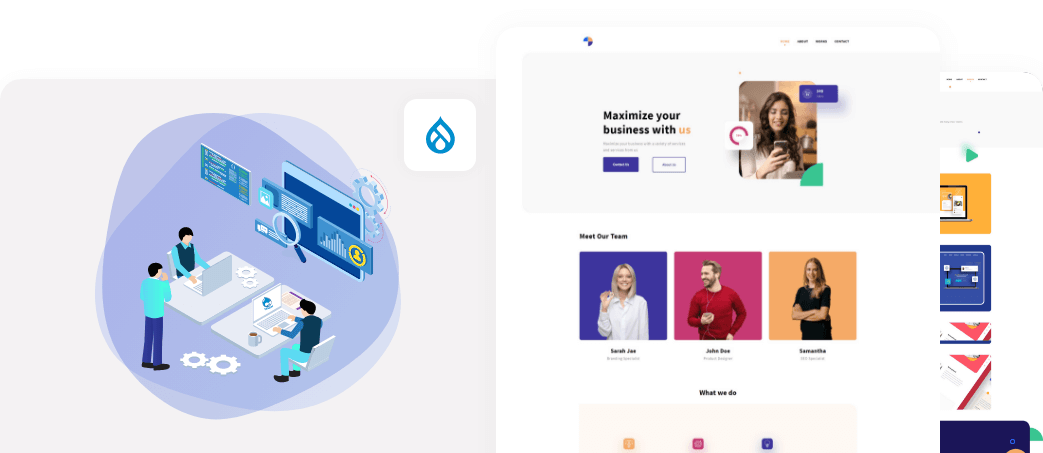 Over time, Drupal has become one of the most flexible open CMS solutions out there. It offers up-to-date digital solutions and is supported by active community members and experienced developer teams from around the world. Its popularity is supported by its flexibility, scalability, and high security. Drupal came with amazing features. If you are wondering whether to use Drupal for your website, consider the following features and benefits of Drupal 8 to see if it can become the ideal candidate:
Drupal Main Features
The main features of this content management system is to manage a website through a GUI (graphical user interface) are the following:
Customizable
It allows you to choose between different automated templates, in addition to being able to have several base themes to start our project.
Free
It is open source software under the GNU Public License, so it is totally free to download, use and customize. It does not involve any purchase, license or maintenance costs.
Offers Security
This CMS is subject to strict security testing so there is no need to fear for content or development once web development is done. Drupal has an excellent user management system with provisions for roles, so all its functions can be controlled by permissions.
Scalable
It currently supports the world's busiest sites, so Drupal is capable of handling regular traffic spikes or high volume of visitors.
Modular
It works with modules that the community has been developing and that are being added according to existing needs. Therefore, its possibilities in terms of functionality are limitless.
Integrates With Other Platforms
We can connect Drupal with other platforms such as Facebook, Twitter, Mailchimp, PayPal, and many more through various modules. Tables are generated for login, subscription, or choosing options for means of payment. Also, to promote your content on social networks. In this sense, you will find Drupal a more than valid option when connecting with other platforms and further enhancing its functionality.
Advanced Control Of Roles And Permissions
This is useful, especially if you need to limit tasks to certain types of users. In Drupal, roles and permissions are defined that facilitate the administration, editing, and publication of content for each person who will access the site. In this sense, we find great flexibility in user management and the tasks that each one can perform.
Multi-Language
From certain modules, we have great support and functionality to develop a site in several languages. Right from the beginning, you can define the installation language and then, during development, expand the contents to other languages. Our developers at Hyperlink InfoSystem in the UK can help you ensure that your site is excellently rendered in multiple languages.
SEO Friendly
Not only from how the code of the pages, tags, HTML architecture, etc. is generated, but also that it has modules to take care of the assembly of URLs, Metatags, integration with Analytics, assembly of Sitemap and others that are important to take care of the aspect of search engine optimization.
Variety Of Content Types
Different types of content can be created, each with its respective fields, giving autonomy at the time of development and later in administering the information.
Advantages of Using Drupal
Still don't know the reasons why you should use Drupal as a CMS for your website? Hyperlink InfoSystem can help obtain some of the benefits that Drupal offers so that you can manage the content of your page in a simple and useful way. The advantages of this content manager are:
Optimized Content: This CMS is already optimized for SEO. It includes tools for content reports, page titles, tools for the management and optimization of keywords, integration with Google Analytics or setting up a Sitemap, among others. In addition, the modules that it has allow to take care of the assembly of the URLs and Metatags, thus taking care of the aspect of search engine positioning at all times.
Integrable With Other Platforms: Through various modules, this content manager integrates with all media platforms (Facebook, Twitter, Paypal ) and supports a large number of file types. In this way, its functionality is further enhanced.
Multi-Language: It has the functionality to develop a site in several languages. To do this, only at the beginning of web development is the installation language defined and later the contents are expanded to other languages ??as development takes place.
It Can Be Reused to Create Landings or Other Content Pages: As all content is perfectly structured, it allows us to reuse it in different landings. We can even create our own lists in a very simple way whenever we want.
Flexible in Terms of Graphic Design: It allows you to make simple graphic edits of the template or landing without having to leave the editor. How? Drupal has a wide variety of templates that can be changed while the content continues to appear and work perfectly. In addition, in this CMS, you will find templates with Responsive Design allowing your website to be viewed correctly in the mobile version.
Remarkable User Management Capacity: You can edit the permissions of each user (from the control panel), create user groups and manage all access points.
Great Integration Capacity: You do not need the installation of extensions or modules to create any type of website. Like for example WordPress is initially oriented to blogs (although it can be adapted), Drupal can be adapted to do practically anything with it (store, blog, discussion forum ...)
Hyperlink Infosystem Is a Leading Drupal Development Agency in Canada
Based in Canada, Hyperlink Infosystem is a leading I.T. solutions provider that specializes in Drupal development. Our team is made of experienced developers who have undertaken tons of Drupal development projects. We combine our creativity, experience, and attention to detail to make your project a success. We follow the best methods in developing, delivering, and sustaining complex app solutions. The whole team is at your disposal to advise you and guide you as best as possible towards solutions adapted to your needs.
Process We Follow
1. Requirement Gathering
We analyze the requirements with the clients to understand the functionalities to combined into the app. This process allows us to form a development plan and transform the client's thoughts into an efficient and functional app.
2. UI/UX Design
Our developers use efficient UI trends to design apps that are not only pleasant to the eye but also intuitiveness and flexible. Our applications do not only complete the needs of our clients but also are simple and convenient to the end-users.
3. Prototype
We develop a preliminary visualization of what the mobile app would look like. This helps to generate an idea of the appearance and feel of the app, and we examine the users' reactions to the UI and UX designs.
4. Development
Our team of experts in Native, Hybrid, and Cross-Platform app development, using languages such as Swift, Kotlin, PhoneGap, Ionic, Xamarin, and more to produce high-quality mobile apps for the various operating systems.
5. Quality Assurance
We have a team of developers who carefully test every app to ensure that they provide an excellent user experience and meet the requirements of our clients. Apps developed by our development team are bug-free because they perform through a series of experiments before deployment.
6. Deployment
We follow the best practices when deploying our apps on different app stores, where they can be easily noticeable to considered users.
7. Support & Maintenance
All digital solutions need development. The deployment of an app is not the ultimate stage. Even Post-deployment, we work with our clients to offer maintenance and support.
Process We Follow
1. Requirement Gathering
We follow the first and foremost priority of gathering requirements, resources, and information to begin our project.
2. UI/UX Design
We create catchy and charming designs with the latest tools of designing to make it a best user-friendly experience.
3. Prototype
After designing, you will get your prototype, which will be sent ahead for the development process for the product.
4. Development
Development of mobile application/ web/blockchain started using latest tools and technology with transparency.
5. Quality Assurance
Hyperlink values quality and provides 100% bug free application with no compromisation in it.
6. Deployment
After trial and following all processes, your app is ready to launch on the App store or Play Store.
7. Support & Maintenance
Our company offers you all support and the team is always ready to answer every query after deployment.
Latest Blogs
Explore the Latest Blogs on Trends and Technology.