Hire iPad App Developers in Canada
Contact Top iPad App Development Company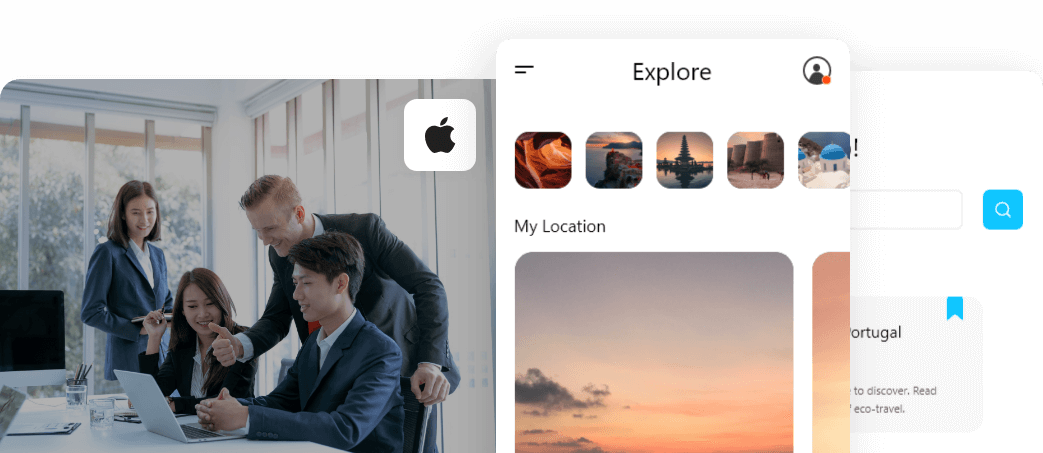 The emergence of smart phones and tablets has meant a before and after in the conception of software applications for the ordinary consumer. When we think about how the landscape of mobile devices has changed in recent years, it is inevitable to think of Apple. This company revolutionized the world of mobile device with the creation of iPad. The device is endowed with an essential feature that it lacked until then: an attractive and, above all, intuitive user interface. This feature ensured that in a short time, a large mass of users started using smartphones and tablets to the detriment of PC software.
We will advise you without obligation. Our passion at Hyperlink InfoSystem leads us day after day to continually update ourselves on the "tools of the trade", to explore new horizons. A momentum that allows us to provide each customer with a cutting-edge service in mobile app development. In this way, we can provide every business with the technology it deserves.
Hire iPad App Developers in Canada
Mobile devices have become an essential work tool, if not a promotional one. It allows us to use apps at any time that facilitate the most daily tasks. At present, when facing the development of an application, it is essential to think about its version for mobiles and tablets specially designed for iPad and iPhone systems, as they are the leading devices in their sector. For this purpose, it is essential to have a specialized iOS development company such as Hyperlink InfoSystem.
Developing iPad apps is a time-consuming process. A professional approach and a high level of responsibility are required from the developers. During the first meeting with the client, it is necessary to discuss how they see the final product and note all their wish regarding the app development. The development of applications for the iPhone, iPad, and iPod begins with defining the functional components. The navigation elements are also specified, the working platform is prescribed, and the terms of reference are drawn up.
Trust Hyperlink InfoSystem to create your multi-platform application. You will have our team of app designers and developers, who work hand in hand with you to get the best possible results, adapted to your needs and those of the market. Our services are comprehensive; we cover all the phases of developing a mobile application with efficiency, quality, and safety and in a responsible way. If you have an application project in your hands and you need a professional assessment, contact us.
Processes That We Follow
Analysis
Here our analysts take into account all your requirements for an app and the capabilities of mobile platforms. If a problem arises that prevents development, we will inform you about it and offer some alternatives.
Good planning is the essential factor of a successful app. Already in this phase, you can contact external agencies who will assist you with the planning with their know-how. If necessary, workshops lasting several hours can usually be booked, in which all the important factors of an app are worked out together, open questions are clarified, tips are given and solutions are found.
Design
The design team creates several models of what your mobile application might look like. At this stage, we try to convey information about your company to the future user of your mobile app through the visual content.
Development
This phase takes up most of our workflow. Here we use milestones to organize the development process using a minimum product approach.
Testing
This phase depends entirely on the type of your mobile app and its features. In the QA phase all functions contained in the technical requirements must be tested. With us, the test phase is carried out by developing QA managers (Quality Assurance Managers).
Verification
In this phase of mobile app development, we check that everything is up to your expectations. To do this, we use specifications in the requirements document and check whether it corresponds to the minimum product.
Completion
The final version is the stage of the mobile app development workflow. Here we sort all functionalities into groups and tell you what is included in each version. This is the best way to introduce you to all of the features you need. As a rule, the specialists at Hyperlink InfoSystem group tasks according to their technical nature (functionality or error) or according to their scope.
Even after the product is released, the team monitors user behavior and comments in the market. This is how we find out how we can improve the app for your company even more.
Latest Blogs
Explore the Latest Blogs on Trends and Technology.