iPhone App Development Company
Develop Feature-rich iPhone Applications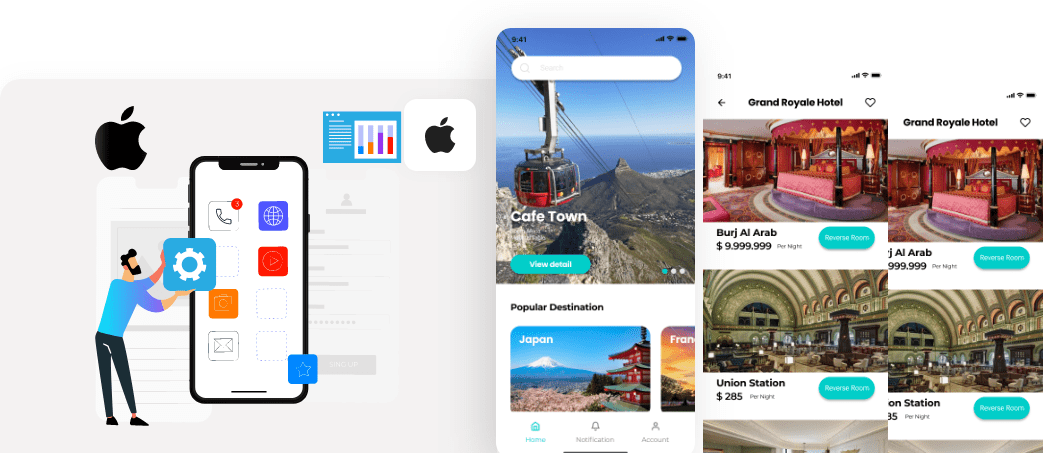 An iOS app is an application developed with a focus on the Apple mobile operating system, which is primarily designed for iPad and iPhone devices. All applications of this type are available from the Apple App Store.
Currently, relevant devices that run iOS are iPhone, iPad, and, somewhat behind, the iPod. Popular Apple devices such as the Apple Watch or Apple TV use watchOS or tvOS, for which iOS apps are available as extensions.
During development, it is therefore important to prioritize operation with the fingers as input means, since these are the most popular input method on the iPhone and iPad.
Importance Of Mobile Applications
Entrepreneurship is becoming increasingly competitive and demanding, depending on the degree of action taken to position yourself with a better scope and achieves expected and competitive results.
Mobile applications are increasingly necessary for business, giving the customer mobile usability and providing an excellent market and service experience.
It is essential to be aware of the action prototype you will implement, allowing you to relate to the development tactic to be achieved and the return on investment.
The main characteristic of mobile Apps is its simplicity of use, ease of installation, light programs, and specific functionalities.
Simultaneously, they provide the tools that designers and programmers use to develop apps, making it easy to produce the application and project it to the market on their own.
Features Of Our Apps
Functioning Without Internet Connectivity
Hyperlink InfoSystem can provide you with great native and hybrid mobile applications that can function without internet connectivity.
User Feedback
Integrating a feedback mechanism enables us to know how the users feel about the app. This helps us know the aspects to improve on and, most importantly, makes the application a success.
Cloud Computing
With this, a single application can be successfully linked with several others in the cloud if needed. This will only make your app more useful since it will have access to greater data and resources.
Payments Integration
We choose the best and safest and secure payment platforms to integrate into our mobile applications.
Social Media Integration
The amount of data that is generated on social media is massive. If your business wants to take advantage of this opportunity, we are best suited to provide it for you.
Highly Optimized
Our applications are well optimized to perform excellently on various iPhone devices by different manufacturers.
Simple Registration And Login
With our years of experience, we've come to realize that users are opposed to filling long forms. We create simple forms for registration and login.
Great User Interface
Creating stunning and highly intuitive user interfaces on the mobile app is a no brainer. This is one of the major determinants of the success of an application. All the successful applications have easy-to-use user interfaces.
Excellent User Experience
We ensure that users are satisfied with all our apps. That is why we are a leading iPhone app development in Canada.
Benefits Of iOS App
Ease Of Testing And Low Fragmentation
Since there is only one update every year and the range of devices using the iOS smaller compared to Android OS, it is easier to test how your app will perform on all iOS devices. The ease of testing makes it easier and faster to develop iOS apps.
Tech-Ready Audience
Most of the users of iOS are tech-savvy and are open-minded. This creates an opportunity for innovative businesses. Unlike Android devices with many manufacturers, all iPhones have a certain level of similarities in the way they function.
Exemplary User Experience
iOS applications have an excellent user experience. Apple has set the bar high, and most of the apps on the platform performs fairly.
Established Customer Base
Although Android has the biggest market share, iOS is also performing well. iOS users are even more willing to spend on apps compares to users of Android devices.
Which Technologies Are Used In Native iOS App Development?
Native iOS apps are developed using Swift, Objective C, or C ++ programming languages. Since these programming languages ??are also used by Apple itself, you can achieve the same performance as Apple'sApple's system apps in app development. After all, these compilers and frameworks are specifically tailored to Apple devices.
In addition, many (open source) frameworks are provided by the developer community. The functions shown in it, such as data management, analysis of user behavior, background downloads, connection to Microsoft Active Directory, or Bluetooth Smart Services, can, in many cases, be used free of charge in your project without having to write new code.
In addition, we rely on continuous integration, Git, code reviews, and unit tests for continuous monitoring of development progress and quality assurance.
What Options Does iOS Offer With Regard To The Accessibility Of Your App?
Basically, native iOS app development offers a multitude of options for the accessibility of your app. Taking accessibility into account during conception and design means that there is very little additional effort in development. In this way, depending on the use case, you can enable your app to be controlled with the screen completely switched off and only by voice. This also includes the offline use of apps. Especially in applications with unsteady or weak network connectivity, you should rely on so-called "offline first" strategies in app development.
Process We Follow
1. Requirement Gathering
We analyze the requirements with the clients to understand the functionalities to combined into the app. This process allows us to form a development plan and transform the client's thoughts into an efficient and functional app.
2. UI/UX Design
Our developers use efficient UI trends to design apps that are not only pleasant to the eye but also intuitiveness and flexible. Our applications do not only complete the needs of our clients but also are simple and convenient to the end-users.
3. Prototype
We develop a preliminary visualization of what the mobile app would look like. This helps to generate an idea of the appearance and feel of the app, and we examine the users' reactions to the UI and UX designs.
4. Development
Our team of experts in Native, Hybrid, and Cross-Platform app development, using languages such as Swift, Kotlin, PhoneGap, Ionic, Xamarin, and more to produce high-quality mobile apps for the various operating systems.
5. Quality Assurance
We have a team of developers who carefully test every app to ensure that they provide an excellent user experience and meet the requirements of our clients. Apps developed by our development team are bug-free because they perform through a series of experiments before deployment.
6. Deployment
We follow the best practices when deploying our apps on different app stores, where they can be easily noticeable to considered users.
7. Support & Maintenance
All digital solutions need development. The deployment of an app is not the ultimate stage. Even Post-deployment, we work with our clients to offer maintenance and support.
Process We Follow
1. Requirement Gathering
We follow the first and foremost priority of gathering requirements, resources, and information to begin our project.
2. UI/UX Design
We create catchy and charming designs with the latest tools of designing to make it a best user-friendly experience.
3. Prototype
After designing, you will get your prototype, which will be sent ahead for the development process for the product.
4. Development
Development of mobile application/ web/blockchain started using latest tools and technology with transparency.
5. Quality Assurance
Hyperlink values quality and provides 100% bug free application with no compromisation in it.
6. Deployment
After trial and following all processes, your app is ready to launch on the App store or Play Store.
7. Support & Maintenance
Our company offers you all support and the team is always ready to answer every query after deployment.
Latest Blogs
Explore the Latest Blogs on Trends and Technology.