VirtueMart Development Company
Top VirtueMart Developers In Canada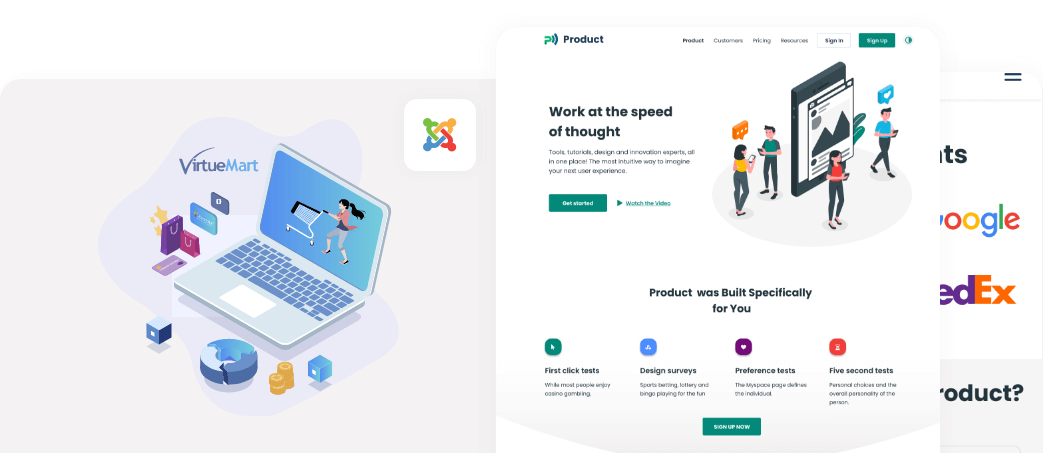 E-commerce is often a problem to implement. However, there are easier ways to the development of high quality e-commerce stores. If you are a person who follows this industry for your business, then VirtueMart e-commerce development should be one of your considerations. Based on Joomla, it takes full advantage of the CMS and gives you the opportunity to present the desired functions without worrying about the security, speed and simplicity that VirtueMart brings to your E-commerce solution.
Joomla Features
Joomla is equipped with excellent features compared to other CMS. Some of which are:
The Great Flexibility
Extendable definitions of any content and their structuring make it possible to create very different applications, from company presentations to completely individual information systems.
Strongly Suited For Community Sites
Due to the sophisticated rights system and the various functions for communication between users, Joomla is ideally suited for sites with social interaction (Web 2.0).
A particular strength are the particularly adaptable modeling options for user groups, authorizations and assigned content.
In addition to its own functionality, Joomla has excellent options for seamless integration of all common social network services.
Powerful CMS - Framework
The framework creates modules that are compatible with one another and enables flexible, individual extensions. Data, business logic and presentation level are neatly separated from one another. Individual extensions fit seamlessly into the overall system.
Multilingualism
Joomla makes it possible to provide all content and administration menus in multiple languages. The structure and links are retained, different automatic assignments of web addresses (URLs) to languages are possible - unlike other systems in which content has to be copied and practically the entire structure has to be maintained several times.
High security
Joomla achieves a recognized high level of security. For example, Joomla is approved as a platform for government websites. Among other things, websites of governments and websites of large companies with high user traffic were created worldwide with Joomla.
Scalability
This is another advantage of using Joomla over WordPress. Currently, Joomla is compatible with the most active sites globally, such as Twitter, The Economist, or Weather. Its scalability allows it to be able to handle regular traffic spikes or a large volume of visitors. Joomla offers plenty of configuration options and enables short response times even for very large websites.
Strong Developer Community
Joomla is supported by a uniquely active and large developer community that is second to none. This makes Joomla particularly innovative and powerful when it comes to new solutions and the support of standards. Joomla is free software, without any restrictions in use. There is no cost to purchase, use, or maintain the generally available software.
Features of VirtueMart Development
Robust, agile, simple
Advantage of adding an unlimited number of products to more than one category
Supports B2B and B2C e-commerce requirements
Payment options are secure and easy to use
Efficiently manages stocks and multiple currencies
Understands many languages ??and accommodating tax calculations
Manages sales reports including number of sales and revenue
Can also function as a simple catalog without showing prices
Web administration uses a powerful javascript module
Comprehensive control panel listing new customers, recent orders and statistics
A reliable framework for shopping and doing business
Virtuemart Is a Solid And Robust Alternative For Your Online Store
Designed with the experience of more than 10 years, Virtuemart is fully compatible with Joomla. It has a very active community that provides fantastic extensions and extra plugins to provide more functionalities to the online store.
Virtuemart offers you a powerful product manager, being able to easily register items from your online store. It allows you to configure different prices and discounts by product and by type of buyers, so you can offer special prices to groups of buyers such as distributors, VIP clients, etc.
You can manage inventory or sell products out of stock or downloadable products. In addition, you can create different types of custom fields, such as sizes and colors, or design composite products for packs. You can also know the amount of your sales by status at all times, thanks to its sales report.
It has a discount coupon manager and the shipping and payment methods are fully configurable, being able to implement any payment system such as PayPal and bank transfer.
Furthermore, Virtuemart integrates very well with other highly recommended extensions. An example is the case of AcyMailing, a powerful Newsletter delivery manager. With it, you can inform your customers through email marketing of your products and news and send them a discount coupon to use on their next purchase.
Don't forget about positioning. Virtuemart will help you with this. The ultimate goal of any online store is for users to convert. For the number of monthly conversions to be attractive and profitable, you will have to implement actions and strategies to get high user traffic to the site.
In this sense, Virtuemart will help you, since it has a good base to work on organic search engine positioning (SEO). In addition to SEO, it is very important that you carry out other actions that complement your online store, such as having a Blog to be able to more easily position the keywords fundamental to your business, carry out advertising campaigns such as Google Adwords, have a presence in those social networks where your target audience is and conduct email marketing, among others.
Hyperlink Infosystem Is a Leading VirtueMart Development Agency In Canada
Based in Canada, Hyperlink Infosystem is a leading I.T. solutions provider that specializes in VirtueMart development. Our team is made of experienced developers who have undertaken tons of VirtueMart development projects. We combine our creativity, experience, and attention to detail to make your project a success. We follow the best methods in developing, delivering, and sustaining complex app solutions. The whole team is at your disposal to advise you and guide you as best as possible towards solutions adapted to your needs.
Process We Follow
1. Requirement Gathering
We analyze the requirements with the clients to understand the functionalities to combined into the app. This process allows us to form a development plan and transform the client's thoughts into an efficient and functional app.
2. UI/UX Design
Our developers use efficient UI trends to design apps that are not only pleasant to the eye but also intuitiveness and flexible. Our applications do not only complete the needs of our clients but also are simple and convenient to the end-users.
3. Prototype
We develop a preliminary visualization of what the mobile app would look like. This helps to generate an idea of the appearance and feel of the app, and we examine the users' reactions to the UI and UX designs.
4. Development
Our team of experts in Native, Hybrid, and Cross-Platform app development, using languages such as Swift, Kotlin, PhoneGap, Ionic, Xamarin, and more to produce high-quality mobile apps for the various operating systems.
5. Quality Assurance
We have a team of developers who carefully test every app to ensure that they provide an excellent user experience and meet the requirements of our clients. Apps developed by our development team are bug-free because they perform through a series of experiments before deployment.
6. Deployment
We follow the best practices when deploying our apps on different app stores, where they can be easily noticeable to considered users.
7. Support & Maintenance
All digital solutions need development. The deployment of an app is not the ultimate stage. Even Post-deployment, we work with our clients to offer maintenance and support.
Process We Follow
1. Requirement Gathering
We follow the first and foremost priority of gathering requirements, resources, and information to begin our project.
2. UI/UX Design
We create catchy and charming designs with the latest tools of designing to make it a best user-friendly experience.
3. Prototype
After designing, you will get your prototype, which will be sent ahead for the development process for the product.
4. Development
Development of mobile application/ web/blockchain started using latest tools and technology with transparency.
5. Quality Assurance
Hyperlink values quality and provides 100% bug free application with no compromisation in it.
6. Deployment
After trial and following all processes, your app is ready to launch on the App store or Play Store.
7. Support & Maintenance
Our company offers you all support and the team is always ready to answer every query after deployment.
Latest Blogs
Explore the Latest Blogs on Trends and Technology.