Augmented Reality App Development
Augmented Reality: The Real World With Different Eyes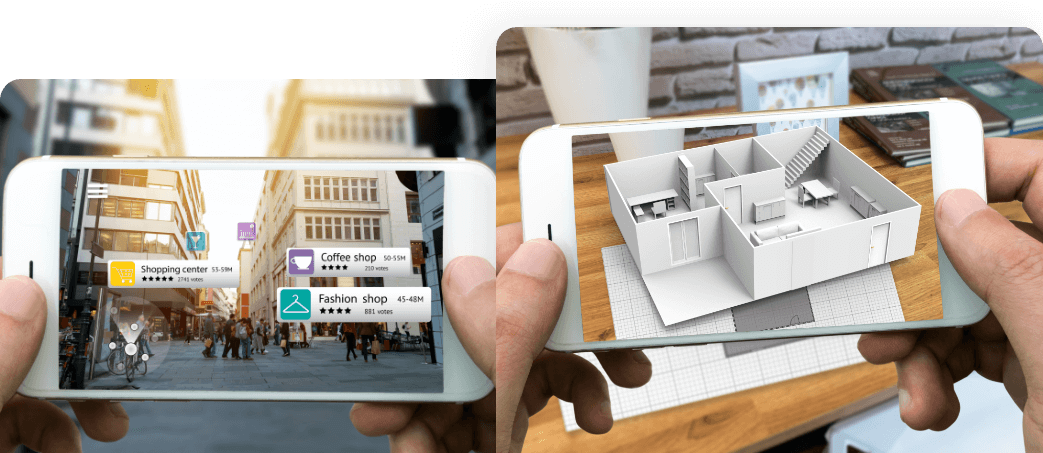 Augmented reality or AR is the concept that is used to define the visualization of a physical environment of the real world, through a technological device, which works by adding certain virtual information to existing physical information. The tangible physical elements are combined with virtual elements, thus creating an augmented reality in real time.
Through a complex technological process involving devices and computer systems, the visual information of our environment is improved and enriched, increasing the degree of experience and the quality of communication with the user.
Particularities Of Augmented Reality
The term was coined in 1992 by scientist and researcher Thomas P. Caudell while he was involved in the development of one of the most famous aircraft in the world: the Boeing 747. This scientist observed that the workers in charge of assembling the new aircraft were wasting too much time interpreting the instructions written in the exploded manuals and it was proposed to generate a visual device in order to guide them during the installation process. The invention did not reach great significance at that time, but this idea marked the birth of the concept of augmented reality.
This technology has not stopped improving and new functionalities are being found every time. The revolution that Pokémon Go represented in 2016. For many, the first contact with augmented reality, has been far behind and we still wonder when the time will come when this technology will burst into fields other than video games.4
Despite being closely related to virtual reality, augmented reality poses a different revolution. The first allows creating a virtual world from scratch, containing everything we imagine and want, a full-blown fantastic world, while augmented reality consists of adding virtual elements, that is, additional information in the form of graphics or images, to our real world.
Adding visual information to our real environment allows us to create countless new interactive experiences for the user such as:
3D product catalogs.
CAD tool simulators.
Virtual clothing testers.
Entertainment apps like the Pokémon GO phenomenon.
Interactive navigators and maps.
Design tools.
Educational content such as interactive 3D books.
High impact promotional and advertising campaigns.
Development of interactive simulated models such as climate ones.
Interactive image layout.
Components Of Augmented Reality
Currently within this technology there are 5 necessary elements that compose it and must converge:
Screen. It is the physical device that will allow us to view all the information available, both real and virtual. They can be special glasses or mobile devices such as smartphones or tablets.
Camera. It will be the physical device used to capture images of the real world and provide the necessary information to the specific augmented reality application.
Trigger or marker. It is the element that starts the augmented reality application. This item can be an image captured with the camera or GPS coordinates.
Digital information. Digitally generated virtual information that the user receives to be added to the information available in the real world in order to enhance the user experience when activated by a trigger or marker.
Software: Computer program or development in charge of digital generation and user interface.
Advantages Of Augmented Reality
Augmented reality has many fields of application. Tourism, education, navigators and entertainment are some of them.
It encourages and facilitates interaction with digital devices.
Information can be at the fingertips of anyone in a more intuitive and easy way.
Augmented reality can have a great impact in the entertainment field, considerably improving the user experience.
Education in the classroom can be much more interactive, changing its strategy. By being more dynamic and intuitive, students would be more motivated and willing to learn.
Application Of Augmented Reality In Different Sectors
Medicine
Training of doctors, surgeons, and paramedics is a critical application of augmented reality. Medical personnel can analyze tumors that sprout in hard-to-reach places within the body without using the scalpel. Rare diseases and conditions can be reconstructed for students to practice like a rehearsal before operating on the real person. This reduces the possibility of human error. Also, you can avoid a fatality caused by an unforeseen complication during the procedure.
Tourism And Art
Artists around the world have seen the application of augmented reality as a tool. Now they can create environments that interact with the person wearing the augmented reality glasses to tell stories in an effective and immersive way.
As for tourism, its application is similar. A display full of delicious food and exotic locations that you won't visit because visual simulation offers a wide range of possibilities.
Applications Of Augmented Reality In Architecture
Over time, technology has changed the way we build our environment. Previously, construction planning and design used to be an elaborate, time-consuming, and cumbersome process.
Development work in augmented reality software allows automating all processes, from design to virtualization. Architects can significantly benefit from this technology, as they can create interactive and immersive project environments so that their clients can experiment and convey their ideas efficiently.
Applications Of Augmented Reality In Education
Teaching and learning have existed since our ancestors. What has changed are the ways of teaching and learning and the interactions used in doing so. Many of the things that are learned today become obsolete over time. We live in the age of continuous learning.
The possibilities of using augmented reality for education are endless. You can enhance learning experiences by allowing students to live in an environment that the teacher creates.
Hyperlink InfoSystem Is A Leading Augmented Reality Development Company In Canada
Based in Canada, Hyperlink InfoSystem is a leading I.T. solutions provider that specializes in augmented reality app development. Our team is made of experienced developers who have undertaken tons of augmented reality app development projects. We combine our creativity, experience, and attention to detail to make your project a success. We follow the best methods in developing, delivering, and sustaining complex app solutions. The whole team is at your disposal to advise you and guide you as best as possible towards solutions adapted to your needs.
Process We Follow
1. Requirement Gathering
We analyze the requirements with the clients to understand the functionalities to combined into the app. This process allows us to form a development plan and transform the client's thoughts into an efficient and functional app.
2. UI/UX Design
Our developers use efficient UI trends to design apps that are not only pleasant to the eye but also intuitiveness and flexible. Our applications do not only complete the needs of our clients but also are simple and convenient to the end-users.
3. Prototype
We develop a preliminary visualization of what the mobile app would look like. This helps to generate an idea of the appearance and feel of the app, and we examine the users' reactions to the UI and UX designs.
4. Development
Our team of experts in Native, Hybrid, and Cross-Platform app development, using languages such as Swift, Kotlin, PhoneGap, Ionic, Xamarin, and more to produce high-quality mobile apps for the various operating systems.
5. Quality Assurance
We have a team of developers who carefully test every app to ensure that they provide an excellent user experience and meet the requirements of our clients. Apps developed by our development team are bug-free because they perform through a series of experiments before deployment.
6. Deployment
We follow the best practices when deploying our apps on different app stores, where they can be easily noticeable to considered users.
7. Support & Maintenance
All digital solutions need development. The deployment of an app is not the ultimate stage. Even Post-deployment, we work with our clients to offer maintenance and support.
Process We Follow
1. Requirement Gathering
We follow the first and foremost priority of gathering requirements, resources, and information to begin our project.
2. UI/UX Design
We create catchy and charming designs with the latest tools of designing to make it a best user-friendly experience.
3. Prototype
After designing, you will get your prototype, which will be sent ahead for the development process for the product.
4. Development
Development of mobile application/ web/blockchain started using latest tools and technology with transparency.
5. Quality Assurance
Hyperlink values quality and provides 100% bug free application with no compromisation in it.
6. Deployment
After trial and following all processes, your app is ready to launch on the App store or Play Store.
7. Support & Maintenance
Our company offers you all support and the team is always ready to answer every query after deployment.
Latest Blogs
Explore the Latest Blogs on Trends and Technology.