Hire PHP Developers in Canada
Contact Top PHP Developers For Your Web Projects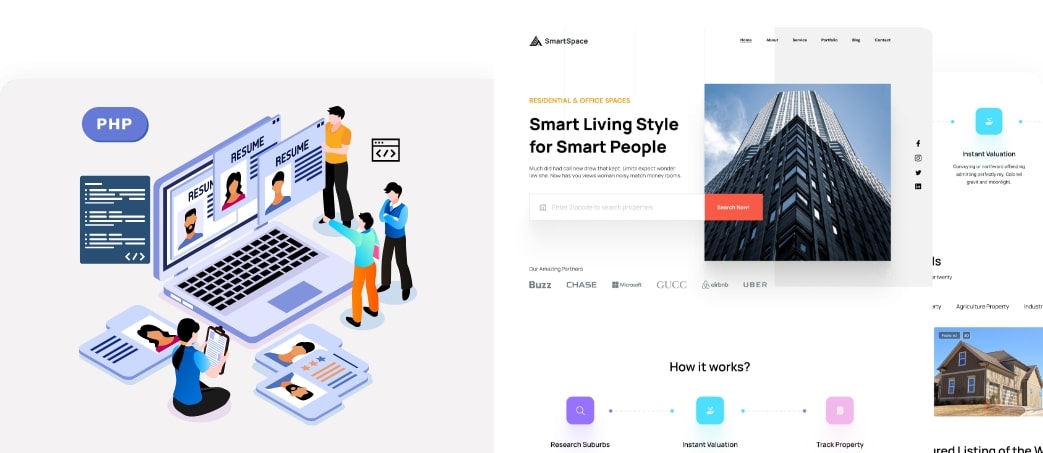 PHP is perhaps the most popular web programming language. It is used to improve web pages. With PHP, you can do things like creating login pages with username and password, review form details, create forums, image galleries, polls, and much more. If you've been to a web page that uses in PHP, the author has written some programming code to bring the old HTML to life.
PHP is known as a server-based language. This is because PHP does not run on your computer, but on the computer that visits the page. The results are delivered to you and displayed in your browser. Other programming languages ??that you may have heard are ASP, Python, and Perl.
The most popular explanation is that PHP comes from "Hypertext Pre-processor," but that would be HPP. Another alternative explanation is that the initials come from the early version of the program, which was called Personal Home Page Tools. At least there you have the letters "PHP" in the correct order. With that said, let's examine the reasons why it is a good idea to use PHP on your website.
PHP is one of the best scripting languages. Its developers can choose a specific methodology to program, whatever way they feel more comfortable with or with the methodologies they are used to using.
This is possible because PHP allows developers to write in a fairly manageable, structured, and orderly code; this is how large PHP projects have managed to be designed through a pattern called Model View Controller "MVC." This allows access to data and a totally separate treatment in independent components of the user interface and the control logic.
PHP has multiple extensions and is extremely scalable. When you hire PHP developers, they make sure the results are measurable. This helps you calculate your return on investment and gives you a better position over the competition.
Hire Top PHP Developers in Canada
To develop amazing and complex web projects, you need developers whose credentials speak for them. Here at Hyperlink InfoSystem, we offer you exactly what you need. We have an assembly of seasoned developers with many years of experience. We are a leading PHP development agency and a top I.T solution company in Canada. We have developed and hosted hundreds of exciting web projects for clients all around the world. We are always available to help you make your ideas become a reality.
Features of PHP Framework:
Powerful
Simple
Elegant
Resource efficient
Exceptional performance
Almost zero configuration requirements
Quality documentation
Not to impose a standard / method / programming style
Powerful
In addition to the MVC structure, CodeIgniter provides as standard in everything you need to quickly produce a feature-rich website: validation of forms and data, sessions, security (XSS, CSRF, etc.), multi-language management, XML-RPC, database access, caching, pagination, encryption, compression, sending email, image manipulation.
Simplicity
Simplicity is omnipresent in CodeIgniter: Whether in its structure with the principle of singularity of components (reduction of the functional perimeter of a component), in the code which is an exemplary readability or even in the display of views which does not require a template engine on you and relies on PHP's ability to extend HTML display.
Elegance
If giving a subjective definition of the elegance of the code is not easy. The notion of elegance can be compared to a combination of simplicity, modularity and performance.
And in this context, CodeIgniter, by its simplicity, the modularity of its architecture and by the performances it offers can without too much difficulty be considered as an elegant framework.
Resource-saving
If we consider the memory size of the Framework or the loading time, CodeIgniter appears to be a frugal Framework compared to its main competitors.
This is not a surprise if we consider that it is one of the objectives of the project which made several structure choices in this direction (Singularity of components, dynamic instantiation).
Excellent Documentation
Often ignored, the quality of the documentation is of particular importance in the case of a web framework. The documentation foe CodeIgniter is excellently compiled to ensure easy understanding.
Exceptional Performance
Even if the benchmarks are always to be taken with hindsight, CodeIgniter is regularly well placed in terms of performance. And if some little-known Frameworks like Siler, Tipsy (which is no longer supported) seem to offer better performance, they are far from having the maturity, functionality and user base of CodeIgniter. If we compare CodeIgniter with its main competitors, namely Laravel and Symfony (even Zend Framework), the result is clear in favor of codeIgniter.
Minimal Configuration
The promise of almost zero system requirements is kept by favoring conventions rather than configuration, a concept that had already been popularized in its time by Ruby On Rails from which CodeIgniter openly draws inspiration. Concretely, if the table in your database corresponds to the name of the model class in lowercase in its plural form you do not have to do anything to make it work. If you want to change this convention, it is possible but you will then have to explicitly configure the associated table name.
Design Guidelines And Coding Best Practices In Our App Agency
Our dedicated mobile app developers work according to proven, agile development methods. In addition, we adhere to the current design guidelines of the respective platform and develop your apps using coding best practices. Current design guidelines are often criteria for posting in the application stores. Using best practices means that the source code we create is clean, maintainable, and of high quality.
Latest Blogs
Explore the Latest Blogs on Trends and Technology.