Hire Android Developers
Hire Android App Developers From Hyperlink InfoSystem.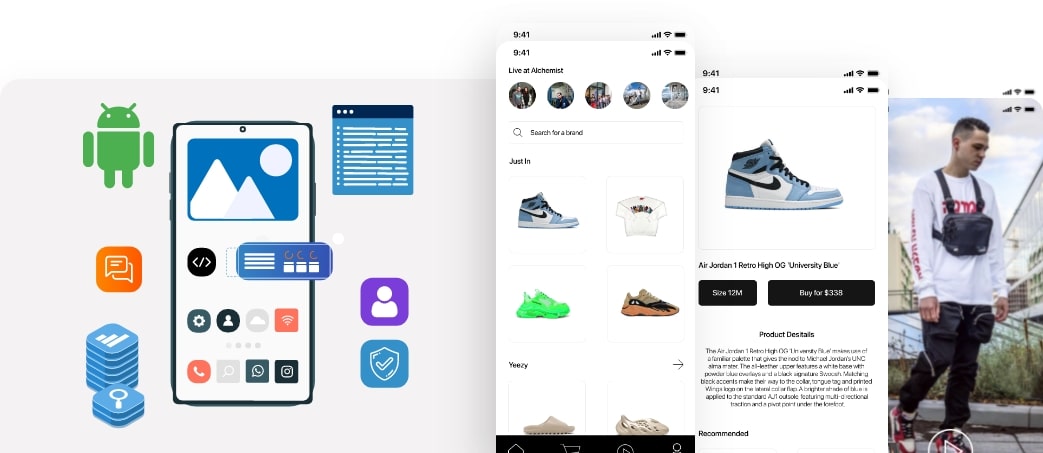 Android is still the most widely used mobile operating system. With an Android app, you can have more than three billion monthly active users. Our dedicated developers at Hyperlink InfoSystem can help you to reach as many of these active users as possible.
Whether smartphones, tablets, watches, wearables or TV and car integrations: the hardware that uses the open source software Android is increasing every year. The mobile operating system Android itself is based on a modified version of the Linux kernel and other open source software. The development of the Android operating system is being led by a consortium known as the Open Handset Alliance, which is commercially sponsored by Google.
Hire Android Developers - Our Services
Redevelopment of An Android App
We support the entire app lifecycle: From design and development to testing and maintenance, we offer you end-to-end services as part of Android app development. We can help you port your existing iOS app to Android or work with you to develop a completely new app for Android.
Further Development of Your App
Does your company already have an app that needs to a complete overhaul to use the latest technologies? We are happy to support you by migrating your existing app from Java to Kotlin and examining the architecture of the existing code base with regard to stability, performance and security. In addition to analysing the code, we also take a look at the user interfaces to ensure a consistent experience for the user. In this context, the topic of inclusion is particularly important to us, which is why we are happy to develop suggestions for barrier-free UX solutions.
Support Your Team For Android App Development
Do you already have your own Android app development team? Perfect - we look forward to adding further professional Android developers to your app team and to initiating a lively exchange of knowledge among developers across company boundaries.
State of the Art Technologies
In developing native Android apps, we rely on the latest version of the proven tech stacks of Google. These include, for example, JetPack, Architecture Components, Room, LiveData and DataBinding. In addition to the Kotlin programming language, we mainly use state-of-the-art libraries such as Koin, Retrofit and Coil. If necessary, we can use Java as the programming language at any time in order to find individual solutions.
Faster development with Jetpack Compose
The Android toolkit Jetpack Compose has been available in a stable version since July 2021 and offers us the opportunity to develop native user interfaces more effectively than ever before using reactive programming models. With less code, powerful tools, and intuitive Kotlin APIs, we can develop apps at an impressive rate.
Kotlin Multiplatform Mobile
In addition to specializing in native Android apps, we throw regularly a look into the future of cross-platform poker world. We are already looking forward to being able to use other exciting new technologies such as Kotlin Multiplatform Mobile in the future in addition to Flutter and Xamarin.
Kotlin Multiplatform Mobile allows us a single code base for the business logic of iOS and Android apps to use. Platform-specific code is required only in the implementation of a native user interface or when working with platform-specific APIs. Kotlin Multiplatform Mobile is currently not recommended for productive apps, but we are already in the starting blocks and would be happy to help evaluate this promising technology at an early stage.
Why You Should Hire Android Developers
Leader In Terms of Market Share
With a potential customer base of over 3 billion active users, Android has the largest market share. This mobile operating system has a market penetration rate of over 84%. And it is thanks to its dominance and visibility that it constitutes an attractive platform able to target a large number of customers.
When your business model is far from compatible with the world of mobile applications, these numbers can only motivate you to take a close look at the options available. Designing a high-quality application is an essential way of winning over new customers and therefore maximizing its size.
A Thousand And One Ways To Make Money
There are many ways to integrate an application into your business to improve profitability. Indeed, a qualified Android mobile application developer can provide you with advice on how to monetize mobile applications in a way that meets your expectations.
In addition to offering the app in the Android Play Store, you can add it to the company's own online store of Smartphones as you can also generate income through subscriptions or create a purchasing department through the app. You can even use the platform to collect additional ad revenue while making your own business the main focus of the app. As a multiplatform product, an Android mobile application can really participate in the development of your company in unforeseen ways.
Better Experience: More Satisfied Customers
Mobile users expect a better overall user experience than desktop users. Customers are turning their backs on mobile applications whose interfaces are poorly designed to focus on high-quality applications. You can leverage their interest in these types of applications to benefit your business. To do this, you have to ask the company that is responsible for developing your application to work it well so that the user experience is the best possible. This helps to entice users to connect with your company and follow your products and services. The more satisfied the customer, the more the number of clicks on the "buy" button increases.
IoT: The Future That Awaits us
The Internet of Things is booming and can help businesses grow. Its role becomes increasingly important as cars, homes, offices and public spaces will be connected. If we can use our smartphones to communicate with these different access points, facilitating several tasks, Android applications will become even more integrated into our daily lives.
When you finally decide on developing a mobile app for your business. You should meet with a top Android app development company in Toronto, Canada such as Hyperlink InfoSystem. We will assist you with the development of Android solutions that are highly tailored to the needs of your business.
Latest Blogs
Explore the Latest Blogs on Trends and Technology.