Hire Salesforce Developers in Canada
Salesforce: A Leading Cloud Computing And CRM Provider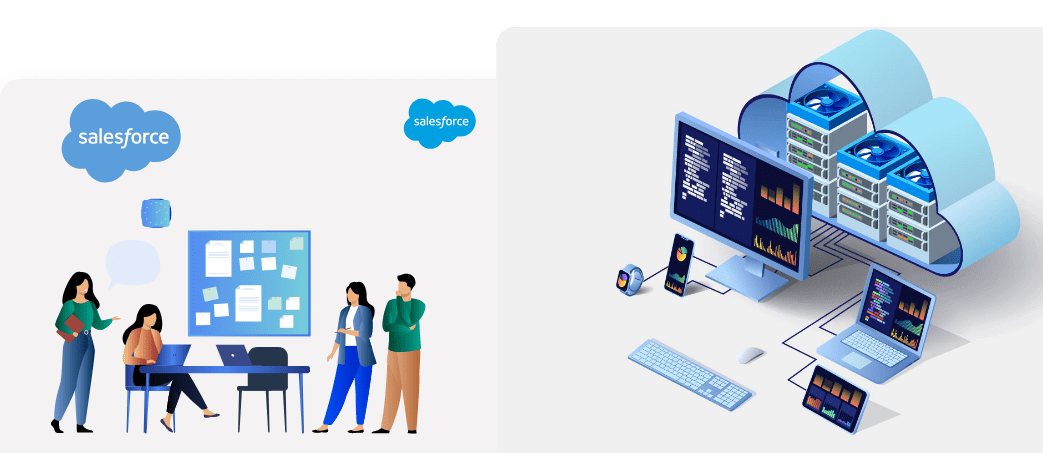 Salesforce is one of the world leaders in the development of cloud-based CRM solutions. It offers a wide range of tools for small, medium and large businesses. Today, it is not only a CRM system, but also a platform for developing your own applications and tools required for customer relationship management.
Salesforce software products are used by hundreds of thousands of enterprises, covering virtually every industry, size, and geographic location. The company has developed industry solutions in key areas: financial services, healthcare, public sector, communications, retail, media business, automotive industry, education, non-profit activities.
Features of Salesforce CRM
Salesforce is a leading provider of cloud CRM software. In this way, it is possible to redefine the way organizations connect with their audience, improving communication between the brand and customers.
Thus, Salesforce CRM is a definitive solution for your company, with a series of features that are indispensable for the growth and expansion of your business.
Contact Management
Salesforce CRM enables entrepreneurs to have simple and practical contact management. Thus, it is possible to have access to critical data of your customers and the history of their interaction with your company.
Based on your consumers' social data, it is possible to better understand the specific behavior of your audience in relation to the products and services that your company sells. Cloud-based contact management enables collaborative work. In this way, your entire team can share your ideas and documents to create a more productive work environment.
Another highlight of Salesforce CRM is that; it allows you to track the movement of transactions based on all contact data.
Opportunity Management
One of the main features of CRM provided by Salesforce is opportunity management. This feature allows you to observe the timeline of your customers' activities, describing the various stages of a specific business to guide your next move.
In addition, it is possible to view the critical details of the activities' timeline together with segment competitors, making it possible to adapt their strategies in the best possible way to gain their place in the market.
Einstein Analytics
Einstein Analytics is indispensable for companies. It offers high business intelligence, capable of assisting in the most complicated sales, in addition to providing data on services. This analysis is very useful for connecting users to sales clouds, services and communities with embedded dashboards. It consistently has a wealth of data and insights for the team and partners. The security of this information is the main characteristic of Einstein, since more than 150 thousand companies share data constantly, obtaining intelligent insights to close deals with this analytical tool.
Why You Should Hire Salesforce Developers For Your Business
Salesforce CRM offers Trailhead. It is able to guide and expand small and medium businesses and startups. This application has integrated intelligence, offering the best services in its category to its customers. Thus, by providing an overview of your audience, Trailhead captures all the data automatically generated from emails, calendars and support channels.
There is a configuration assistant to answer customer questions. In addition, startups can use the system to learn from the tutorials available in the app. Another point is that it provides details about all Salesforce products, including CRM.
Reasons To Hire Salesforce Developers From Hyperlink InfoSystem
If we analyze the main advantages of Salesforce, they would be the following:
Complete CRM: Salesforce offers a CRM solution with everything necessary to improve and guarantee the success of all relationships with our customers, lead capture, retention and loyalty, anticipate customer wishes based on behaviors.
Customization And Adaptability: Salesforce is highly customizable, capable of adapting to the particularities of each company quickly and elegantly.
Scalability: Salesforce as a CRM tool is just the beginning. Salesforce offers a wide ecosystem of tools integrated with each other, which allow us to grow as our company grows. Automate your company's Marketing thanks to Marketing Cloud, take your company's customer service to another level with Service Cloud or boost the entire sales and lead capture process thanks to Einstein's artificial intelligence.
Security: the platform offers high security standards which allows its clients to work in a secure environment. Salesforce complies with security certificates around the world.
Confidence: Salesforce offers the confidence of working with a market leading provider in Cloud Computing and CRM. They were pioneers in offering software in the cloud and all their products were born in it and are prepared to offer and guarantee the security, availability and performance of all their applications.
Cost Reduction: dedicated environments are costly to implement and maintain, Salesforce works with multi-tenant environments so that you share the environment with the rest of Salesforce customers, thus reducing costs in infrastructure, security and administration. So they translate into innovation and benefit for all.
Speed ??and Accessibility: being in the cloud, the applications, files and data are offered over the Internet and run in any browser, which allows us to work from any smart device.
Hire Salesforce Developers in Canada From Hyperlink InfoSystem
We develop Salesforce solutions that allow your company to modernize innovation and improve customer encounters. Our underlying fundamentals are in software development. Using a productive flow, useful feedback, and shared learning techniques, our trained specialists combine speed and thoughtful testing to implement seamless Salesforce solution that work exactly how you expect. Hyperlink InfoSystem is one of the leading I.T. development company in Canada offering tailored solutions.
Latest Blogs
Explore the Latest Blogs on Trends and Technology.