Hire Dedicated CakePHP Developers in Canada
Hire dedicated CakePHP developers to build custom CakePHP apps. Contact Hyperlink InfoSystem to get the best CakePHP developers in Ontario, Canada.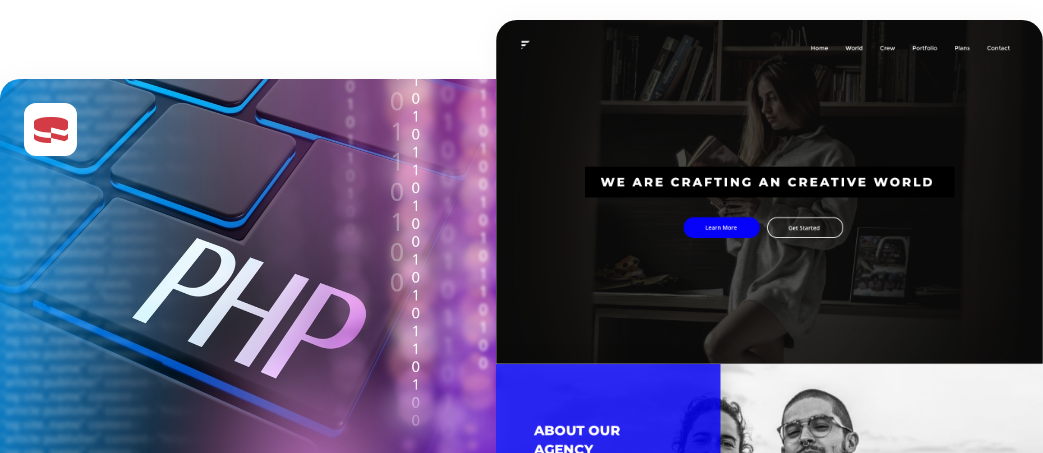 CakePHP is a framework that supports the MVC (Model-View-Controller) architectural pattern, which is used to develop online applications. It is offered under the MIT license and is open source. The major goal of this framework is to make it possible for us to work swiftly, systematically, and without sacrificing flexibility.Integrate the backend framework into your web app when you hire CakePHP developers in Victoria, Canada.
The CakePHP framework is designed to simplify and ease basic web development processes. The many components of CakePHP function well together or independently by offering an all-in-one toolbox to get you started. Furthermore, CakePHP offers a fundamental organizational framework that includes rules for class names, file names, database table names, and other terms.
The development of CakePHP-based apps is one of our primary offerings. A high-performance framework for creating PHP web applications is called CakePHP. The MIT license is used to distribute the framework. The MVC paradigm is implemented by CakePHP, which is comparable to Hibernate and Ruby on Rails as frameworks.
Advantages of the CakePHP framework
Among CakePHP's most significant features and benefits are:
MVC template: A unique model class that can be used to create, update, remove, or read data from the database is provided by CakePHP's MVC template. Before engaging with models, the controller processes events, responds to them, handles data transmission to the screen, and the machine vision subsystem also exchanges data. A system like this speeds up the creation of intricate websites and huge apps by making it simple to isolate the logic of the web application from the display.

Object-relational mapping: CakePHP supports this technique, which makes it easier for developers to create online applications. Programming techniques, particularly object-oriented programming, which build each object using a relational model for a particular kind of data and allow the developer to quickly alter the type of data as needed, are an outcome of object-relational mapping.

Automatic authentication: One of the best parts of creating CakePHP is how little work is required to put it up. CakePHP automatically recognizes all subdirectories and their contents in the accessible directory, including user scripts. The Framework will handle the rest; the developer simply has to set up the database and its connections to CakePHP.

Expansion: Using modules, libraries, and plugins to add new functionality is one of the main benefits of contemporary programming languages. This ensures that the developer won't have to "invent the wheel" and create methods and classes from scratch for the majority of the code. CakePHP's modular design enables programmers to reuse code, extensions, and other elements that are simple to include in the platform by utilizing a variety of automated detection techniques.

Supports Ajax. Even though the program runs in a browser, modern online applications often need data transmission between the client and the server. Every time new data is received from the server, traditional PHP changes the page, which is a major impediment to creating online apps like spreadsheets, text editors, and email clients. When developing engaging and multi-functional online applications, web developers often use AJAX, which offers asynchronous data interchange. CakePHP can be utilized in several ways, including forms, events, and even model event connections. It is AJAX-supported.
Reasons For Reaching Out To Hyperlink InfoSystem
Dependability and assurance
There are many phases to the project. You just pay after each stage's outcome. Following the project's completion, we provide a warranty.
Regular reporting is provided by our management. The project can be followed online using our tracking system.
When creating websites and managing projects, we adhere to international standards. Over 30 different nations' businesses make up our clientele.
We decide to go with long-term cooperation above short-term gain. Most of our clients end up becoming friends.
Services for CakePHP Web Development
Modern website design and makeover that benefits your company boosts traffic and builds brand loyalty.
Creation of shopping carts
By using our clever shopping cart designs, we provide affordable CakePHP shopping cart solutions that convert visitors into customers.
Experience utilizing the newest Cloud technologies to develop SaaS apps on the CakePHP platform.
quickly create a platform-compatible website with built-in validation capabilities.
With clever, attractive, and adaptable CakePHP theme designs, create a useful CakePHP template.
Improvement and expansion
Depending on your company's demands, CakePHP extension creation, integration, or upgrading services are provided.
Work with a CakePHP Development Team
As a favoredagency, Hyperlink InfoSystem connects businesses all over the globe with the top CakePHP developers. We make sure that our customers get dynamic, high-quality web apps that meet their requirements for time, functionality, and design. We distinguish ourselves from our colleagues and rivals by our in-depth subject knowledge, and years of experience working on projects for start-ups, social networking sites, e-commerce sites, enterprises in the retail and healthcare sectors, high-end apps, etc.
Along with these services, we also provide CakePHP development services for e-commerce, real estate, hospitality, media & entertainment, social media, corporate website development services with checkout gateway integration solutions, and a lot more. Integrate a backend framework into your web app when you hire CakePHP developers in Victoria, Canada.We provide services that span the complete software development life cycle. Our products provide a memorable user experience, are entirely safe, and are bug-free.
Latest Blogs
Explore the Latest Blogs on Trends and Technology.