Big Data Analytics
Optimize Your Process With Big Data Analytics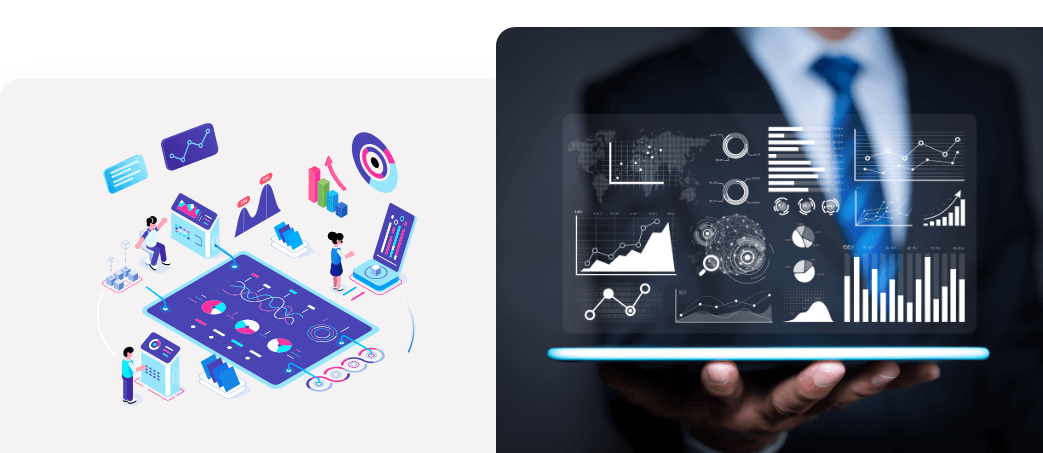 Big Data defines the use of technologies and methods to analyze sets of data. It is a question of detecting and making certain market trends, or consumer behavior exploitable.
Big Data is particularly used by marketing professionals to refine their targeting and analyze all facets of consumer behavior. The data resulting from their purchases on the internet or in stores, their preferences on social networks and their internet browsing history thus serve as references for understanding overall behavior.
Why Use Big Data
Challenges For The Company
In the same company, several departments can be concerned by the implementation and use of Big Data: IT, sales, and marketing. Marketing departments make the most use of Big Data. They are considered as precursors in the implementation of new strategies.
Through these services, Big Data responds to several challenges for the company:
Improve the customer experience,
Better understand the behavior of prospects and customers,
Anticipate needs and adapt marketing campaigns.
The implementation of new processes related to Big Data can also allow the improvement of the supply chain, the decision-making mechanisms and a significant competitive advantage.
Big Data Benefits To Business Marketing:
Improve the effectiveness of advertising campaigns, whether online or not,
Refine the targeting of prospects and customers,
Analyze the behavior of prospects and customers: in-store and online purchases, internet browsing habits, preferences entered on social networks ...
The sources analyzed may vary: transaction history, multi-channel interactions, social networks, data transmitted by loyalty cards.
Towards New Marketing Strategies
Big Data allows the adaptation or implementation of strategies for the marketing of the company. They offer a new answer to the problems of the company or its projects.
Two major angles can be isolated:
Behavioral analysis in real time in order to promote multi-channel promotion and influence consumer behavior: promotional offers, and geo-localized targeting.
Segmental analysis in order to better target and better identify prospects.
Some Examples Of The Use Of Big Data:
Predictive analysis, i.e. the adaptation of a marketing message to a probable action by the consumer. Example includes an advertising message for a hotel in Canada when the Internet user is looking for a trip to Canada.
The marketing automation. Big data can be used for automated marketing based on a set of conditions. Example includes sending an advertisement based on geolocation or anniversary date.
The native advertising
The ad retargeting
Personalization of search results, for example on Google.
How To Use Big Data For Your Business
Collect The Data
The data can come from different channels, which do not necessarily correspond to the same professions and the same departments in each company. Channels can be digital or not, or have their own analytical application. It is then a matter of centralizing this data in the same set.
Establish an overview of existing data channels,
Set up new media to collect additional customer feedback: online questionnaire or in-store questionnaire, application, website, social networks, loyalty card, etc.
Use an outsourced solution, or develop an in-house solution to manage the flow of data.
We can also distinguish between internal data, which the company produces and stores, and external data to which it can access.
Analyze The Data
The large flow of data and information can present a risk for the company, by drowning the objectives in the volume.
To avoid this risk, the customer or prospect must be placed at the center of the analysis: how can data improve their shopping experience? What information do you need to adapt the product or service to your expectations or behavior?
A company's Big Data project can be developed around several axes:
Concentrate the effort on the customer and on the desired result,
Use data to strengthen its competitiveness,
Combine statistical analysis and predictive analysis to refine the results.
Hire Big Data Analytics Comapny
Our developers at Hyperlink InfoSystem work according to proven, agile development methods. In addition, we adhere to the current design guidelines of the respective platform and develop your solution using coding best practices. Current design guidelines are often criteria for posting in the application stores. Using best practices means that the source code we create is clean, maintainable, and of high quality.
Consider Adopting Big Data For Your Business
The use of Big Data analytics helps you with an improved decision making ability. Big Data technologies help develop strategies that promote agile work environments, increase productivity, help reduce cost, and enrich the company's commercial approach.
Recruit Smarter People For Smarter Jobs
Big Data is rising at the service of HR to identify more broadly and more reliably the right candidate profiles from business databases, job search engines, and social networks. At the same time, we are assessing whether they are in line with company policy.
Build Brand Loyalty
Prior knowledge of customer expectations and needs is an approach that enriches the commercial relationship by making it possible to offer relevant services. Enough to promote a long-term relationship between the customer and the brand and increase orders' repetition.
Set Up Competitive Prices
Creating differentiated pricing strategies helps develop competitive pricing and generate more revenue.
Data For Sales Strategies
Big Data analysis helps refine customers' classification using demographic data that will support salespeople in their efforts.
Recalibrate Business Strategies
In addition to promoting decision-making, Big Data technologies provide the tools to analyze and validate these same decisions' results. Organizations can thus recalibrate their strategies based on new requirements and using proven business strategies.
Reduce Organizational Costs
In parallel with automation and Artificial Intelligence, Big Data solutions allow the implementation of efficient manufacturing processes, with production-oriented towards demand and optimal use of raw materials. This helps to reduce production and operating costs.
Increase Productivity
To increase the productivity and efficiency of the workforce, we must build confidence and support data-driven decision-making. This will have the effect of increasing the efficiency of the organization as a whole.
Process We Follow
1. Requirement Gathering
We analyze the requirements with the clients to understand the functionalities to combined into the app. This process allows us to form a development plan and transform the client's thoughts into an efficient and functional app.
2. UI/UX Design
Our developers use efficient UI trends to design apps that are not only pleasant to the eye but also intuitiveness and flexible. Our applications do not only complete the needs of our clients but also are simple and convenient to the end-users.
3. Prototype
We develop a preliminary visualization of what the mobile app would look like. This helps to generate an idea of the appearance and feel of the app, and we examine the users' reactions to the UI and UX designs.
4. Development
Our team of experts in Native, Hybrid, and Cross-Platform app development, using languages such as Swift, Kotlin, PhoneGap, Ionic, Xamarin, and more to produce high-quality mobile apps for the various operating systems.
5. Quality Assurance
We have a team of developers who carefully test every app to ensure that they provide an excellent user experience and meet the requirements of our clients. Apps developed by our development team are bug-free because they perform through a series of experiments before deployment.
6. Deployment
We follow the best practices when deploying our apps on different app stores, where they can be easily noticeable to considered users.
7. Support & Maintenance
All digital solutions need development. The deployment of an app is not the ultimate stage. Even Post-deployment, we work with our clients to offer maintenance and support.
Process We Follow
1. Requirement Gathering
We follow the first and foremost priority of gathering requirements, resources, and information to begin our project.
2. UI/UX Design
We create catchy and charming designs with the latest tools of designing to make it a best user-friendly experience.
3. Prototype
After designing, you will get your prototype, which will be sent ahead for the development process for the product.
4. Development
Development of mobile application/ web/blockchain started using latest tools and technology with transparency.
5. Quality Assurance
Hyperlink values quality and provides 100% bug free application with no compromisation in it.
6. Deployment
After trial and following all processes, your app is ready to launch on the App store or Play Store.
7. Support & Maintenance
Our company offers you all support and the team is always ready to answer every query after deployment.
Latest Blogs
Explore the Latest Blogs on Trends and Technology.