Business Intelligence Services And Solutions
Business intelligence (BI) is a collection of processes, systems, and applications for gathering and analyzing data to make better business choices.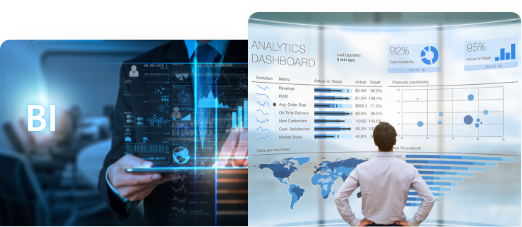 Business intelligence (BI) is a collection of processes, systems, and applications for gathering and analyzing data to make better business choices. Meet with our development team to hire business intelligence developers in Canada.
A key function of business intelligence is the collection, cleansing, and normalization of data from many sources so that it can be used for analysis and the creation of new knowledge.
Benefits of Business Intelligence tools
Users of business intelligence solutions can significantly impact the company's growth thanks to the abundance of actionable data at their disposal.
Business Intelligence's primary function is to assist a company's top management in making more educated business and strategic choices. Organizations can also utilize Business Intelligence to spot wasteful procedures, find new revenue streams, and save expenditures.
These technologies can be used to keep an eye on your budget or strategic goals, streamline your operations, cut down on your expenditures, and provide you with up-to-date information when making important calls.
The potential gainsthat can be realized from using business intelligence software are:
Boost sales and income
Reduced operational expenditures
Benefit from a competitive edge and set yourself apart from the competition.
Produces the in-depth business understanding vital to effective decision making
Efficiency gains in operations
It provides unobstructed views into how a company runs.
Improve how your company operates in-house
Quicken and enhance the decision-making process
Business Intelligence is a must for any company.
Business intelligence solutions can be used at any level of a business. They permit in-depth examination of the data at each tier according to a variety of criteria, giving top-level executives a bird's-eye perspective from which to make quicker, more well-informed choices that would ultimately enhance the company's growth. Financial (expenses, supplies, maintenance, sales, and projects), technical (attention orders, proactive alerts), commercial (collections, payments), and Business Process Management, BPM (presentations and customer service workflow) systems all feed into business intelligence solutions, which in turn provide segmented reports with strategic, tactical, or operational data as required by the business.
To help our customers overcome their unique obstacles and meet their specific requirements for effective data management, Hyperlink InfoSystem creates bespoke business intelligence solutions.
Our Business Intelligence Solutions Can Be Adapted To Fit Any Situation
Projects in Business Intelligence are carried out by Hyperlink InfoSystem for businesses who need to collect and analyze data from several sources to better inform strategic decisions.
In these initiatives, we assess requirements, choose the best technologies, investigate existing data, and incorporate it into a revised Business Intelligence data model. Then, we do some serious thinking and formatting to make sure they look their best for your users. The goal here is to assist corporate leaders in making better choices.
To help you make the most informed business decisions possible, we offer the expertise and experience to convert business data into information, and information into useful knowledge. CIC provides solutions to help you meet the obstacles of using Business Intelligence (BI) technologies, including but not limited to:
Automate the dissemination of metrics
Recognize discrepancies in data
Service quality control
Intuitive, state-of-the-art user interface
Unify and integrate information, software, and workflows
Minimize the amount of time spent on report creation.
Real-time and everywhere data access
Simple but insightful data analysis
Techniques Used In Business Intelligence
Predictive analyses are used to examine past data to make predictions, allowing marketers to fine-tune their approaches for maximum profit.
To analyze, for instance, particular sales data, clients, or best-selling goods in a short period, this approach is designed to be carried out in real-time, providing a more detailed study of a short-term scenario or urgent management.
One of the most crucial mathematical tools for ensuring the accuracy of data in which crucial behavioral traits are present is statistical analysis.
When it comes to examining data over a certain time frame, statistical analysis is among the most comprehensive and trustworthy methods available.
It is quite challenging to arrive at a good interpretation by studying the figures one by one, which is why data visualization is so important in business intelligence. As the BI visually arranges each set, it makes for a clearer and more systematic analysis.
Data mining is the process of discovering patterns in massive datasets. These regularities might be collections of data that have similar characteristics or previously unseen correlations between variables. As an illustration:
It's not uncommon for there to be a lot of nuances to consider when designing for customer behavior, group buying, and other factors.
Reports can be needed at any time with varying time frames, and the information they gather can be used to increase comprehension and facilitate better decision-making.
Features of an Effective Business Analytics Platform We Develop
Method for storing and retrieving structured data in one place for analysis and reporting.
Data Reporting And Visualization
Facilitating comprehension of analytics outcomes through in-depth reports and dynamic dashboards.
Data profiling, cleaning, validation, etc., to locate and remove inconsistencies in information.
The process of gathering information from various resources, reformatting it, and then storing it in a designated location.
Keeping information of any kind, even massive amounts of data, in storage.Hire top business intelligence developers in Montreal, Canada when you contact Hyperlink InfoSystem.
Process We Follow
1. Requirement Gathering
We analyze the requirements with the clients to understand the functionalities to combined into the app. This process allows us to form a development plan and transform the client's thoughts into an efficient and functional app.
2. UI/UX Design
Our developers use efficient UI trends to design apps that are not only pleasant to the eye but also intuitiveness and flexible. Our applications do not only complete the needs of our clients but also are simple and convenient to the end-users.
3. Prototype
We develop a preliminary visualization of what the mobile app would look like. This helps to generate an idea of the appearance and feel of the app, and we examine the users' reactions to the UI and UX designs.
4. Development
Our team of experts in Native, Hybrid, and Cross-Platform app development, using languages such as Swift, Kotlin, PhoneGap, Ionic, Xamarin, and more to produce high-quality mobile apps for the various operating systems.
5. Quality Assurance
We have a team of developers who carefully test every app to ensure that they provide an excellent user experience and meet the requirements of our clients. Apps developed by our development team are bug-free because they perform through a series of experiments before deployment.
6. Deployment
We follow the best practices when deploying our apps on different app stores, where they can be easily noticeable to considered users.
7. Support & Maintenance
All digital solutions need development. The deployment of an app is not the ultimate stage. Even Post-deployment, we work with our clients to offer maintenance and support.
Process We Follow
1. Requirement Gathering
We follow the first and foremost priority of gathering requirements, resources, and information to begin our project.
2. UI/UX Design
We create catchy and charming designs with the latest tools of designing to make it a best user-friendly experience.
3. Prototype
After designing, you will get your prototype, which will be sent ahead for the development process for the product.
4. Development
Development of mobile application/ web/blockchain started using latest tools and technology with transparency.
5. Quality Assurance
Hyperlink values quality and provides 100% bug free application with no compromisation in it.
6. Deployment
After trial and following all processes, your app is ready to launch on the App store or Play Store.
7. Support & Maintenance
Our company offers you all support and the team is always ready to answer every query after deployment.
Latest Blogs
Explore the Latest Blogs on Trends and Technology.