Cryptocurrency App Development In Canada
Expert Cryptocurrency Developers at Hyperlink InfoSystem have created a wide variety of useful apps, including dApps, smart contracts, Ethereum wallets.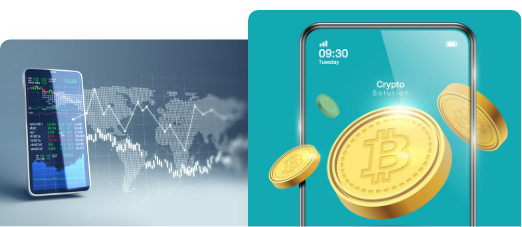 Cryptocurrency is a kind of digital money that can be used to buy goods and services and is protected by cryptography to prevent fraud and duplicate spending. The tremendous increase in popularity of cryptocurrencies in recent years can be attributed, in large part, to the fact that they are not issued by any central authority and are hence resistant to manipulation by governments. Many businesses now issue their tokens that may be exchanged for use of the business's services. Enjoy transparent and low transaction fees when you hire cryptocurrency app development company in Montreal, Canadafor cryptocurrency development.
There are several other cryptocurrencies out there, but Bitcoin (BTC) is the most widely used and has set the bar for what others in the industry must meet. There are around 6,500 distinct cryptocurrencies in circulation today. Apart from Bitcoin, the most prominent alternative digital currencies are Ethereum (ETH), Litecoin (LTC), Cardano (ADA), Polkadot (DOT), Stellar (XLM), Chainlink (LINK), Tether (USDT), and Monero (XMR).
Blockchain technology is at the heart of how cryptocurrencies function. Blockchain is a distributed ledger system whereby transactions are managed and recorded by a network of computers. The peace of mind that comes with using this gear is a big selling point.
Let Us Assist You In Creating A Cryptocurrency App
A cryptocurrency app lets its user keep tabs on and manage their cryptocurrency holdings, both locally and globally, as well as convert their tokens into fiat currency and vice versa.
Here are a few of the main reasons why cryptocurrency applications have been so popular recently:
Low transaction fees. When compared to the steep fees charged by banks, the costs associated with transacting with bitcoin are far lower.
Internationally recognized. Senders and receivers of cryptocurrency transactions can circumvent costly currency transfers and intermediaries.
Anonymity and transparency. Nobody will know who sent the message or who received it until the crypto address is authenticated publicly.
Decentralization. As a result of blockchain technology, no central authority can impose its regulations on a bitcoin owner.
Transactions are instant and unrestricted. Users do not need to wait for a few days for the funds to appear in the recipient's account. No restrictions are placed on the total number of deals that can be made.
Our Cryptocurrency App Development Services
Whether it's creating whole new cryptocurrency platforms from the ground up or adding new features and connectors to preexisting ones, our developers have you covered.
Development Of A Tokenization Infrastructure
Create any kind of tokenization platform you can imagine, from ICO token platforms to security token platforms to asset tokenization and non-fungible tokenization (NFT) platforms.
Initial Coin Offering (ICO)
Provide complete ICO services, from brainstorming and planning to launching the blockchain platform and advertising the ICO.
Custom Cryptocurrency Development
We develop cutting-edge cryptocurrency trading platforms and dApps, both of which include cutting-edge security and development methods.
Blockchain-Based Peer-To-Peer Lending Platform
Create decentralized peer-to-peer (P2P) crypto lending systems that use blockchain technology to streamline the whole lending cycle, from the first borrower meeting through the final paperwork.
Build on the Ethereum Blockchain
Expert Ethereum developers at Hyperlink InfoSystem have created a wide variety of useful apps, including dApps, smart contracts, Ethereum wallets, and more, all of which are dependable, scalable, and secure.
Ethereum Wallet Development
If you need help keeping track of your Ethereum public and private keys, our team of cryptocurrency professionals can develop a desktop or mobile wallet application for you.
Ethereum-based ICO management
Our developers create bespoke pre-sale and public sale web apps for an ICO on the Ethereum network.
Ethereum's Decentralized Apps (dApps)
Our programmers build decentralized applications (dApps) on the Ethereum network, which utilizes a Blockchain and has several smart contracts.
Platforms For Cryptocurrency Solutions We Offer
In today's decentralized economy, our team of bitcoin app developers has the expertise to propel your company to success. A fresh collection of resources and building blocks are at our disposal for developing robust DApps.
One open-source cryptocurrency is Dash. It's an alternative cryptocurrency that was forked from the Bitcoin system. A group of its users have taken control and are operating it as a DAO.
Monero operates in an anonymous and distributed manner. As a means of attaining fungibility and anonymity, it employs a public distributed ledger equipped with privacy-enhancing technology for use in fraudulent transactions.
Jackson Palmer and Billy Markus, two software developers, developed this cryptocurrency. It's a decentralized coin that relies on peer-to-peer technology and is open-source.
Bitcoin is the first cryptocurrency that operates without a central bank or single administrator. Companies can get help from Hyperlink InfoSystem to incorporate Bitcoin and other cryptocurrencies into their existing infrastructure.
Our Ethereum development services facilitate our customers' use of Blockchain-powered solutions, which in turn helps them to achieve greater success in their businesses. Secure, immutable, and distributed Ethereum-based solutions are now available via our platform.
To make quick payments to any of the exchanges or businesses that accept P2P digital currencies, Litecoin is the cryptocurrency to use. It is a popular decentralized digital currency that was developed using Bitcoin's technology as its foundation.
We Are The Industry Standard When It Comes To Cryptocurrency App Development
No of your company's sector, the Hyperlink InfoSystem team can help you develop a cryptocurrency app that is both practical and packed with useful features for your end users. Tochoose the ideal mobile app development agency and to hire a cryptocurrency app development company in Montreal, Canada doesn't have much difference. Factors such as industry knowledge, domain expertise, service offerings, team size, client feedback, etc. can all influence your final selection.
Process We Follow
1. Requirement Gathering
We analyze the requirements with the clients to understand the functionalities to combined into the app. This process allows us to form a development plan and transform the client's thoughts into an efficient and functional app.
2. UI/UX Design
Our developers use efficient UI trends to design apps that are not only pleasant to the eye but also intuitiveness and flexible. Our applications do not only complete the needs of our clients but also are simple and convenient to the end-users.
3. Prototype
We develop a preliminary visualization of what the mobile app would look like. This helps to generate an idea of the appearance and feel of the app, and we examine the users' reactions to the UI and UX designs.
4. Development
Our team of experts in Native, Hybrid, and Cross-Platform app development, using languages such as Swift, Kotlin, PhoneGap, Ionic, Xamarin, and more to produce high-quality mobile apps for the various operating systems.
5. Quality Assurance
We have a team of developers who carefully test every app to ensure that they provide an excellent user experience and meet the requirements of our clients. Apps developed by our development team are bug-free because they perform through a series of experiments before deployment.
6. Deployment
We follow the best practices when deploying our apps on different app stores, where they can be easily noticeable to considered users.
7. Support & Maintenance
All digital solutions need development. The deployment of an app is not the ultimate stage. Even Post-deployment, we work with our clients to offer maintenance and support.
Process We Follow
1. Requirement Gathering
We follow the first and foremost priority of gathering requirements, resources, and information to begin our project.
2. UI/UX Design
We create catchy and charming designs with the latest tools of designing to make it a best user-friendly experience.
3. Prototype
After designing, you will get your prototype, which will be sent ahead for the development process for the product.
4. Development
Development of mobile application/ web/blockchain started using latest tools and technology with transparency.
5. Quality Assurance
Hyperlink values quality and provides 100% bug free application with no compromisation in it.
6. Deployment
After trial and following all processes, your app is ready to launch on the App store or Play Store.
7. Support & Maintenance
Our company offers you all support and the team is always ready to answer every query after deployment.
Latest Blogs
Explore the Latest Blogs on Trends and Technology.