Cryptocurrency Exchange Development Solution In Canada
Hyperlink InfoSystem Offers Complete Digital Currency Coin and Token Development Services In Canada. Get A Quote Now!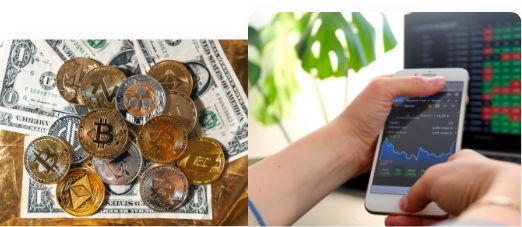 A secure digital marketplace is required to conduct digital transactions to acquire or sell cryptocurrencies across multiple communication methods. If you want to start your own Cryptocurrency Exchange Platform, Hyperlink InfoSystem is the place to be. We are a leading cryptocurrency exchange development company in Ottawa, Canada.
Our professional developers provide all-inclusive crypto exchange development services with fundamental functionality that will allow smooth, safe, quick, and efficient transactions, whether centralized or decentralized.
At Hyperlink InfoSystem, we assist you in the creation of a hack-proof platform for assuring real-time cryptocurrency exchange on iOS and Android. Our skilled developers provide comprehensive bitcoin exchange platform development solutions, whether decentralized or centralized.
The Advantages of White Label Cryptocurrency Exchange Software for Businesses
You can open your cryptocurrency exchange on a predetermined date to capture the attention of traders during the peak period of the cryptocurrency market.
Shortened Development Time
It will save time to develop and launch since it is a ready-made bitcoin exchange program with basic and necessary functionality.
White-label bitcoin exchange software is adaptable, allowing you to quickly alter and enhance all current features as well as trading functionality.
White-label bitcoin exchange software will never need a large investment in development resources, allowing you to save money.
Significant Features of Our Crypto Exchange Development
Implementation of a free-flowing UI design with on-site content mapping, responsive layout implementation, CRM API connectivity, push notifications, live chat, analytics, and more.
High-performance algorithms for matching buy and sell orders guarantee that the best bargains are found. combines buy and sell orders while minimizing latency.
Robust panel, cryptocurrency trading platform management, improved trade graphs, organized risk management, finest backend, and user-friendly dashboard.
Tokens have predetermined values, the ability to trade many tokens at once, no token exchange limit, multiple token acceptance, and encrypted token transactions.
High TPS (Transactions Per Second)
Implementation of best-in-class blockchain platforms like BCH, Ethereum, and others to achieve fast transaction speeds with minimal latency.
Custom API and SDK (software development kit) integration to improve the liquidity and functionality of a bitcoin trading platform.
Integration of advanced automated KYC/AML verification methods for authorized investors and genuine transactions, assuring system authenticity and security.
OTC (over-the-counter) trading
Direct dealing with other parties with a diverse choice of assets and no exchange restrictions. In addition, a contract-based Escrow mechanism allows you to instantly sell and acquire currencies.
Profit increases for investors when they arrange their interests in explicit digital currencies with auto leveraging, complex order types, risk management, and other features.
Robust smart contract protocols and escrow integration to improve trading experiences on platforms such as derivatives, decentralized, and hybrid exchanges.
Blockchain Platform Stack
Ethereum, Hyperledger, Binance, BCH, NEM, Corda, Stellar, and other blockchain technology platforms are being used to develop contemporary DEXs (decentralized exchanges).
Our Development Services for Cryptocurrency Exchanges
Build a hassle-free defi DEX platform using Defi DEX script to provide an open platform for crypto traders to exchange defi tokens.
Crypto Exchange Clone Development
We create cryptocurrency exchanges such as Binance, LocalBitcoins, Paxful, Remitano, and others with our ready-made cryptocurrency exchange clone software.
Hybrid Dxchange Development
We develop a cryptocurrency exchange that can operate as both centralized and decentralized in one trading platform.
Development Of Peer-To-Peer Exchange
Purchase our p2p exchange software to begin developing your own peer-to-peer bitcoin trading platform similar to LocalBitcoins.
Cryptocurrency Exchange Development
With our cryptocurrency exchange script, we create your cryptocurrency exchange from the ground up.
Decentralized Exchange Development
With our ready-to-launch decentralized exchange software, we create a completely decentralized cryptocurrency exchange.
We Design Exchanges With Strict Security Requirements
We ensure that our cryptocurrency exchange development process fully recognizes the cryptocurrency exchange security standard so that the generated cryptocurrency exchange is hackproof and preventative against future hi-tech security threats. We often conduct in-depth analyses of past, current, and future cyber security failures on global cryptocurrency exchanges, and we store the findings to take preventative steps while creating a new crypto exchange.
While pushing the established exchange to the next tier, our external expert team will guarantee that any security flaws are addressed.
For the completed beta exchange, our internal security audit team will run a bug bounty program to uncover configuration mistakes and software flaws that developers may have overlooked.
Cyber Security Score Check
We then do a thorough cyber security score check to ensure the existence of SSL, Cookie Security, 2FA, X-Frame, Strict-Transport-Security, Anti-Phishing Protection, AML, Device Management, SPF, WAF, and other criteria.
Cryptocurrencyexchange Development Company
As a leading cryptocurrency exchange development companyin Ottawa, Canada, Hyperlink InfoSystem ensures our precious customers that by using our white label cryptocurrency exchange software development services, they will be able to establish safer, speedier, and next-generation cryptocurrency exchanges. We have expanded our services to several nations worldwide. Our team of professionals is always ready to do an in-depth study on any challenging needs and can assure that results will be delivered on time and without errors.
Process We Follow
1. Requirement Gathering
We analyze the requirements with the clients to understand the functionalities to combined into the app. This process allows us to form a development plan and transform the client's thoughts into an efficient and functional app.
2. UI/UX Design
Our developers use efficient UI trends to design apps that are not only pleasant to the eye but also intuitiveness and flexible. Our applications do not only complete the needs of our clients but also are simple and convenient to the end-users.
3. Prototype
We develop a preliminary visualization of what the mobile app would look like. This helps to generate an idea of the appearance and feel of the app, and we examine the users' reactions to the UI and UX designs.
4. Development
Our team of experts in Native, Hybrid, and Cross-Platform app development, using languages such as Swift, Kotlin, PhoneGap, Ionic, Xamarin, and more to produce high-quality mobile apps for the various operating systems.
5. Quality Assurance
We have a team of developers who carefully test every app to ensure that they provide an excellent user experience and meet the requirements of our clients. Apps developed by our development team are bug-free because they perform through a series of experiments before deployment.
6. Deployment
We follow the best practices when deploying our apps on different app stores, where they can be easily noticeable to considered users.
7. Support & Maintenance
All digital solutions need development. The deployment of an app is not the ultimate stage. Even Post-deployment, we work with our clients to offer maintenance and support.
Process We Follow
1. Requirement Gathering
We follow the first and foremost priority of gathering requirements, resources, and information to begin our project.
2. UI/UX Design
We create catchy and charming designs with the latest tools of designing to make it a best user-friendly experience.
3. Prototype
After designing, you will get your prototype, which will be sent ahead for the development process for the product.
4. Development
Development of mobile application/ web/blockchain started using latest tools and technology with transparency.
5. Quality Assurance
Hyperlink values quality and provides 100% bug free application with no compromisation in it.
6. Deployment
After trial and following all processes, your app is ready to launch on the App store or Play Store.
7. Support & Maintenance
Our company offers you all support and the team is always ready to answer every query after deployment.
Latest Blogs
Explore the Latest Blogs on Trends and Technology.