Cryptocurrency Wallet Development In Canada
Are you looking to Develop A Bitcoin Based Wallet App? Contact Hyperlink InfoSystem to Get a Quick Affordable Quote Now.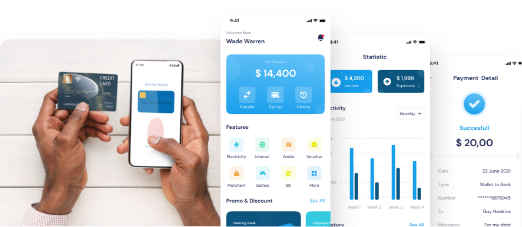 A cryptocurrency wallet is essential for the effective trading of coins. Get access to our completely customizable, white-label, high-quality bitcoin wallet creation services. You can secure the success of your crypto company by using our interactive wallets. Develop cryptocurrency wallets when you hire cryptocurrency wallet developers in Calgary, Canada.
You have total control over your money and digital assets with our bitcoin app wallet. As a result, at Hyperlink InfoSystem, we integrate critical resources for all crypto investors and anyone who wants to take advantage of various chances. We design creative crypto wallets capable of storing various coins as part of our crypto app development services.
Features Of Our Cryptocurrency Wallet
Through KYC verification, we establish a reputable and authentic user base.
We provide greater privacy with our white-label wallet solution.
Automatic Conversion Rates
There are many currency alternatives for examining balances and converting.
Multiple Coins And Assets
We allow trading with any coin. Users can effortlessly purchase and sell from their wallets using safe and low-latency transactions.
Our solution works on all platforms, including Android, iOS, Windows, and Linux.
We provide a highly secure platform for the simultaneous transfer of numerous assets.
A simple UI for a smooth user experience
Over-the-counter trading allows customers to trade assets directly with one another.
Why Should You Choose Hyperlink InfoSystem to Create a Cryptocurrency Wallet
Hyperlink InfoSystem is ready 24 hours a day, 7 days a week to help with the creation of a specialized bitcoin solution. Our expert development team has extensive experience dealing with bitcoin applications and can provide stable, safe, and functioning cryptocurrency apps.
At Hyperlink InfoSystem, we are dedicated to providing complete client satisfaction. As a result, we are accessible 24 hours a day, 7 days a week to provide first-rate app support and maintenance services.
Hyperlink InfoSystem places a strong emphasis on providing its customers with best-in-class bitcoin app development solutions. We use our strong ideals to guide our customers to success.
In the development team, we have a team of highly competent and trained cryptocurrency exchange and wallet developers. Our developers have firsthand expertise in developing feature-rich bitcoin solutions for a wide range of company sizes and kinds.
We have a proven track record of providing world-class performance in bitcoin wallet development solutions at Hyperlink InfoSystem. Our app development team works diligently to complete profitable projects on time.
Reasonably priced options
When you use our bitcoin app development services, you will get cost-effective solutions that meet a variety of company needs. Businesses can efficiently choose our specialists, thanks to our innovative recruiting strategies.
We Provide Custom-Made Wallets That Meet Business Needs.
Metaverse Wallet Development
Expert-created Metaverse wallet solutions improve consumers' virtual world experiences. Our Metaverse wallet development solutions enable customers to generate, transfer, and configure metaverse assets according to their preferences.
Provide custodial or non-custodial wallets to your users. Allow for the safe storage and transfer of non-fungible tokens. Take advantage of institutional-grade security and usability.
Development Of Custodial And Non-Custodial Wallets
Private keys are used to secure sensitive data in the development of custodial wallets. It's the most user-friendly wallet, with a simple setup and data backup after providing the required information. The introduction of non-custodial wallets offers users a browser for dApps to exchange and stake crypto assets.
Multi-Cryptocurrency Wallet Development
Give your users a wallet that accepts a wide range of currencies and tokens. Allow for the purchase, sale, and storage of several cryptos in one location. Allow for the transfer and storage of crypto assets.
White Label Crypto Wallet Service
We use our experience and skills to offer a high-performance white-label multi-currency wallet solution that is consistent with your aims and corporate brand.
Our non-custodial white-label wallet substitutes private keys with independently generated mathematical secret shares, which improves privacy.
Cross-Platform Functionality
Our white-label wallet is available for iOS, Android, Windows, and Linux. Give your wallet users a highly secure and adaptable infrastructure that can be accessed from any device.
Purchase crypto with a credit card
Our wallet allows customers to purchase desired cryptocurrencies using a credit card while assuring safe and quick transactions.
Users can sell cryptocurrency straight from their wallets and have the funds paid to their credit cards with minimal delay.
Multi-Coin And Multi-Asset Support
Bitcoin, Ethereum, and ERC20 tokens are all supported natively. It is the greatest multi-cryptocurrency wallet since it allows for the smooth integration of altcoins and tokens based on company requirements.
The chat capability allows wallet users to swap their crypto assets quickly and conveniently, without the need to visit a crypto trading site.
API Access To Crypto Exchanges
Users can purchase or sell desired cryptocurrencies without leaving the site thanks to a secure API link with the top crypto exchange platforms. Hyperlink InfoSystem is a leading cryptocurrency wallet development agency in Calgary, Canada.
Hourly
For short-term project or need a specialized service, hire our skilled Java Developers on an hourly basis.
Hire Now
We sign NDA for all our projects.
Monthly
For rather precise, limited budget, less time and long-term partnership, consider a source of Java Developers on a monthly basis.
Hire Now
We sign NDA for all our projects.
Quarterly
If you need constant support or guidance and expecting your target audience and project requirements may change then hire Java Developers on a quarterly basis.
Hire Now
We sign NDA for all our projects.
Process We Follow
1. Requirement Gathering
We analyze the requirements with the clients to understand the functionalities to combined into the app. This process allows us to form a development plan and transform the client's thoughts into an efficient and functional app.
2. UI/UX Design
Our developers use efficient UI trends to design apps that are not only pleasant to the eye but also intuitiveness and flexible. Our applications do not only complete the needs of our clients but also are simple and convenient to the end-users.
3. Prototype
We develop a preliminary visualization of what the mobile app would look like. This helps to generate an idea of the appearance and feel of the app, and we examine the users' reactions to the UI and UX designs.
4. Development
Our team of experts in Native, Hybrid, and Cross-Platform app development, using languages such as Swift, Kotlin, PhoneGap, Ionic, Xamarin, and more to produce high-quality mobile apps for the various operating systems.
5. Quality Assurance
We have a team of developers who carefully test every app to ensure that they provide an excellent user experience and meet the requirements of our clients. Apps developed by our development team are bug-free because they perform through a series of experiments before deployment.
6. Deployment
We follow the best practices when deploying our apps on different app stores, where they can be easily noticeable to considered users.
7. Support & Maintenance
All digital solutions need development. The deployment of an app is not the ultimate stage. Even Post-deployment, we work with our clients to offer maintenance and support.
Process We Follow
1. Requirement Gathering
We follow the first and foremost priority of gathering requirements, resources, and information to begin our project.
2. UI/UX Design
We create catchy and charming designs with the latest tools of designing to make it a best user-friendly experience.
3. Prototype
After designing, you will get your prototype, which will be sent ahead for the development process for the product.
4. Development
Development of mobile application/ web/blockchain started using latest tools and technology with transparency.
5. Quality Assurance
Hyperlink values quality and provides 100% bug free application with no compromisation in it.
6. Deployment
After trial and following all processes, your app is ready to launch on the App store or Play Store.
7. Support & Maintenance
Our company offers you all support and the team is always ready to answer every query after deployment.
Latest Blogs
Explore the Latest Blogs on Trends and Technology.