Data Forecasting
Experts in modern data science and machine learning methods are on hand at our data forecasting firm to help with any business need.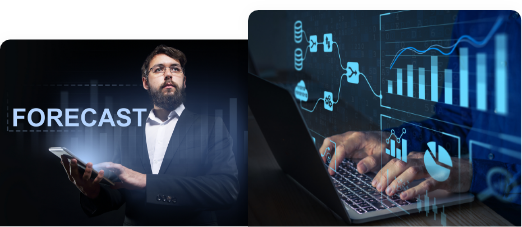 In our experience at Hyperlink InfoSystem, data forecasting has shown to be the most effective strategy for attracting new clients and increasing revenue. Therefore, we provide data forecasting solutions tailored to your sector, allowing you to have access to strategic insights across the board. We are a top data forecasting company in Victoria, Canada.
As a result of running advanced and predictive analytics, we can discover trends and forecast outcomes by combining complicated statistical models, data mining methods, and powerful machine learning technologies. You can see how different parts of your business are doing, learn more about your customers and how your page ranks, and receive advice that will help you run your company more efficiently and profitably.
Benefits of Data Forecasting
Improves Profitability And Cash Flow.
Forecasting is used to plan for inventory levels. Businesses can save money by avoiding stocking unnecessary quantities of goods thanks to accurate forecasting of demand. In many cases, this will improve a company's cash flow to the point where it can afford to stock up on the products that are performing beyond expectations.
It Serves As The Company's Master Scheduler
Firms can plan for personnel and output with the help of forecasts. Adjustments to production schedules can be made to account for changes in demand and other factors. If the demand arises, we can bring in temporary workers.
It Promotes A Plan Of Action For Your Financial Future.
A company's profitability, inventory needs, and sales targets can all be gleaned from its forecast. Actions can be made when trends stray from the plan to bring the organization back on track to achieve its objectives. What is working and what is not working might inform strategic choices. In business, forecasts are used to plan, minimize risk, and zero in on the most effective means of accomplishing objectives.
It Promotes Teamwork Across Organizational Structures
Collaboration across teams is necessary for accurate forecasting. Capacity data from production is required. Workforce scheduling and instruction are both made available through distribution. The Marketing and Sales divisions' responsibilities include advertising and providing market direction. The use of forecasting helps ensure that everyone is on the same page, has clear objectives, and is working together to achieve them. Decisions are less based on intuition when backed by evidence, as is the case with predictions.
It Emphasizes Prospective Areas Of Growth And Their Significance
If a product or category is outperforming expectations, a forecast can alert the company promptly. To optimize profits, it is possible to re-project demand and make necessary modifications to things like stock levels and prices.
Markdowns And Liabilities Are Decreased
Items that aren't selling as well as expected can be handled early and the process can be adjusted depending on the sales trend thanks to the forecasting process. Canceling or redirecting production, changing prices to stimulate demand, and stepping up marketing efforts are all viable options. Taking quick action allows for the greatest potential gain.
The Value That Our Data Predictions Can Add to Your Company
Ensure that your credit scoring models are accurate.
Provide a quicker and more precise response to your company's supply demands.
Marketing Campaign Optimization
Consulting in predictive analytics can increase the ROI of your marketing initiatives.
Gain a deeper understanding of your customers, allowing you to better sell to them.
The Use of Variable Pricing Structures
The best way to maintain a competitive edge and stem the loss of income is to optimize pricing methods.
Foreseeing Customer Loss With Churn Prediction
Customers can be retained more easily if you can anticipate their departure and take corrective measures before it's too late.
You can use machine learning to provide specific suggestions to each of your consumers.
We Provide Data-Driven Insights As A Data-Forecasting Company
Experts in modern data science and machine learning methods are on hand at our data forecasting firm to help with any business need.
Our data forecasting services can help you incorporate AI-driven tools into your daily operations. Learn more from your data, gain a deeper comprehension of it, boost performance, avoid cost overruns, and implement effective new tactics.
Our team creates bespoke and adaptable solutions, taking into account the specifics of your business and the nature of your data.
To assist our clients make better decisions, we advise them on how to effectively use data forecasting and Big data in their respective fields.
Why You Should Collaborate With Us
We simplify the process of creating high-quality applications for predictive analytics.
Constantly looking forward, that's what we do. You can count on our predictive analytics consulting services and solutions to expand in tandem with your company.
Extremely Qualified Personnel
Everything we do for our customers is geared toward the pursuit of excellence.
We always seek novel approaches to enhancing our models' output for more influence.
The Process We Follow
If you don't have a system in place, offering services related to the creation of predictive analytics might be difficult. Hyperlink InfoSystem has created an efficient method for making your plans a reality.
Understanding you, your company, and your target audience is the first step in every successful project. We utilize this information to learn about the challenges you confront, the capabilities you need, and the computer vision results you want.
We next evaluate the data and begin to provide design options that meet your demands and those of your target audience. Including but not limited to hardware specifications and project timelines. Then, we settle on the strategy you'd want to implement.
The initial iteration of the final product is developed using computer vision. The solution is being developed by our team behind the scenes. Each sprint concludes with a review of the previous sprint's work.
The task of delivering the computer vision solution is far from complete. We'll keep working with you and adjusting things as needed. We also provide support if you desire to modify the system's ecosystem. Contact Hyperlink InfoSystem to hire data forecasting developers in Victoria, Canada.
Hourly
For short-term project or need a specialized service, hire our skilled Dart developers on an hourly basis.
Hire Now
We sign NDA for all our projects.
Monthly
For rather precise, limited budget, less time and long-term partnership, consider a source of Dart developers on a monthly basis.
Hire Now
We sign NDA for all our projects.
Quarterly
If you need constant support or guidance and expecting your target audience and project requirements may change then hire Dart developers on a quarterly basis.
Hire Now
We sign NDA for all our projects.
Process We Follow
1. Requirement Gathering
We analyze the requirements with the clients to understand the functionalities to combined into the app. This process allows us to form a development plan and transform the client's thoughts into an efficient and functional app.
2. UI/UX Design
Our developers use efficient UI trends to design apps that are not only pleasant to the eye but also intuitiveness and flexible. Our applications do not only complete the needs of our clients but also are simple and convenient to the end-users.
3. Prototype
We develop a preliminary visualization of what the mobile app would look like. This helps to generate an idea of the appearance and feel of the app, and we examine the users' reactions to the UI and UX designs.
4. Development
Our team of experts in Native, Hybrid, and Cross-Platform app development, using languages such as Swift, Kotlin, PhoneGap, Ionic, Xamarin, and more to produce high-quality mobile apps for the various operating systems.
5. Quality Assurance
We have a team of developers who carefully test every app to ensure that they provide an excellent user experience and meet the requirements of our clients. Apps developed by our development team are bug-free because they perform through a series of experiments before deployment.
6. Deployment
We follow the best practices when deploying our apps on different app stores, where they can be easily noticeable to considered users.
7. Support & Maintenance
All digital solutions need development. The deployment of an app is not the ultimate stage. Even Post-deployment, we work with our clients to offer maintenance and support.
Process We Follow
1. Requirement Gathering
We follow the first and foremost priority of gathering requirements, resources, and information to begin our project.
2. UI/UX Design
We create catchy and charming designs with the latest tools of designing to make it a best user-friendly experience.
3. Prototype
After designing, you will get your prototype, which will be sent ahead for the development process for the product.
4. Development
Development of mobile application/ web/blockchain started using latest tools and technology with transparency.
5. Quality Assurance
Hyperlink values quality and provides 100% bug free application with no compromisation in it.
6. Deployment
After trial and following all processes, your app is ready to launch on the App store or Play Store.
7. Support & Maintenance
Our company offers you all support and the team is always ready to answer every query after deployment.
Latest Blogs
Explore the Latest Blogs on Trends and Technology.