DevOps
As a DevOps development agency in Victoria, Canada, we can help your development team stay on the same page.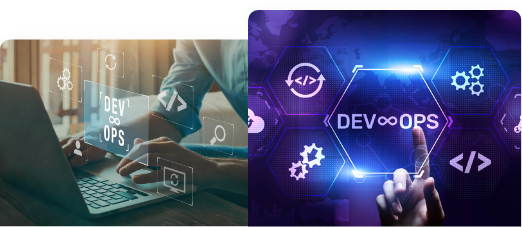 DevOps is an approach to software development and information technology that seeks to streamline and standardize the teams' common workflows via the use of shared automation technologies and similar cultural values. It is based on the tenets of team autonomy, team communication and cooperation, and technological automation. As a DevOps development agency in Victoria, Canada, we can help your development team stay on the same page.
It usually entails platform standardization, an agile development process, and team participation in operationally driven projects for development teams. Teams responsible for operations must work for greater reliability, reduced costs, and quicker responses.
DevOps' Benefits to Organizations
DevOps' advantages are many, including less complicated release processes, more productive teams, safer goods, and, ultimately, satisfied clients and workers.
The quality of software products may be enhanced by the use of techniques like continuous integration and continuous delivery, which guarantee that modifications function well and are safe. Keeping tabs on performance in real-time is a lot easier with monitoring.
As security is included in the continuous integration, continuous delivery, and continuous deployment pipeline, DevSecOps is an integral and dynamic element of the development process. Integrating active security audits and security testing into agile development and DevOps processes ensures that security is intrinsic to the final result.
DevOps-enabled teams improve release frequency, quality, and stability. Teams may use automated technologies for software development, testing, and delivery with continuous delivery.
DevOps is built on a culture where developers and operations teams work together to combine and share tasks. As a result, teams may save time and effort on tasks like task delegation and writing code that is optimized for the target platform.
DevOps teams enhance products more rapidly by boosting the frequency and pace of releases. If you can release new features and fix defects more rapidly than the competition, you will have a distinct edge.
DevOps Practices
DevOps teams manage all phases of software creation, from initial ideation to final deployment and maintenance. In that manner, they can swiftly and mechanically address any issue affecting the client service they provide. As a result, it facilitates a "Shift Left" strategy sooner in development and lessens the need to make drastic adjustments to production.
If you want everyone in your company to be able to accomplish their duties as fast and effectively as possible, you need to make sure they have access to the information they need. Team members need frequent information on the status and performance of applications in production, as well as alerts when there are problems in the deployment process. Teams can't function without access to various forms of feedback, including metrics, logs, traces, monitoring, and alarms.
When it comes to building and releasing high-quality software, one of the most crucial DevOps techniques is automation. By automating the build, testing, and deployment processes, the amount of time it takes to make changes to the code and upload it to a repository is drastically reduced.
What we mean by "continuous integration" is the process of automatically incorporating new or updated code into a software development effort. As a result, developers may easily include regularly updated code into a single repository from which to launch builds and tests. By doing so, DevOps teams can verify and deliver new software updates more quickly, enhance software quality, and repair defects more quickly.
In tandem with Continuous Integration, Continuous Delivery expedites the rollout of new and updated code to a staging and production environment. The term "continuous delivery pipeline" refers to a set of procedures for releasing an entirely automated product, from building and testing to deploying.
DevOps Techniques
Several standard DevOps practices are used by businesses today to cut down on time spent on product development and delivery cycles while simultaneously increasing quality. They are often promoted as standard procedures for creating software. Scrum, Kanban, and Agile are three of the most well-known frameworks.
Agile. DevOps principles and technologies are heavily influenced by Agile, an earlier approach to software development. Scrum and Kanban are only two of many processes that have adopted Agile programming principles. Some of these methods include keeping in constant contact with clients to learn their thoughts and preferences, having daily catch-up meetings, documenting needs in the form of case studies, and documenting requirements.
Kanban. Kanban was inspired by the success of the Toyota production system. Kanban recommends using a Kanban board to monitor the "work in progress" (WIP) of a software development project.
Scrum. Scrum is a framework that specifies how a team should work together to expedite and improve quality control and product development. Scrum procedures include fundamental processes, jargon, and roles.
Scalable High-Quality, Fast-Moving, And Automated Processes
Our DevOps approach is culturally driven. To produce high-quality, quickly-delivered enterprise software solutions, we use agile DevOps methods across the board and ensure that our people, processes, and automation are all working in concert.
Our rapid DevOps approach streamlines software development by eliminating bottlenecks, automating manual tasks, and expanding on cutting-edge technologies to boost teamwork, expertise, and output. Hyperlink InfoSystem, as a leading DevOps development agency in Victoria, Canada, is a reliable technology partner that may assist with or take over the management of DevOps methods to ensure continuous development.
Hourly
For short-term project or need a specialized service, hire our skilled WooCommerce developers on an hourly basis.
Hire Now
We sign NDA for all our projects.
Monthly
For rather precise, limited budget, less time and long-term partnership, consider a source of WooCommerce developers on a monthly basis.
Hire Now
We sign NDA for all our projects.
Quarterly
If you need constant support or guidance and expecting your target audience and project requirements may change then hire WooCommerce developers on a quarterly basis.
Hire Now
We sign NDA for all our projects.
Process We Follow
1. Requirement Gathering
We analyze the requirements with the clients to understand the functionalities to combined into the app. This process allows us to form a development plan and transform the client's thoughts into an efficient and functional app.
2. UI/UX Design
Our developers use efficient UI trends to design apps that are not only pleasant to the eye but also intuitiveness and flexible. Our applications do not only complete the needs of our clients but also are simple and convenient to the end-users.
3. Prototype
We develop a preliminary visualization of what the mobile app would look like. This helps to generate an idea of the appearance and feel of the app, and we examine the users' reactions to the UI and UX designs.
4. Development
Our team of experts in Native, Hybrid, and Cross-Platform app development, using languages such as Swift, Kotlin, PhoneGap, Ionic, Xamarin, and more to produce high-quality mobile apps for the various operating systems.
5. Quality Assurance
We have a team of developers who carefully test every app to ensure that they provide an excellent user experience and meet the requirements of our clients. Apps developed by our development team are bug-free because they perform through a series of experiments before deployment.
6. Deployment
We follow the best practices when deploying our apps on different app stores, where they can be easily noticeable to considered users.
7. Support & Maintenance
All digital solutions need development. The deployment of an app is not the ultimate stage. Even Post-deployment, we work with our clients to offer maintenance and support.
Process We Follow
1. Requirement Gathering
We follow the first and foremost priority of gathering requirements, resources, and information to begin our project.
2. UI/UX Design
We create catchy and charming designs with the latest tools of designing to make it a best user-friendly experience.
3. Prototype
After designing, you will get your prototype, which will be sent ahead for the development process for the product.
4. Development
Development of mobile application/ web/blockchain started using latest tools and technology with transparency.
5. Quality Assurance
Hyperlink values quality and provides 100% bug free application with no compromisation in it.
6. Deployment
After trial and following all processes, your app is ready to launch on the App store or Play Store.
7. Support & Maintenance
Our company offers you all support and the team is always ready to answer every query after deployment.
Latest Blogs
Explore the Latest Blogs on Trends and Technology.