Embedded Software
Hyperlink InfoSystem offers services for the creation of embedded software in M2M communication systems and standalone devices for a wide variety of uses.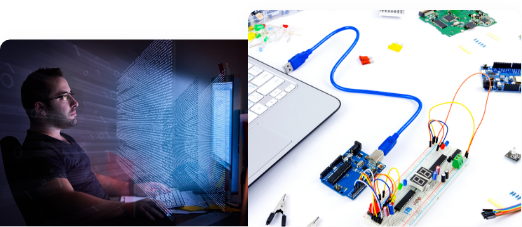 Hyperlink InfoSystem offers services for the creation of embedded software in M2M communication systems and standalone devices for a wide variety of uses.Because of our expertise in RTOS (real-time operating system), Linux, Internet protocols, networking, security, and the C/C++ programming languages, as well as our years of experience in developing embedded hardware, we can create top-tier software for microcontrollers and microprocessors. Meet with us to hire embedded software developers in Ottawa, Canada.
We focus on expanding our presence in the telecommunications, consumer electronics, healthcare, education, and industrial automation sectors. Standards for certification and accreditation are met by our software, making it reliable and high-performing as needed.
Embedded Software Development ServicesProvided by Us
Application Programming Interfaces Integrations
Proficient in Embedded Software as well as conventional online and cloud applications, mobile, desktop, and Internet of Things (IoT)-based solutions. We can take care of the whole process, from beginning to finish, including delivery, issue resolution, and determining the optimal case for your solution.
Embedded User Interface Design
Through the use of cutting-edge GUI technologies, such as Linux-based Qt, TotalCross, LVGL, uGFX, GUIslice, GuiLite, or Tcl/Tk, platform-independent uGFX, GUIslice, GuiLite, ReactJS Widgets, and web applications in AngularJS, we can assist you in creating a graphical user interface that is fast, scalable, and reliable.
Auditing, Enhancing Performance, And Troubleshooting
Should you have a problem with leaking memory, performance, or security of your product, our specialists will happily accept the case and assess your solution from hardware design, platform, and low-level code to the APIs and integrations.
Hardware Conceptualization and Rapid Prototyping
We're here to assist you whenever you need it throughout the creation of your project. The process starts with picking a reference board and ends with a proof of concept. We can set up a testing environment, recommend a suitable Reference Board or Evaluation Kit with all the required peripherals and related infrastructure, develop a prototype, develop a board support package for the required Operating System (OS), and make new drivers and programs from scratch.
Creation of Embedded Systems And Firmware
To ensure that your hardware meets all of your criteria, we can assist with the development of bare metal code, bootloaders, and OS kernels. We have extensive experience with a wide variety of hardware platforms and central processing unit (CPU) architectures, including ARM, X86, PowerPC, AVR, and PIC.
Creation of Driver and Board Maintenance Packages
For your hardware to interact with Embedded Linux, Android, Buildroot, or RTOS, our team can provide a Board Support Package / OS Kernel package. We also have extensive expertise in driver creation and optimization for linking your hardware to add-on modules and other devices.
Our team has completed several platform migrations. Maintaining and improving your product can become too costly and time-consuming if you rely on outdated technology or previously released but failed items. Our primary offerings include porting your app to Linux, Android, and iOS, providing containerization assistance, and transferring your solution to the Yocto platform.
Testing of Embedded and Firmware Software
Testing software is an involved procedure that can be time-consuming and calls for certain technical competence and experience. Manual and automated testing, both on-target and on-host, are both under our team's purview. We use cutting-edge methods, tools, and frameworks for testing in both cases, including Vector Software, Klocwork, Parasoft DTP, and Hitex.
Embedded System Development for a Comprehensive Software Initiative
Thanks to our big, distributed teams, we are not only seasoned experts in firmware creation but also in "conventional" backend and frontend technologies, mobile applications, cloud services, and the Internet of Things. Through the use of application programming interfaces (APIs) or the development of a mobile, desktop, online, or cloud application, we can fully integrate your embedded device into the business IT ecosystem.
Tools and Techniques For Creating Embedded Software
Our team of skilled programmers and engineers has worked with the most common embedded software development tools for many years.
To create embedded solutions, high-performance mobile apps, and more, our developers rely on Visual Studio.
While developing embedded automotive software in Ada, C, C#, C++, Python, or PHP, we utilize the Eclipse IDE.
Using the many features of NetBeans, which include C, C++, and PHP, we develop apps that use JavaScript, CSS, and HTML.
We leverage MATLAB's extensive capabilities to develop GUIs, functions, graphs, and algorithms for embedded systems.
To develop our interactive electrical items, we use the free and open-source IDE Arduino to write our programs and upload them.
When developing embedded software systems in Python, we take use of the robust capabilities of the PyCharm IDE.
When developing complex applications with integrated JavaScript, CSS, and HTML, we rely on the WebStorm IDE.
To develop embedded devices in C++, QML, and JavaScript, we use Qt Creator's unified library sets, application programming interfaces (APIs), and tools.
To build embedded software for various ARM-based embedded devices, we utilize the ARM Keil development tool.
DevelopRobust Embedded Solutions With Hyperlink InfoSystem
We are a software development business that specializes in designing, coding, and testing software for embedded systems, from the bootloader to the GUI or end-user software. We, as a leading embedded software development agency in Ottawa, Canada, provide firmware and device driver development, board support package creation for various OSes including Android, Linux, and RTOS, and software development for single board computers as part of our embedded software engineering services that we offer for outsource.
Hourly
For short-term project or need a specialized service, hire our skilled Yii developers on an hourly basis.
Hire Now
We sign NDA for all our projects.
Monthly
For rather precise, limited budget, less time and long-term partnership, consider a source of Yii developers on a monthly basis.
Hire Now
We sign NDA for all our projects.
Quarterly
If you need constant support or guidance and expecting your target audience and project requirements may change then hire Yii developers on a quarterly basis.
Hire Now
We sign NDA for all our projects.
Process We Follow
1. Requirement Gathering
We analyze the requirements with the clients to understand the functionalities to combined into the app. This process allows us to form a development plan and transform the client's thoughts into an efficient and functional app.
2. UI/UX Design
Our developers use efficient UI trends to design apps that are not only pleasant to the eye but also intuitiveness and flexible. Our applications do not only complete the needs of our clients but also are simple and convenient to the end-users.
3. Prototype
We develop a preliminary visualization of what the mobile app would look like. This helps to generate an idea of the appearance and feel of the app, and we examine the users' reactions to the UI and UX designs.
4. Development
Our team of experts in Native, Hybrid, and Cross-Platform app development, using languages such as Swift, Kotlin, PhoneGap, Ionic, Xamarin, and more to produce high-quality mobile apps for the various operating systems.
5. Quality Assurance
We have a team of developers who carefully test every app to ensure that they provide an excellent user experience and meet the requirements of our clients. Apps developed by our development team are bug-free because they perform through a series of experiments before deployment.
6. Deployment
We follow the best practices when deploying our apps on different app stores, where they can be easily noticeable to considered users.
7. Support & Maintenance
All digital solutions need development. The deployment of an app is not the ultimate stage. Even Post-deployment, we work with our clients to offer maintenance and support.
Process We Follow
1. Requirement Gathering
We follow the first and foremost priority of gathering requirements, resources, and information to begin our project.
2. UI/UX Design
We create catchy and charming designs with the latest tools of designing to make it a best user-friendly experience.
3. Prototype
After designing, you will get your prototype, which will be sent ahead for the development process for the product.
4. Development
Development of mobile application/ web/blockchain started using latest tools and technology with transparency.
5. Quality Assurance
Hyperlink values quality and provides 100% bug free application with no compromisation in it.
6. Deployment
After trial and following all processes, your app is ready to launch on the App store or Play Store.
7. Support & Maintenance
Our company offers you all support and the team is always ready to answer every query after deployment.
Latest Blogs
Explore the Latest Blogs on Trends and Technology.