Golang Development Company In Canada
Our Developers are Golang programming professionals who use the language's performance and security advantages for both new and current applications.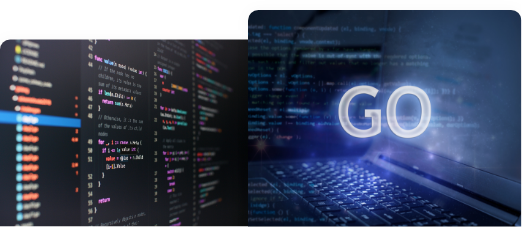 Golang is a safe, concurrent language that is used by organizations such as Google, Netflix, Uber, Docker, and Hashicorp to develop high-performance microservices and distributed systems. Our developers are Golang programming professionals who use the language's performance and security advantages for both new and current applications. Meet with Hyperlink InfoSystem to hire Golang developers in Toronto, Canada.
We can effectively develop apps for iOS, Linux, and Windows using Golang, both on the server and client sides. Furthermore, Golang provides a large range of dependable open-source tools and frameworks, allowing us to concentrate on finishing your project rather than recreating the wheel.
Reasons To Use Golang
It contributes to the development of a legitimate testing framework that empowers its users and provides them with a library where a broad range of tasks based on requirements and services can be performed.
Cloud-Based Golang Design
The apps that developers are creating or developing nowadays are mostly designed with the cloud in mind. Golang language shares the same vision, which makes it popular and contributes to its market development.
It is very secure on a clean and transparent foundation with no flaws, and it addresses a lot of issues on its own. It is a tightly typed programming language that requires the user to submit only valid and necessary data.
Furthermore, the compilation is tight, and it is aware of the many sorts of variables that you will use on this platform. It cleans the leftover data while simultaneously collecting and integrating it in a more meaningful manner. This increases the security and safety of the Golang architecture.
Golang essentially established its open-source language and concurrent working paradigm, and the syntax it gives to users is quite quick to use. Golang's language is compiled or can be transformed to machine code language, which essentially implies that the program can be run in a lower-level format for improved performance. Furthermore, the Golang compilation is lightning fast. It also does not rely on servers since they develop or connect many links from dependent libraries in one location.
Because this language is built on the concurrency paradigm, the programs or work done here can be completed in stages without influencing the ultimate output result. Furthermore, the usage of this model does not need hefty threads; instead, it has channels and is light. It is just one of the greatest languages accessible when compared to others.
The Golang programming language is free and open source. How they work for it is determined by the people, what improvements they desire, and the suggestions they propose. Furthermore, no one owns it. They are open to the public and anybody can participate.
Our Golang Programming Services
For a wide range of industry-specific websites, content management systems (CMS), applications Single Page Agents (SPAs), Web Services, Customer Relationship Management (CRM) Systems, B2B/B2C Web Portals, Cloud Architectures, and Golang REST APIs, we program intuitive user interfaces and experiences (UI/UX), database management systems, and server-side scripts and applications.
Golang Development Services
By exploiting Go's support for expansive memory management, multicore and parallel computation, dependency analysis, lightweight multithreading, and comprehensive garbage collection, you can create robust, high-performance Golang programs that operate on many operating systems. Cabling framework, front-end and back-end programming, modular integrations, debugging, testing, and deployment are all part of our full-cycle Golang services. We also provide GoRoutines, which allow for concurrent functioning.
Golang Mobile Development
Programming responsive, machine-aware, and readily adaptable native and cross-platform mobile apps using operating system APIs and device capabilities. The GoMobile tool is used to develop code, bind OpenGL, develop reusable Golang packages, and handle assets and events. We use Google's Golang Android programming skills while also providing complete iOS development.
Golang Programming Customization
We use the Google Go (or Golang) programming language to create new apps, manage old ones, and undertake rescue operations when development resources are limited. We create scalable Golang web apps, cross-platform desktop, and mobile applications, Delphi back-end architectures, intranets, internet, multi-core and distributed systems, command line scripts, responsive APIs, and graphical user interfaces.
Our Golang Developer Experience
We create bespoke online, desktop, and mobile apps in Golang utilizing the greatest frameworks and IDEs available, such as:
To develophigh-speed RESTful APIs, we employ Gin-gonic's tiny framework and impenetrable HTTP router. Gin-gonic's expertise covers rendering, JSON validation, and complicated middleware development.
Using the well-documented open-source development tools of LiteIDE for WordAPI theming and auto-completion, dynamic code management, and customized build commands.
We use the Revel framework for Golang and its rapid access code reload tool to create high-performance web apps and APIs. This tool stores several versions of a code base, decreasing time spent troubleshooting.
The Cloud9 IDE's highly functional programming editor is used to create solid Golang programs. Cloud9 supports the embeddable programming languages C, C++, Python, Perl, and JavaScript for outlining, stripping, debugging, and code completion.
Hire the Best Golang DevelopersInToronto, Canada
Hyperlink InfoSystem is a worldwide recognized and trusted Golang development agency in Toronto, Canada. We allow you to employ a Golang developer of your choosing with the necessary skill set and expertise whenever it is convenient for you. We can help you develop unique Golang development solutions and creative corporate apps to handle challenging business issues using our in-depth understanding and vast Golang programming language skills.
Hourly
For short-term project or need a specialized service, hire our skilled Data Scientist on an hourly basis.
Hire Now
We sign NDA for all our projects.
Monthly
For rather precise, limited budget, less time and long-term partnership, consider a source of Data Scientist on a monthly basis.
Hire Now
We sign NDA for all our projects.
Quarterly
If you need constant support or guidance and expecting your target audience and project requirements may change then hire Data Scientist on a quarterly basis.
Hire Now
We sign NDA for all our projects.
Process We Follow
1. Requirement Gathering
We analyze the requirements with the clients to understand the functionalities to combined into the app. This process allows us to form a development plan and transform the client's thoughts into an efficient and functional app.
2. UI/UX Design
Our developers use efficient UI trends to design apps that are not only pleasant to the eye but also intuitiveness and flexible. Our applications do not only complete the needs of our clients but also are simple and convenient to the end-users.
3. Prototype
We develop a preliminary visualization of what the mobile app would look like. This helps to generate an idea of the appearance and feel of the app, and we examine the users' reactions to the UI and UX designs.
4. Development
Our team of experts in Native, Hybrid, and Cross-Platform app development, using languages such as Swift, Kotlin, PhoneGap, Ionic, Xamarin, and more to produce high-quality mobile apps for the various operating systems.
5. Quality Assurance
We have a team of developers who carefully test every app to ensure that they provide an excellent user experience and meet the requirements of our clients. Apps developed by our development team are bug-free because they perform through a series of experiments before deployment.
6. Deployment
We follow the best practices when deploying our apps on different app stores, where they can be easily noticeable to considered users.
7. Support & Maintenance
All digital solutions need development. The deployment of an app is not the ultimate stage. Even Post-deployment, we work with our clients to offer maintenance and support.
Process We Follow
1. Requirement Gathering
We follow the first and foremost priority of gathering requirements, resources, and information to begin our project.
2. UI/UX Design
We create catchy and charming designs with the latest tools of designing to make it a best user-friendly experience.
3. Prototype
After designing, you will get your prototype, which will be sent ahead for the development process for the product.
4. Development
Development of mobile application/ web/blockchain started using latest tools and technology with transparency.
5. Quality Assurance
Hyperlink values quality and provides 100% bug free application with no compromisation in it.
6. Deployment
After trial and following all processes, your app is ready to launch on the App store or Play Store.
7. Support & Maintenance
Our company offers you all support and the team is always ready to answer every query after deployment.
Latest Blogs
Explore the Latest Blogs on Trends and Technology.