Insurance
Hyperlink InfoSystem can provide unique applications and software for your insurance needs. We provide solutions that help improve process efficiency.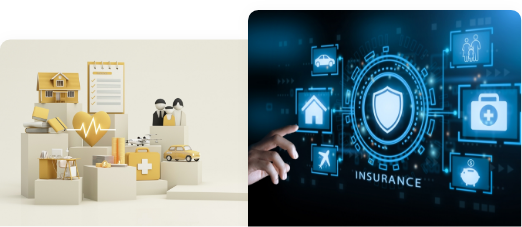 Many industries, including insurance brokerages, have had to undergo digital transformations to provide their customers with the best service possible. Meet with our developers to hire insurance app developers in Toronto, Canada.
A mobile insurance app can be a great time saver. Above all else, it's a huge pain and time-sink to shop around for insurance. If you want to make sure no important communication is lost, this also applies to filing paperwork.
It's helpful to have a digital insurance folder, and you can achieve so with a dedicated app. This implies that you will always have access to the policies from both your current and former insurance providers. A digital insurance folder has many advantages over a physical one, including portability, customization, and readability.
The insurance policy app fits neatly into the palm of your hand and is accessible from any smartphone. So, you can verify your insurance coverage whenever you choose. Getting the proper deals in this manner is like having a little broker in your back pocket. With the insurance folder on your smartphone, you can talk to your actual broker whenever you want instead of making an appointment or standing in line.
Features Of An Insurance App
An insurance app's user interface should be clean and straightforward, making it easy to find the relevant details when they're needed. The auto insurance app, for instance, should make it easy to complete necessary post-crash steps.
In addition, it has to use various technologies to provide consumers with the right support. In particular, geolocation and push notifications stand out among these technologies. In the context of health insurance, for instance, the use of cutting-edge technology to locate a nearby medical facility is increasingly vital.
The Advantages Of An App For Insurance Companies
It is common practice for insurance companies to provide their clients with a range of services, and apps are a great way to streamline the delivery of these offerings to policyholders. If you get a flat tire, for instance, all you have to do is press a button on the app and a tow truck will come to pick up your car.
There are several ways in which apps might profit from push notifications. By way of push notifications, users of insurance-related apps can receive updates, specials, and other information that can be of interest to them as insurance consumers.
Enhancing Data Management
Also, businesses will have an easier time keeping track of user information, which will allow them to tailor their services to each individual's preferences.
New communication channel
Incorporating an insurance app into a business has several advantages, one of the most notable being the opening of a new line of contact that can be used to build a strong and personal rapport with customers. As a result, answers can be provided and user questions answered in a far more timely and effective manner.
One major advantage is that consumers can access all of their insurance-related information in one place through an app, so they always know exactly what they've paid for and how it all works.
Features Of An Insurance Application
Once a claim has been submitted, the user should be able to get updates on where their claim stands in the resolution process. Customers who are kept up to date on the status of their claims report feeling less worried and more certain overall.
Customers should be able to get in touch with support if they run into issues or want clarification on any aspect of their coverage. As such, it can be a good idea to implement an AI chatbot to handle common inquiries from customers.
Customers who are applying for insurance online must provide accurate and up-to-date information about the person or thing they want to insure in their profile.
In the case of health or life insurance, for instance, the customer is expected to provide specifics about themselves. Information on the vehicle and its condition is required in the profile section of an auto insurance application.
One of the most important functions of an insurance app is the ability to submit a claim. Your customers should be able to submit a claim promptly after the occurrence of the covered event.
The software should let customers snap pictures and submit papers as proof of damage, whether it's for a car or home insurance.
Customers can make payments without leaving the app's UI when a payment mechanism is built in. Better still, insurers can implement automated payment services for yearly or monthly insurance rates.
Information About Insurance Policies
A user must be able to examine the information of their insurance policy in electronic format. Additionally, a company's clients need to be aware of its other insurance offerings.
Users would like the automatic suggestions if the organization provides a variety of plans and takes into account factors like their age, gender, marital status, and education level.
Based on the information provided by the customer, the insurer will determine the coverage options available. The buyer can better weigh their alternatives by seeing a variety of insurance products with their respective premium estimates.
Why Choose Hyperlink InfoSystem For Your Insurance App Development
Hyperlink InfoSystem can provide unique applications and software for your insurance needs. We provide solutions that help improve process efficiency, manage records, and boost customer happiness. Our company is now hiring insurance software engineers. Consult with us to hire insurance app developers in Toronto, Canada.
Latest Blogs
Explore the Latest Blogs on Trends and Technology.