IoT App Development Company In Canada
Hyperlink InfoSystem is the best leading IoT app development company in Canada. We have a team of IoT developers who are skilled in IoT technology offering the best IoT solutions.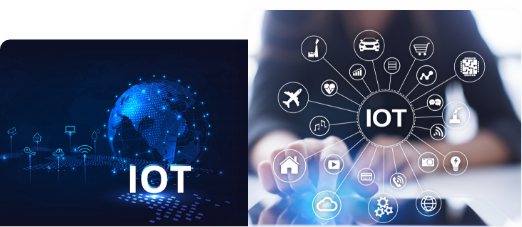 Cutting-edge innovations are on the cusp of transforming the Internet into something more tangible than an online marketplace. As QR codes became more popular, they marked the beginning of the IoT, which is expected to grow rapidly in the next years.Hire a leading IoT app development agency in Victoria, Canada to assist with the development of excellent IoT Solutions.
Technologies like tagging, Bluetooth connection, and near-field communications form the backbone of the Internet of Things, bringing "real world" things online. This opens up fascinating prospects for cooperation amongst the many billions of wireless devices that will soon be linked to the Internet.
Business opportunities aside, the Internet of Things has also improved our quality of life considerably. The proliferation of mobile technology has aided the rise of IoT, and we can see an uptick in the market's demand for IoT applications.
Technologies Makes The Internet of Things Possible
Even while the Internet of Things (IoT) has been around for some time, it has only recently taken its current form because of advancements in the following technologies.
Data can easily be sent from sensors to the cloud and subsequently to "things" like machines because of the wide availability of network protocols that facilitate internet access.
IoT devices now can understand natural language thanks to advancements in neural networks. Cortana, Siri, Alexa, and other digital helpers are all examples of artificial smart gadgets. The development of conversational AI has improved the IoT and made these gadgets useful in the home.
Analyticstechnology And Machine Learning
By storing data on the cloud and using machine learning and analytics, businesses have access to a wealth of useful information that can be put to use in developing and refining their goods and services. The development of the Internet of Things has been aided by this as well.
As a result, more businesses have been able to afford IoT technology since it is low-cost and conservative. The expansion of the IoT can be directly attributed to this factor.
The progressive development of cloud computing platforms has liberated consumers and organizations from the burden of managing their own data center infrastructure.
IoT App Development Company Serving Various Sectors
Our UI/UX firm provides for the most pressing business requirements.
Gain the advantage of accelerating production processes including processing, assembly, inspection, etc. using the application. The designs simplify streamlining and facilitate the automation of production.
To provide our customers with the tools they need to engage in online trading, we adapt to their individual needs. We develop advanced applications with a wide range of functionalities, including e-commerce and payment processing. We've simplified the purchasing process using our user interfaces.
Our supply chain management tools will make it simple for you to control the distribution of products and services. We can help you stay ahead of the competition with our streamlined business procedures and cutting-edge application designs.
We provide our customers with the means to go beyond the bounds of the traditional academic experience. Our online educational applications are useful for educators of all stripes and students of all stripes. We make fun and engaging educational IoT applications for kids.
The financial industry can count on us for cutting-edge technological support to keep their operations running smoothly. We have payment and banking software designed just for your needs. The customer will have no hiccups thanks to the app's well-thought-out layout.
When it comes to creating sales apps for small and medium-sized organizations, Hyperlink InfoSystem shines. In every industry, we provide cost-effective solutions. Customers are more drawn to and invested in our brand because of our interactive design.
We provide high-quality healthcare apps for every purpose, from illness management to fitness tracking to hospital administration. We take pride in the fact that our applications are both original and reasonably priced.
Apps For Travel And Tour Portals
Our developers and designers are familiar with the requirements of the tourist sector. Designers do in-depth research and develop high-quality Internet of Things (IoT) apps for industries such as tourism and online booking.
Benefits of IoT App Development
API and Backend Development
The skilled programmers and coders at Hyperlink InfoSystem can build unique IoT applications from the ground up, including the backend and API.
User Interface And User Experience Design
Having a fantastic user interface and user experience is crucial to the success of any program. Experts in user interface and user experience will collaborate closely with developers to make the app visually attractive and easy to use.
Every minute, the data collected by IoT-enabled devices is staggering. For optimal use of this information, Hyperlink InfoSystem incorporates analytical technologies for processing collected data, deriving actionable insights, and producing pertinent analytics.
With the help of IoT technology, it is possible to interconnect a large number of devices, resulting in increased efficiency and the development of smart surroundings. The input, output, and real-time performances of business ecosystems can be better understood with the use of IoT solutions, revealing flaws and issue areas in operational processes.
Talk to a Top Internet of Things Development Firm
For businesses that have invested in the infrastructure to facilitate the creation of excellent apps, the IoT presents a genuine growth potential. It's not out of the question that the most promising goods of the next several years will be designed with the Internet of Things in mind.
Supermarkets are gradually getting new items on the shelves. A growth and commercialization trend can be seen here. It's intriguing to see how far we can go now that we live in a world where we can exert complete power at the push of a button. If you're looking to digitally transform your company, Hyperlink InfoSystem, an IoT app development agency in Victoria, Canada, can assist you with the development of highly-efficient IoT solutions.
Hourly
For short-term project or need a specialized service, hire our skilled Flutter Developers on an hourly basis.
Hire Now
We sign NDA for all our projects.
Monthly
For rather precise, limited budget, less time and long-term partnership, consider a source of Flutter Developers on a monthly basis.
Hire Now
We sign NDA for all our projects.
Quarterly
If you need constant support or guidance and expecting your target audience and project requirements may change then hire Flutter Developers on a quarterly basis.
Hire Now
We sign NDA for all our projects.
Process We Follow
1. Requirement Gathering
We analyze the requirements with the clients to understand the functionalities to combined into the app. This process allows us to form a development plan and transform the client's thoughts into an efficient and functional app.
2. UI/UX Design
Our developers use efficient UI trends to design apps that are not only pleasant to the eye but also intuitiveness and flexible. Our applications do not only complete the needs of our clients but also are simple and convenient to the end-users.
3. Prototype
We develop a preliminary visualization of what the mobile app would look like. This helps to generate an idea of the appearance and feel of the app, and we examine the users' reactions to the UI and UX designs.
4. Development
Our team of experts in Native, Hybrid, and Cross-Platform app development, using languages such as Swift, Kotlin, PhoneGap, Ionic, Xamarin, and more to produce high-quality mobile apps for the various operating systems.
5. Quality Assurance
We have a team of developers who carefully test every app to ensure that they provide an excellent user experience and meet the requirements of our clients. Apps developed by our development team are bug-free because they perform through a series of experiments before deployment.
6. Deployment
We follow the best practices when deploying our apps on different app stores, where they can be easily noticeable to considered users.
7. Support & Maintenance
All digital solutions need development. The deployment of an app is not the ultimate stage. Even Post-deployment, we work with our clients to offer maintenance and support.
Process We Follow
1. Requirement Gathering
We follow the first and foremost priority of gathering requirements, resources, and information to begin our project.
2. UI/UX Design
We create catchy and charming designs with the latest tools of designing to make it a best user-friendly experience.
3. Prototype
After designing, you will get your prototype, which will be sent ahead for the development process for the product.
4. Development
Development of mobile application/ web/blockchain started using latest tools and technology with transparency.
5. Quality Assurance
Hyperlink values quality and provides 100% bug free application with no compromisation in it.
6. Deployment
After trial and following all processes, your app is ready to launch on the App store or Play Store.
7. Support & Maintenance
Our company offers you all support and the team is always ready to answer every query after deployment.
Latest Blogs
Explore the Latest Blogs on Trends and Technology.