IoT Dashboard and Analytics
The Internet of Things (IoT) will be very useful in the business sector, where it will aid in the optimization of processes.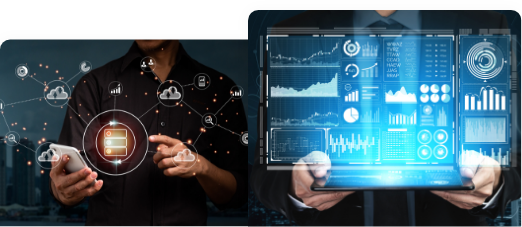 The Internet of Things (IoT) will be very useful in the business sector, where it will aid in the optimization of processes, the reduction of expenses, the improvement of the efficiency of tasks, and the enhancement of the quality of corporate growth as a whole. In a similar vein, we'll be able to assess the health of our equipment, schedule preventative maintenance, and prepare for and hopefully avoid breakdowns. Contact Hyperlink InfoSystem to hire IoT Dashboard and Analytics developers in Toronto, Canada.
IoT dashboards are the graphical user interfaces (GUIs) built into IoT platforms that let users keep tabs on and control their networked devices with the help of a variety of contextual widgets. By visualizing data from your connected devices, dashboards make it possible to not only manage all aspects of your setup but also to acquire context for that setup.
Data-driven decision-making is made possible by this standard function of IoT dashboards. The analytical powers of several current platforms have been enhanced via the usage of AI. Predictive analytics, for instance, can aid in predicting system faults and making business projections based on previous data.
The Benefits of Using IoT Analytics and Dashboards
Whether you're looking for a basic app for remote device monitoring or a commercial IoT solution that entails tracking and analyzing thousands of devices, Hyperlink InfoSystem's IoT dashboards put all your essential data right where you need them to be:
Set up smart alerts
Online software updates
Analyze device data
Manage device configs
Dispatch commands
Visualize device telemetry
Track device status and location
Provision of new devices
Typical IoT-Applicable Sectors
Some of the many sectors that potentially benefit from the Internet of Things technologies are listed below.
When Internet of Things sensors notice a malfunction on the manufacturing line, manufacturers can make use of the monitoring to conduct dynamic maintenance on the equipment. The sensor alerts to aid in production monitoring by ensuring that the machinery is in good operating condition.
Doctors and other medical professionals have a responsibility to keep tabs on their patients' health.
Without the Internet of Things, we would not have sensors to identify broken components, tracking devices like GPS to aid in recovery and monitoring, or autonomous cars that operate without human interference.
Transportation and warehouse management
Fleets of ships, automobiles, or even trains can be commanded and controlled using information gathered from Internet of Things sensors to take into account factors like weather, driver availability, vehicle condition, etc. These sensors can also be used for inventory purposes. IoT monitoring apps can keep you informed about the condition of perishable goods including food, drinks, medications, and flowers while they are transported.
It aids stores in keeping tabs on their merchandise, streamlining customer service, enhancing product selection, streamlining logistics, and decreasing overhead costs. Beacons can be used in a variety of marketing and security applications, and IoT enables the use of other devices, such as smart shelves with weight sensors, to assist with inventory management.
The Internet of Things Development Services We Offer
We develop and include NoSQL databases that are highly available, intelligently distributed, and can withstand failures in both cloud-based and on-premises environments. MongoDB, AWS Kinesis, and DynamoDB are just some of the managed IoT databases they're compatible with. All collected data is imported and reorganized promptly for analysis thanks to robust routing.
Integrated Network Solutions
When it comes to wireless and smart device discovery across Wi-Fi, NFC, RFID, iBeacon, LAN, LoRaWAN, BLE, and Bluetooth networks, we design bespoke Universal Plug and Play (UPnP) protocols. Furthermore, we provide embedded software for smart device detection, reconciliation, and validation with little human intervention.
Integrated Network Solutions
All common IoT/M2M architectures are supported by our bespoke IoT development services, which also include the integration of web services and APIs utilizing REST and SOAP web services and IPv6 addressing. This support makes it easier for programs to talk to one another in both JSON and XML.
Embedded software and firmware (microcontrollers, processors, gateways, sensors) are programmed and integrated into a wide variety of IoT and M2M devices, such as smart home appliances, industrial automation mechanisms, consumer electronics, smart automobiles, and wearables. We use software that is preinstalled on the Internet of Things and machine-to-machine (M2M) devices that include sensors, touch displays, and other input methods, and can send and receive data in real-time.
Programming for the Internet of Things
We're a software engineering firm that specializes in producing top-notch apps for managing and collecting data from the Internet of Things gadgets through desktop, mobile, and web platforms. Turning things on and off, setting up sensor triggers, and adjusting other settings for all linked systems is a breeze with centralized control panels. In addition, we use industry-leading Business Intelligence (BI) technologies to produce and disseminate insightful data.
Increased Sensing Capabilities
Different kinds of sensors were created to pick up on directional and gesture-based movement, as well as pressure, temperature, humidity, proximity, and environmental elements (water quality, chemicals, and gases present). We aid in the mechanization of such activities as monitoring of whereabouts, control of industrial machinery, detection of nearby people, and application of machine learning.
Discuss Your IoT Analytics Needs With A Top IoT Development Company In Canada
Easy data sharing, simple data analysis, and superior control and administration of IoT assets are all made possible with the help of a custom-built IoT dashboard. In addition, it enables companies to make better choices in real-time, uncover untapped development prospects, and get insights that might otherwise remain hidden.
It's a tough and time-consuming journey from understanding the basics to building a web-based IoT dashboard. That's why it's so important to work with a trustworthy partner that can provide you with sound guidance on fundamental issues like your system's protocols, connectivity, functionality, and data security.
When it comes to Internet of Things projects, Hyperlink InfoSystem has the know-how to get them done to your company's specifications. Contact us if you need to meet with a top IoT dashboard and analytics company in Toronto, Canada to develop IoT solutions tailored to your specific requirements.
Hourly
For short-term project or need a specialized service, hire our skilled ReactJS developers on an hourly basis.
Hire Now
We sign NDA for all our projects.
Monthly
For rather precise, limited budget, less time and long-term partnership, consider a source of ReactJS developers on a monthly basis.
Hire Now
We sign NDA for all our projects.
Quarterly
If you need constant support or guidance and expecting your target audience and project requirements may change then hire ReactJS developers on a quarterly basis.
Hire Now
We sign NDA for all our projects.
Process We Follow
1. Requirement Gathering
We analyze the requirements with the clients to understand the functionalities to combined into the app. This process allows us to form a development plan and transform the client's thoughts into an efficient and functional app.
2. UI/UX Design
Our developers use efficient UI trends to design apps that are not only pleasant to the eye but also intuitiveness and flexible. Our applications do not only complete the needs of our clients but also are simple and convenient to the end-users.
3. Prototype
We develop a preliminary visualization of what the mobile app would look like. This helps to generate an idea of the appearance and feel of the app, and we examine the users' reactions to the UI and UX designs.
4. Development
Our team of experts in Native, Hybrid, and Cross-Platform app development, using languages such as Swift, Kotlin, PhoneGap, Ionic, Xamarin, and more to produce high-quality mobile apps for the various operating systems.
5. Quality Assurance
We have a team of developers who carefully test every app to ensure that they provide an excellent user experience and meet the requirements of our clients. Apps developed by our development team are bug-free because they perform through a series of experiments before deployment.
6. Deployment
We follow the best practices when deploying our apps on different app stores, where they can be easily noticeable to considered users.
7. Support & Maintenance
All digital solutions need development. The deployment of an app is not the ultimate stage. Even Post-deployment, we work with our clients to offer maintenance and support.
Process We Follow
1. Requirement Gathering
We follow the first and foremost priority of gathering requirements, resources, and information to begin our project.
2. UI/UX Design
We create catchy and charming designs with the latest tools of designing to make it a best user-friendly experience.
3. Prototype
After designing, you will get your prototype, which will be sent ahead for the development process for the product.
4. Development
Development of mobile application/ web/blockchain started using latest tools and technology with transparency.
5. Quality Assurance
Hyperlink values quality and provides 100% bug free application with no compromisation in it.
6. Deployment
After trial and following all processes, your app is ready to launch on the App store or Play Store.
7. Support & Maintenance
Our company offers you all support and the team is always ready to answer every query after deployment.
Latest Blogs
Explore the Latest Blogs on Trends and Technology.