IoT Hardware Prototyping
Hyperlink InfoSystem has the experts and connections to create or develop electronic prototypes for Internet of Things (IoT) gear.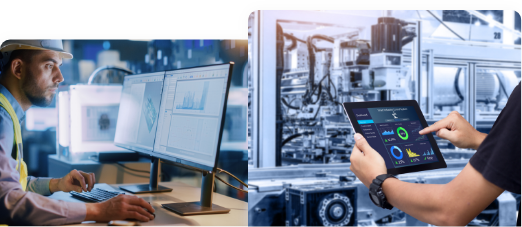 Hyperlink InfoSystem has the staff and connections to create or develop electronic prototypes for Internet of Things (IoT) gear. Thanks to the strong ties we have with the industry's leading device makers, we can quickly and easily put together cutting-edge IoT prototypes and proofs of concept. To hire a leading IoT hardware prototyping agency in Calgary, Canada, you should meet with IoT developers.
In many ways, the advent of the internet of things has been nothing short of a revolution. You can use this technology in your projects with the aid of a top IoT development agency.
Features of the IoT
The term "internet of things" is used to describe a network that can connect to any data-transmitting system or device. Since sensors can be linked together, it's possible to get insight into massive volumes of data and pull out the information you deem useful for running your business. Technology innovations like big data analytics, machine learning, and artificial intelligence aid in this procedure. This instrument has the following features:
Connectivity. Its biggest promise lies not only in being a module to have a signal but more in making the network accessible and compatible in more situations.
Security. In general, the more devices there are that can communicate with one another, the more important it is to keep them secure. Consequently, these endeavors need the services of architects and cyber security experts.
Sensitivity. Sensors are essential for machines to understand their environments. These gadgets make it easier to do fundamental IoT tasks including monitoring, detecting, and data gathering.
Interaction. The Internet of Things has enabled interaction between physical objects, computer networks, and human beings. Smart houses, automated farms, robotics, and other technological marvels are all direct results of this progress.
IoT's Common Applications
Maintenance. Predicting errors is now feasible with the use of AI algorithms (deep learning or machine learning). When a problem arises with a piece of machinery or reading is inconsistent with expectations, IoT sensors can immediately alert the appropriate parties.
Health. Measurement and detection of alterations in vital signs are two examples of IoT applications that are useful for both people and animals. This allows for more efficient robotic medicine distribution.
Agriculture. Livestock isanother important area of focus. In the agricultural sector, for example, Internet of Things sensors are already being used to automate crucial processes like irrigation, insect detection, and harvest time. Animal husbandry, feeding, and tracking also rely on geolocation.
Supply chain management. Improved tracking of goods in transit has been made possible by technological advancements. Cargo preservation, geolocation, route optimization, and up-to-the-minute traffic updates are a few more benefits.
Wearables. Small and powerful, these tools can perform a variety of measurements. There are GPS tracking belts, virtual spectacles, fitness bracelets, and even combat metric gloves.
How Hyperlink InfoSystem Utilizes Internet of Things Hardware
The hardware component is the part of our technology that communicates with the outside world to collect the desired information.
Low Consumption Communication
Transfer information from a small, slow computer to a larger, faster one over a network or other means of communication so that the information can be processed more rapidly.
Traditional computer CPUs are incompatible with IoT devices. Something substantially more compact and low-power are required.
Hardware Design Services for the Internet of Things
To handle additional access points, reduce latency, and speed up data offloading time, we build edge computing on IoT devices rather than the conventional cloud. Instead of storing everything in the cloud and assessing intelligence afterward, we use Edge Computing to assist businesses to reduce their data storage needs by processing data in real-time.
With the help of the DFM design methodology, we can create high-quality goods at a reduced cost. DFM is used early on in the design phase to guarantee that the proper manufacturing method, optimal design principles for manufacturing, and appropriate material are used in the creation of the device. We also check that quality and safety regulations are met and that the product is built to last in its intended setting.
It takes a lot of time and money to get a product ready for the market. Because of this, you must make sure that your product's form and function cater to the precise requirements of the market. A quick prototype can help you figure out what does and doesn't work, whether you're trying to validate a business case or try out a fresh concept. To help with market testing, our team of IoT hardware professionals can whip together a prototype quickly.
Programming of Custom Firmware
Engineers proficient in LUA, Python, C, and C++ round up our team of embedded software developers. Having worked with Bluetooth, WiFi, and other network topologies, our staff is well-versed in their implementation.
How We Go About Our IoT Services
We have the know-how to develop thorough solutions that can improve your company in a way that works.
We collaborate to discover viable avenues for integrating IoT into your company's operations.
We provide infrastructure, software, and services for Internet of Things networks.
Incorporating cutting-edge mechanisms, electronic controls, and user interfaces, tailored to the specifics of your project.
Data is collected, stored, and analyzed in a secure environment so that it can be used to guide decisions that improve the business. Hyperlink InfoSystem is a top IoT hardware prototyping company in Calgary, Canada.
Hourly
For short-term project or need a specialized service, hire our skilled Shopify developers on an hourly basis.
Hire Now
We sign NDA for all our projects.
Monthly
For rather precise, limited budget, less time and long-term partnership, consider a source of Shopify developers on a monthly basis.
Hire Now
We sign NDA for all our projects.
Quarterly
If you need constant support or guidance and expecting your target audience and project requirements may change then hire Shopify developers on a quarterly basis.
Hire Now
We sign NDA for all our projects.
Process We Follow
1. Requirement Gathering
We analyze the requirements with the clients to understand the functionalities to combined into the app. This process allows us to form a development plan and transform the client's thoughts into an efficient and functional app.
2. UI/UX Design
Our developers use efficient UI trends to design apps that are not only pleasant to the eye but also intuitiveness and flexible. Our applications do not only complete the needs of our clients but also are simple and convenient to the end-users.
3. Prototype
We develop a preliminary visualization of what the mobile app would look like. This helps to generate an idea of the appearance and feel of the app, and we examine the users' reactions to the UI and UX designs.
4. Development
Our team of experts in Native, Hybrid, and Cross-Platform app development, using languages such as Swift, Kotlin, PhoneGap, Ionic, Xamarin, and more to produce high-quality mobile apps for the various operating systems.
5. Quality Assurance
We have a team of developers who carefully test every app to ensure that they provide an excellent user experience and meet the requirements of our clients. Apps developed by our development team are bug-free because they perform through a series of experiments before deployment.
6. Deployment
We follow the best practices when deploying our apps on different app stores, where they can be easily noticeable to considered users.
7. Support & Maintenance
All digital solutions need development. The deployment of an app is not the ultimate stage. Even Post-deployment, we work with our clients to offer maintenance and support.
Process We Follow
1. Requirement Gathering
We follow the first and foremost priority of gathering requirements, resources, and information to begin our project.
2. UI/UX Design
We create catchy and charming designs with the latest tools of designing to make it a best user-friendly experience.
3. Prototype
After designing, you will get your prototype, which will be sent ahead for the development process for the product.
4. Development
Development of mobile application/ web/blockchain started using latest tools and technology with transparency.
5. Quality Assurance
Hyperlink values quality and provides 100% bug free application with no compromisation in it.
6. Deployment
After trial and following all processes, your app is ready to launch on the App store or Play Store.
7. Support & Maintenance
Our company offers you all support and the team is always ready to answer every query after deployment.
Latest Blogs
Explore the Latest Blogs on Trends and Technology.