Manufacturing
Hyperlink InfoSystem is a leading manufacturing app development company in Canada.Contact us to hire manufacturing app developers in Canada.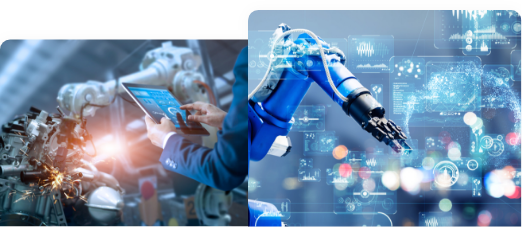 The manufacturing sector is rapidly adopting mobile procedures. Company applications are gaining prominence as mobile devices become more integral to the manufacturing process. Hyperlink InfoSystem is a leading manufacturing app development company in Vancouver, Canada.
Apps enable businesses to create mobile process maps for things like inventory and production control, so workers can do their jobs wherever they happen to be. By using mobile procedures, businesses can more efficiently and effectively complete their tasks, giving them an obvious edge in the marketplace.
Mobile Processes Increase Flexibility And Efficiency
Everything must be accessible on mobile devices designed for data collecting and processing in production, as well as on standard smartphones and tablets.
The aforementioned conditions must be addressed before manufacturing organizations can take advantage of the convenience and increased productivity that mobile operations provide, as well as the security of remote access to critical information. As a result, sensitive information and procedures can be safeguarded, and workers can devote more time to creating novel goods.
Reasons Why Your Manufacturing Unit Needs a Mobile Application
The manufacturing app for mobile devices is built to manage assets and other aspects in addition to the supply chain. You need to maintain track of raw materials and final goods across many locations where you have manufacturing facilities. You'll have the ability to access all of this information through the mobile app.
The Internet of Things (IoT), iBeacons, and augmented reality (AR) are just some of the cutting-edge technologies that can be included in the bespoke mobile app to monitor inventory and educate workers on how to handle the complete operation. Using a mobile app, you can keep tabs on anything at any time. It's a huge boon to management as a whole.
If you want more out of your workforce, ask yourself how you might make them more productive. Well, one option is to keep a log of their daily or hourly actions. The global positioning system makes it possible to track them down anytime you want. In the event of an accident in your facility, you can verify the presence of safety professionals.
You can obtain precise updates on the work order's progress and completion time. Knowing exactly where each worker is at all times is crucial for smoothly running a complicated process. Employees' greater exposure might help your company in certain ways, such as higher productivity.
Having reliable data in several areas is crucial to the development of a manufacturing company. As an illustration of employee efficiency, let's look at. How about obtaining a breakdown of what each worker did and when they did it throughout a certain time frame? You can run your company more smoothly as a result.
And when you need it, several useful mobile applications can provide precise information right to your device. It removes the possibility of mistakes caused by humans. All firm information, including that of upper management, is easily accessible and updated in real-time. Custom applications can improve your company's efficiency in several ways.
Manufacturers can benefit from a business mobile app in two ways: by introducing corporate mobility in the workplace and by establishing on-demand data mobility. A business owner, for instance, can desire to combine customer relationship management (CRM) software, note-taking and sharing software, and mobile app functionality.
Management and workers alike can now access crucial information from anywhere thanks to mobile applications. Data can be stored and shared through the app anytime it's needed. That's right; the mobile app can improve not only communication but also teamwork and management of processes.
With GPS, factories can keep tabs on delivery trucks and keep customers apprised of package arrivals. The industrial sector's mobile app helps keep supply-chain management under control. The arrival time and date of cargo can be pinpointed for businesses.
In addition to this, the industry's different teams can benefit from real-time notifications through the notification function. For instance, a mobile app can assist manufacturers in quickly collecting and transmitting information on their production equipment and maintenance to their quality control team.
Technical staff often must perform their duties at outlying locations, distant from the comforts of the main office. A manufacturing mobile app can help these on-the-go workers easily offer accurate information about different components and the company's needs.
In addition, a mobile app allows manufacturers to stay in touch with technicians no matter where they are or what time it is. As a result, they can provide better service to their customers, and their satisfaction levels rise. By incorporating customer relationship management features, data can be made available to customers and mobile employees.
Features Of Apps For Manufacturing
Time tracking. The software can be used to monitor the collective work schedule as well as the individual hours of an individual worker. Hours worked can be recorded, reworked, and given a monetary value. In this approach, you can keep tabs on the time and effort invested in a project, as well as make educated estimates about those expenditures.
Analytics. This report summarizes a few key performance indicators that you've chosen. On the dashboard, the reports and statistics come to life, and you can filter and sort them to reveal daily, weekly, and monthly trends.
Real-time field productivity data. Using this app, more precise and comprehensive production data can be gathered in real-time from the field.
Material and cost tracking. Over the course of a day, workers tally the amounts of materials placed and give a price to each one. Some programs allow you to keep a visual log of your progress by attaching images, notes, or other items.
Let Us Help You Create Manufacturing Apps
Hyperlink InfoSystem is a top app development company that offers an exceptional user interface and user experience. They can help you set your mobile app apart from the competition. Finance, marketing, health, sports, manufacturing, real estate, energy, etc. are just some of the fields in which we can lend a hand in app development.
The primary reasons why our customers should engage us are because we always offer high-quality work on time, we have highly-trained specialists on staff, and we adhere to a consistent work ethic. Contact us to hire manufacturing app developers in Vancouver, Canada.
Latest Blogs
Explore the Latest Blogs on Trends and Technology.