Media & Entertainment
Our media mobility solution's innovative capabilities, high-definition content, and faultless operation enhance user engagement and retention from beginning to finish.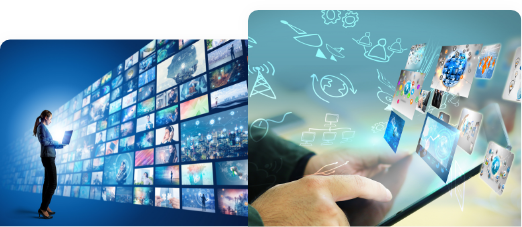 The media and entertainment sector is gearing up for a big transition to the internet environment, thanks to the proliferation of smart gadgets throughout the globe. Businesses now provide customers the option of getting their hands on their preferred media using a sleek and customized app. Meet with Hyperlink InfoSystem to hire media and entertainment solution developers in Calgary, Canada.
Our media mobility solution's innovative capabilities, high-definition content, and faultless operation enhance user engagement and retention from beginning to finish. Furthermore, our applications are designed, created, tested, and launched on all major web and mobile platforms (iOS and Android) flawlessly. Using cutting-edge methods, our seasoned media app developers create the most potent media and entertainment applications available.
Create Interesting Mobile Applications For Entertainment
Put up a radio archive and make it available online for free to listeners everywhere.
One app that can showcase and stream thousands of films.
Permit users to broadcast films and share memorable experiences with friends and family.
Give the public the ability to search for and acquire music on their own.
We build a massive music library for both Android and iOS smartphones.
Make a compilation of the best, most popular, and most influential podcasts from a wide variety of genres.
Why Choose Hyperlink InfoSystem
Throughout the duration of your project with Hyperlink InfoSystem, you will be in touch with your account manager. You can have your questions answered, talk openly, and stay in the loop. The best part is that even after the project is over, Hyperlink InfoSystem is there to provide maintenance services and technical support.
We have to understand your business to properly accomplish your firm project. That's why, before we begin working on a project, we make sure we fully understand your needs, those of your business, and the scope of the endeavor. We examine your firm closely and suggest changes we think would help it expand rapidly.
Outstanding Professionals
If you own a media or entertainment organization, Hyperlink InfoSystem can help by providing skilled programmers, robust support services, and amazing costs. You will appreciate your experience with us.
For both new and existing media companies, Hyperlink InfoSystem develops reliable and flexible media systems. We'll boost your firm's internet visibility to put you ahead of the competition.
We'll come up with an innovative approach that helps your business succeed, whether it's getting more people to see your videos via a mobile app, highlighting the most popular articles on your website, or anything else.
At Hyperlink InfoSystem, you don't have to wait months for a minimum viable product (MVP). We can show you precisely how we are going to develop your project in a couple of days. We will immediately start working on your project straight away. This is made feasible by our vast software development staff headquartered in Eastern Europe.
Mobile Apps For Media And Entertainment
As a top media app development firm, we offer a solution with a feature that responds to client needs and generates engagement. Here are some of them:
The ability to broadcast media via the internet is the app's primary selling point.
Users may refine their searches to their exact specifications with the help of advanced search filter options.
We recognize that not everyone has continual access to the internet, thus our product allows for material to be saved and viewed without an active data connection.
Membership is required to access the full content of the Media & Entertainment mobile app.
Our DomainExpertise
Successfully communicate with your audience using today's media and entertainment tools
Entertainment Development Solution
We have developed a wide variety of highly regarded bespoke applications and software solutions for various major companies in the media and entertainment industry, earning us a solid reputation as an industry leader.
We develop cutting-edge, on-demand video applications for consumers in many industries to enable them to share their video content with the world and rank higher in search engines. We provide a complete Digital Right Management (DRM) system for video content distribution.
Online Content Publishing
Tools like digital asset management, digital publishing, digital rights management software, and web marketing help you get your material online and promote your business.
Using tools and solutions like auto-updating systems, media management software, campaign management software, advertising management software, and numerous others, we assist content creators in developing a strong and versatile media distribution service from which to launch their digital presence.
Media and Entertainment App Development Process
Hyperlink InfoSystem, a market leader in the media and entertainment app development industry, employs an organized agile development methodology. This ensures that our final product is of the highest standard.
As a Media & Entertainment App Development Company, we begin with analysis and planning.
Once the design is complete, we start to work on making your unique software solution a reality.
We know that effective user interface and user experience design are crucial to attracting and retaining users, thus we focus heavily on them.
When it comes to developing apps for the media and entertainment industries, Hyperlink InfoSystem is unrivaled.
Hyperlink InfoSystem doesn't only provide great software; we also offer top-notch maintenance and support. Contact us to hire media and entertainment solution developers in Calgary, Canada.
Latest Blogs
Explore the Latest Blogs on Trends and Technology.