Natural Language Processing
When it comes to processing and analyzing natural language, researchers are always making discoveries.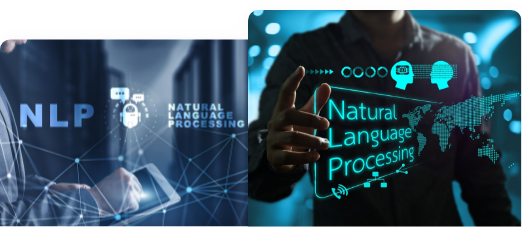 Machine translation of the human language is known as natural language processing (NLP). Every language has its own set of laws for how words should be used and what they mean, but there are always ways to go around those constraints. The very same term, written in the same language, might have entirely distinct connotations in other places and settings. Therefore, if it's hard for a native English speaker to translate Spanish, it'll be far harder for a computer. Machine learning can be used to help with this kind of situation. Meet with Hyperlink InfoSystem in Canada to hire machine learning developers.
Data mining is the method through which machine learning operates. Using machine learning, NLP can be made more effective.
NLP's Potential Uses in Various Industries
Today, natural language processing (NLP) finds use in a variety of settings. You can think of a few examples:
Market intelligence: Ads are shown that are relevant to a user's previous search terms. One common scenario is seeing adverts for the item you were just looking for pop up on your social media feeds.
Automatic text categorization: This is the process of assigning a label to a text based on the text's content and semantics without human intervention. You can detect whether an email is a spam or not based on its content, for instance.
Automatic grammar check: This can spot a variety of typos in a text based on its context.
Translation: Finding the best method to say something in another language. Google Translate is a good example since it has evolved and become better over time.
Sentiment analysis: This is the process of identifying a sentence's underlying emotional meaning. The software can determine that a sentence is negative because it announces a drop in stock prices. However, if the text mentions a celebration and says that everyone is welcome to join, we can take it as a positive interpretation.
Q&A Systems:Thisprovides programmed responses to frequently asked queries. This app can easily be discovered through social media discussions, calls, or gadgets like Siri or IBM Watson.
Automatic generation of summaries: Given a text, the computer will extract its major concepts and provide a cohesive summary.
Chatbots: These are computer programs designed to simulate human dialogue. In the case of online shopping, for instance, a customer who has inquiries regarding a product is likely to get pre-programmed responses from a computer.
Speech recognition:A machine's capacity to understand human speech is a technology with enormous potential. This natural language processing app is available for smartphones and even smart homes. When you tell the gadget, "Call John," it knows to initiate a call to John. In this regard, the widely used examples of Alexa and Siri come to mind.
The NLP Can Be Used Anywhere With Lots Of Unstructured Data.
Finding Commonalities And Differences Across Texts
Linguistic analysis is used to identify common themes or patterns within data, which can point to important concepts, connections, accidents, or mistakes. Something that can be put to good use, for instance, in checking documents for plagiarism or checking for quality control issues.
To create effective voice assistants or conversational systems, the NLP is a necessary initial step due to its central role in language understanding.
Automatic Classification Of Documents And Messages
Automatic text tagging allows for the categorization of texts based on commonalities or other features. It is particularly helpful in the legal field and customer service, where a lot of information is handled or processed fast.
Sentiment And Opinion Analysis
The language we use in social media postings, customer reviews, and climate polls can reveal our thoughts and feelings about a certain issue, person, or product.
Advanced Information Search
Using text analysis, you can quickly find the data you need in any field's free-form text documents.
Named-Entity Recognition (NER)
Machine learning-based entity identification helps determine the contexts in which certain words are referenced, such as in medical or legal papers.
The first filter on personal data can be made to guarantee privacy after the detection of entities. Potential uses include improving health, enforcing the law, and ensuring safety.
Build Your Natural Language Processing Systems with Our Assistance
When it comes to processing and analyzing natural language, researchers are always making discoveries. The use of natural language processing (NLP) is on the rise as businesses see its potential for enhancing the customer service they provide. Meet with our development team to hire natural language processing developers in Canada.
There is a vast array of ways that natural language processing can be put to use in the digital realm, and that number will only rise as new technologies emerge. If you use NLP to its full potential in your company, you can greatly enhance the service you provide to your clients.
Hourly
For short-term project or need a specialized service, hire our skilled Solidity developers on an hourly basis.
Hire Now
We sign NDA for all our projects.
Monthly
For rather precise, limited budget, less time and long-term partnership, consider a source of Solidity developers on a monthly basis.
Hire Now
We sign NDA for all our projects.
Quarterly
If you need constant support or guidance and expecting your target audience and project requirements may change then hire Solidity developers on a quarterly basis.
Hire Now
We sign NDA for all our projects.
Process We Follow
1. Requirement Gathering
We analyze the requirements with the clients to understand the functionalities to combined into the app. This process allows us to form a development plan and transform the client's thoughts into an efficient and functional app.
2. UI/UX Design
Our developers use efficient UI trends to design apps that are not only pleasant to the eye but also intuitiveness and flexible. Our applications do not only complete the needs of our clients but also are simple and convenient to the end-users.
3. Prototype
We develop a preliminary visualization of what the mobile app would look like. This helps to generate an idea of the appearance and feel of the app, and we examine the users' reactions to the UI and UX designs.
4. Development
Our team of experts in Native, Hybrid, and Cross-Platform app development, using languages such as Swift, Kotlin, PhoneGap, Ionic, Xamarin, and more to produce high-quality mobile apps for the various operating systems.
5. Quality Assurance
We have a team of developers who carefully test every app to ensure that they provide an excellent user experience and meet the requirements of our clients. Apps developed by our development team are bug-free because they perform through a series of experiments before deployment.
6. Deployment
We follow the best practices when deploying our apps on different app stores, where they can be easily noticeable to considered users.
7. Support & Maintenance
All digital solutions need development. The deployment of an app is not the ultimate stage. Even Post-deployment, we work with our clients to offer maintenance and support.
Process We Follow
1. Requirement Gathering
We follow the first and foremost priority of gathering requirements, resources, and information to begin our project.
2. UI/UX Design
We create catchy and charming designs with the latest tools of designing to make it a best user-friendly experience.
3. Prototype
After designing, you will get your prototype, which will be sent ahead for the development process for the product.
4. Development
Development of mobile application/ web/blockchain started using latest tools and technology with transparency.
5. Quality Assurance
Hyperlink values quality and provides 100% bug free application with no compromisation in it.
6. Deployment
After trial and following all processes, your app is ready to launch on the App store or Play Store.
7. Support & Maintenance
Our company offers you all support and the team is always ready to answer every query after deployment.
Latest Blogs
Explore the Latest Blogs on Trends and Technology.