NFT Marketplace Development Company
Meet with Hyperlink InfoSystem to hire NFT marketplace developers in Canada.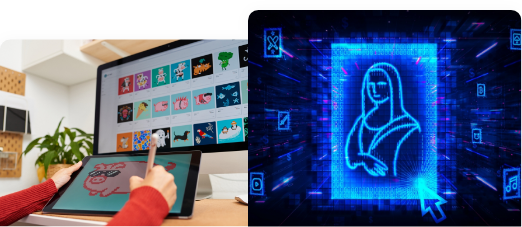 Developing a non-fungible token (NFT) market entails conceiving up and developing a web-based platform with robust functionality and an intuitive user interface that enables users to issue, trade, and transact in NFTs across a variety of blockchains. Beginning the process of market growth requires extensive market research and analysis. Develop an NFT marketplace when you hire NFT marketplace developers in Canada.
The NFT marketplaceis a showcase for the finest NFTs, where only those with really exceptional features and designs will be shown.These platforms provide artists with a permanent, worldwide audience to share their original works. The market's most valuable cryptocurrency is a product of the wild developments made possible by the capacity to manufacture NFTs. In addition to facilitating the production of such valuable assets, NFT marketplaces also provide comprehensive resources for customers to learn about the market supply, demand, and scarcity of NFTs.
Main Features Of The NFT Marketplace
NFTs wallets. Tokens and cryptocurrencies can only be sent, received, and stored by their owners via a wallet. One simple solution is to allow the use of existing bitcoin wallets. The most important factor is that this NFT protocol is supported by these wallets. Metamask, MyEtherWallet, the Coinbase Wallet, and WalletConnect are examples of common wallets.
Auction history. For the most part, a user should be able to go through their past bids in an NFT marketplace. By doing so, one can gauge the marketplace's popularity, the items' selling rates, and the prices at which they are selling. The event, item name, price, buyer, seller, and date are just some of the details that make up an auction's history on OpenSea.
Register and log in. A user must register for the service before making any purchases or sales of NFTs. Email addresses, phone numbers, and social media profiles are the most common means of registration. In addition, the user is often required to provide their bitcoin address. If one doesn't already have a wallet set up, they can sign up via a link to a third-party service like Coinbase Wallet, Metamask, or MyEtherWallet to get started with bitcoin.
Create ads. This should be a quick and easy procedure. It ought to correspond exactly to eBay. You can do this by implementing a tool like the OpenSea Collection Manager and giving thought to the best possible user experience. In a matter of seconds, you can add an item to the site and set its name, price, description, tags, external link, and other token parameters.
Showcase. Title, price, description, summary, owner, purchase method, rating, etc. are just some of the details that this feature makes available to users of the trading platform. To ensure that the NFTs their customers buy are legitimate, several NFT markets additionally provide blockchain and token protocol details.
Search system. Make it simple for visitors to locate the information they want. Making use of different categories like art, photography, video,domains,memes, and music will help customers find what they're looking for more quickly and easily. Additionally, filters facilitate movement throughout the platform, particularly if there are numerous items of a single category.
NFT Marketplace Modules & Functionality
It's simple for users to find their way through the site and conduct searches using predefined criteria.
Pricing, Auctions, and Offers
The NFT product can be transferred of ownership either by outright purchase or through an auction.
Complete application programming interface (API) and documentation for developing custom platform integrations.
Using their contract tokens and a digital address, users can make their collector objects.
The Hyperlink InfoSystem smart contract format is used for all goods.
Ethereum's Digital Signature Token
Once a collection is created on the Ethereum blockchain, it is given its unique token.
To put it simply, it is a cryptographic digital asset that uses the Blockchain to record transactions.
When it comes to non-fiat currency exchanges, the Blockchain network keeps track of all the details.
Automatic Royalty Payment
Commissions on royalties from the sale of collections are subject to adjustment, and payments are sent by direct deposit.
Our NFT Marketplace Development Services
NFT Marketplace Design and Development
Our team creates and develops a user-centric NFT marketplace platform where users can create and trade NFTs using our in-depth understanding of the ERC-721 and ERC-1155 standards, smart contracts, and IPFS protocols.
NFT Smart Contract Development and Audit
To guarantee the faultless operation of smart contracts and the consistent automation of NFT transactions, we provide development and audit services for NFT smart contracts.
Maintenance And Support For The NFT Marketplace
Nodes are always online thanks to our constant vigilance, maintenance, and assistance in handling third-party updates and new OS versions.
When you hire us for NFT development, we'll create and distribute new SPL tokens with advanced features tailored to your company's needs, making it easier for you to tokenize your assets.
Potential Applications of NFT
On the NFT platform, artists can now freely exchange their work without worrying about content theft or piracy.
With NFTs, artists can tokenize their works and distribute them to buyers. Not only does this get more people interested in using the NFT platform, but it also completely eradicates music piracy.
Tokenized using NFTs, these digital parcels of land can then be put up for auction to anybody with an internet connection.
The term "crypto collectibles" refers to uncommon digital assets that can be purchased and traded on the blockchain, such as rare baseball cards or whiskey. Non-fungible tokens are used to confirm and track the ownership of digital currency valuables.
NFTs allow players to authentically and securely trade virtual items like rare skins and avatars.
Digital artwork, domain names, virtual territories, and other rare assets are just some of the NFTs you can buy, trade, and discover in NFT markets. Meet with Hyperlink InfoSystem to hire NFT marketplace developers in Canada
Process We Follow
1. Requirement Gathering
We analyze the requirements with the clients to understand the functionalities to combined into the app. This process allows us to form a development plan and transform the client's thoughts into an efficient and functional app.
2. UI/UX Design
Our developers use efficient UI trends to design apps that are not only pleasant to the eye but also intuitiveness and flexible. Our applications do not only complete the needs of our clients but also are simple and convenient to the end-users.
3. Prototype
We develop a preliminary visualization of what the mobile app would look like. This helps to generate an idea of the appearance and feel of the app, and we examine the users' reactions to the UI and UX designs.
4. Development
Our team of experts in Native, Hybrid, and Cross-Platform app development, using languages such as Swift, Kotlin, PhoneGap, Ionic, Xamarin, and more to produce high-quality mobile apps for the various operating systems.
5. Quality Assurance
We have a team of developers who carefully test every app to ensure that they provide an excellent user experience and meet the requirements of our clients. Apps developed by our development team are bug-free because they perform through a series of experiments before deployment.
6. Deployment
We follow the best practices when deploying our apps on different app stores, where they can be easily noticeable to considered users.
7. Support & Maintenance
All digital solutions need development. The deployment of an app is not the ultimate stage. Even Post-deployment, we work with our clients to offer maintenance and support.
Process We Follow
1. Requirement Gathering
We follow the first and foremost priority of gathering requirements, resources, and information to begin our project.
2. UI/UX Design
We create catchy and charming designs with the latest tools of designing to make it a best user-friendly experience.
3. Prototype
After designing, you will get your prototype, which will be sent ahead for the development process for the product.
4. Development
Development of mobile application/ web/blockchain started using latest tools and technology with transparency.
5. Quality Assurance
Hyperlink values quality and provides 100% bug free application with no compromisation in it.
6. Deployment
After trial and following all processes, your app is ready to launch on the App store or Play Store.
7. Support & Maintenance
Our company offers you all support and the team is always ready to answer every query after deployment.
Latest Blogs
Explore the Latest Blogs on Trends and Technology.