Object Recognition
The advancement of AI and machine learning has taken a giant leap forward with the advent of object recognition. Object recognition has a wide range of applications.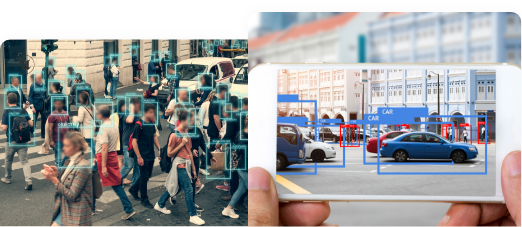 Object recognition is a kind of artificial intelligence (AI)-based computer vision that uses the guidance of patterns to determine what is shown in an image or video. Deep learning and machine learning's primary contribution to society is the ability to recognize objects in images. Meet with a leading object recognition company in Toronto, Canada by contacting us.
The goal of object recognition is to give computers the same visual acuity as humans when it comes to identifying faces, objects, and sceneries.Smartphones with facial recognition capability allow the owner to install a password-protected screen lock that can only be bypassed by the owner presenting his face to the phone's camera.
Applications of Object Recognition
The advancement of AI and machine learning has taken a giant leap forward with the advent of object recognition. Object recognition has a wide range of applications.
Some applications of object recognition are shown below.
The development of artificial intelligence (AI) has advanced to the point that it can compete with and even surpass human abilities in many tasks. The autonomous automobile is only one example of how things that were unthinkable just a few decades ago are becoming attainable today. The system is capable of identifying incoming items and making judgments based on context.
Shoppers can be identified and their movements in the shop monitored by cameras equipped with visual object recognition technology. It aids businesses in figuring out what their customers want and giving it to them.
Surveillance and Security
When it comes to keeping an eye on things, object recognition is a powerful tool. Smart cameras with a built-in object, face, and retina recognition technology are commercially available and are used by private companies for public safety purposes.
The Mechanisms Behind Object Detection
Both the algorithm's efficiency and the number of objects or features in the picture have a role in how well an object recognition method performs. To detect and locate items in a picture, one must first align the image using a machine learning technique and then extract the essential characteristics. Both practical and aesthetically pleasing features exist.
Whichever data model you choose, you'll end up with a yes/no forecast along a linear scale. I'll explain how it functions:
Important factors in hypothesis development are the quantity and quality of visual characteristics retrieved and the training data provided to the algorithm. Following feature extraction, the algorithm gives each item in the picture a likelihood score. The primary motivation for doing so is to ease a machine learning classifier's work burden. The final result is computed by assigning a probability score to each item in the image and assigning a class to those probabilities.
This step confirms the initial hypothesis and yields a mean classification score, which is a metric the algorithm used to measure how well it predicts what classes each item in the image belongs to. The deployed AI model analyzes the object's form, size, color, and other relevant characteristics as well as the bounding box to predict the object's class. After double-checking those two factors, the algorithm generates a combined grade.
After the characteristics have been categorized, the algorithm next associates a set of coordinates with the object's boundary. To make a real-time prediction of an object's class, this data is put into a support vector machine (SVM) that employs an FP growth technique.
Next, the picture undergoes linear regression to determine the precise tensor, based on the class prediction (container of numeric data returned by the regressor of the object). Darknet, TensorFlow, and PyTorch are some examples of popular open-source tools used for regression. The object recognition algorithm's final output consists of a classification of the item and information about its bounding box, which can be used to pinpoint the precise position of the object inside the picture.
Operators known as feature extractors dissect a distorted picture into its component pieces and then extract the unknown features necessary for categorization. A supervised machine learning technique or a trained convolutional neural network (CNN) model, such as Alexnet or inception, is often used to gather this information. To facilitate object recognition, the method generates a feature map of the picture.
A bounding box often called an anchor box, surrounds the whole picture. When detecting objects in a video, however, the bounding box is dynamic whereas it remains static for an image. For the sake of categorization, a rectangular box is used to contain the item or its characteristics. You can use bounding boxes to get 25 different pieces of information, like graphical coordinates, a probability score, the size of an object, and so on.
Develop Object Recognition Solution
Artificial intelligence (AI), machine learning (ML), and deep learning (DL) provide exciting possibilities for developing bespoke software. AI and ML are the technologies of the future. Object identification is just one field that stands to gain as the number of possible technological applications continues to grow.
By expertly delivering custom object identification software, we aid forward-thinking firms in automating processes, boosting efficiency, and gaining a competitive advantage. The companies who work with us are household names in a wide range of markets. Hyperlink InfoSystem is a top object recognition agency in Toronto, Canada.
Process We Follow
1. Requirement Gathering
We analyze the requirements with the clients to understand the functionalities to combined into the app. This process allows us to form a development plan and transform the client's thoughts into an efficient and functional app.
2. UI/UX Design
Our developers use efficient UI trends to design apps that are not only pleasant to the eye but also intuitiveness and flexible. Our applications do not only complete the needs of our clients but also are simple and convenient to the end-users.
3. Prototype
We develop a preliminary visualization of what the mobile app would look like. This helps to generate an idea of the appearance and feel of the app, and we examine the users' reactions to the UI and UX designs.
4. Development
Our team of experts in Native, Hybrid, and Cross-Platform app development, using languages such as Swift, Kotlin, PhoneGap, Ionic, Xamarin, and more to produce high-quality mobile apps for the various operating systems.
5. Quality Assurance
We have a team of developers who carefully test every app to ensure that they provide an excellent user experience and meet the requirements of our clients. Apps developed by our development team are bug-free because they perform through a series of experiments before deployment.
6. Deployment
We follow the best practices when deploying our apps on different app stores, where they can be easily noticeable to considered users.
7. Support & Maintenance
All digital solutions need development. The deployment of an app is not the ultimate stage. Even Post-deployment, we work with our clients to offer maintenance and support.
Process We Follow
1. Requirement Gathering
We follow the first and foremost priority of gathering requirements, resources, and information to begin our project.
2. UI/UX Design
We create catchy and charming designs with the latest tools of designing to make it a best user-friendly experience.
3. Prototype
After designing, you will get your prototype, which will be sent ahead for the development process for the product.
4. Development
Development of mobile application/ web/blockchain started using latest tools and technology with transparency.
5. Quality Assurance
Hyperlink values quality and provides 100% bug free application with no compromisation in it.
6. Deployment
After trial and following all processes, your app is ready to launch on the App store or Play Store.
7. Support & Maintenance
Our company offers you all support and the team is always ready to answer every query after deployment.
Latest Blogs
Explore the Latest Blogs on Trends and Technology.