Recommendation Engine
Hyperlink InfoSystem is one of the world's leading AI solution development organizations. Hire recommendation engine developers in Canada.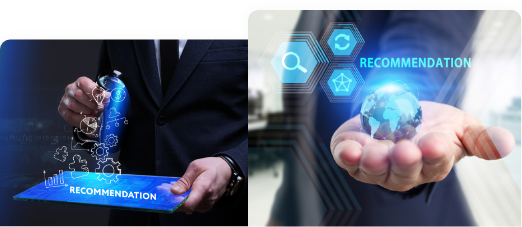 Today, artificial intelligence recommendation engines play a crucial role in enhancing the user experience for both organizations and their consumers. Some of the most well-known applications of AI recommendation systems include suggestions for products to buy, movies to watch, and friends to add to social networking. By developing a recommendation engine or system, Hyperlink InfoSystem can help your company better understand its clients, which in turn can lead to more sales, stronger brand loyalty, and repeat visitors. Increase sales when you hire a leading recommendation engine development agency in Winnipeg, Canada.
How Recommendation Engine Works
The recommender function is a critical part of any product recommendation engine since it takes into account the user's unique characteristics to make educated guesses about the product ratings the user would likely provide. Here are the typical steps taken by a recommendation engine:
Users' evaluations and comments on goods are examples of explicit data, whereas page visits, orders, returns, and cart events are examples of implicit data.
The choice between the NoSQL database, a regular SQL database, and object storage might be influenced by the data used to provide recommendations.
Whether it's batch analysis, real-time analysis, or near-real-time system analysis, the recommender system analyzes and filters data to locate products with comparable user interaction data.
Finally, the data is filtered to extract the specific information needed to provide suggestions to the user. To make this happen, you'll need to choose an appropriate algorithm for the recommendation engine from the variety of methods shown below.
Recommendation EngineHas Several Benefits
Recommendation engines provide several benefits, some of which include
Client-Side And Server-Side Functionalities
Complete flexibility to show suggestions on your website, with options for both server-side and client-side implementation.
You may put the layout, design, strategy, placement, header widgets, and everything else involved in a suggestion through its paces. Continued from A/B Testing and Optimization
Robust Recommendation Strategies
You may choose from a broad variety of algorithms, such as automated, comparable, seen, and purchased together,
Provide a Continual Brand Experience
Engine for making suggestions Artificial intelligence (AI) may be important in establishing a unified brand experience by aggregating information from multiple sources. In this way, you may give your clients the impression that their interactions with your company are part of a continuous journey, rather than treating each new contact as if it were the first.
You may strengthen your relationship with clients over time by providing them with tailored suggestions across all of your touchpoints with them (email, website, in-store app, etc.).
The use of a recommendation engine may increase your website's proportion of qualified visitors. The recommender system can do this with laser-focused email blasts and customized correspondence.
Enhance Sales and Average Order Value AOV)
High conversion rates and increased AOV are both possible thanks to recommendation systems. A recommendation algorithm can be improved by incorporating additional data sets from a recommendations engine, such as previously collected information, current user behavior, and external knowledge. This information may then be used to provide timely, personalized suggestions to clients and provide continuous, two-way communication between your company and its audience.
Facilitates the Distribution of Tailored, Contextual Content
Creating unique and helpful content is a great strategy for any company to exceed consumer expectations. To provide the best possible service to their customers, companies may use the recommendations system to tailor their offerings to each individual.
A recommendation engine may also look at the customer's present actions and past actions on the website to provide more informed suggestions. The greatest thing is that this information is gathered in real-time, allowing the program to adapt to changes in customer tastes and purchasing patterns.
HowOur Recommendation EngineThrives
Easily manage suggestions using a state-of-the-art, rule-based engine that adapts to user preferences in real-time.
Keep Offline Purchases Out Of Online Recommendations
Make sure consumers aren't reminded of items they just purchased in-store while they're browsing your website, and provide an easy transition between the two modes of purchasing.
Why You Should Hire Hyperlink InfoSystem to Create Your AI Recommendation Engine
Hyperlink InfoSystem is one of the world's leading AI solution development organizations, and its AI recommendation system development services have helped several startups and established enterprises establish themselves as industry leaders. Meet with us to hire recommendation engine developers in Winnipeg, Canada.Some reasons to choose us include:
Full disclosure and on-time delivery
Services offered at reasonable costs
Proven track record of app development spanning 10+ years
Experienced data scientists and programmers
Complete product lifecycle management including design, development, release, and support
Expertise in areas such as artificial intelligence, machine learning, deep learning, and neural networks
Hourly
For short-term project or need a specialized service, hire our skilled CakePHP developers on an hourly basis.
Hire Now
We sign NDA for all our projects.
Monthly
For rather precise, limited budget, less time and long-term partnership, consider a source of CakePHP developers on a monthly basis.
Hire Now
We sign NDA for all our projects.
Quarterly
If you need constant support or guidance and expecting your target audience and project requirements may change then hire CakePHP developers on a quarterly basis.
Hire Now
We sign NDA for all our projects.
Process We Follow
1. Requirement Gathering
We analyze the requirements with the clients to understand the functionalities to combined into the app. This process allows us to form a development plan and transform the client's thoughts into an efficient and functional app.
2. UI/UX Design
Our developers use efficient UI trends to design apps that are not only pleasant to the eye but also intuitiveness and flexible. Our applications do not only complete the needs of our clients but also are simple and convenient to the end-users.
3. Prototype
We develop a preliminary visualization of what the mobile app would look like. This helps to generate an idea of the appearance and feel of the app, and we examine the users' reactions to the UI and UX designs.
4. Development
Our team of experts in Native, Hybrid, and Cross-Platform app development, using languages such as Swift, Kotlin, PhoneGap, Ionic, Xamarin, and more to produce high-quality mobile apps for the various operating systems.
5. Quality Assurance
We have a team of developers who carefully test every app to ensure that they provide an excellent user experience and meet the requirements of our clients. Apps developed by our development team are bug-free because they perform through a series of experiments before deployment.
6. Deployment
We follow the best practices when deploying our apps on different app stores, where they can be easily noticeable to considered users.
7. Support & Maintenance
All digital solutions need development. The deployment of an app is not the ultimate stage. Even Post-deployment, we work with our clients to offer maintenance and support.
Process We Follow
1. Requirement Gathering
We follow the first and foremost priority of gathering requirements, resources, and information to begin our project.
2. UI/UX Design
We create catchy and charming designs with the latest tools of designing to make it a best user-friendly experience.
3. Prototype
After designing, you will get your prototype, which will be sent ahead for the development process for the product.
4. Development
Development of mobile application/ web/blockchain started using latest tools and technology with transparency.
5. Quality Assurance
Hyperlink values quality and provides 100% bug free application with no compromisation in it.
6. Deployment
After trial and following all processes, your app is ready to launch on the App store or Play Store.
7. Support & Maintenance
Our company offers you all support and the team is always ready to answer every query after deployment.
Latest Blogs
Explore the Latest Blogs on Trends and Technology.