Sentimental Analysis
Sentiment analysis in business is used to sift through customer feedback to find patterns and insights that can be used to enhance the shopping experience.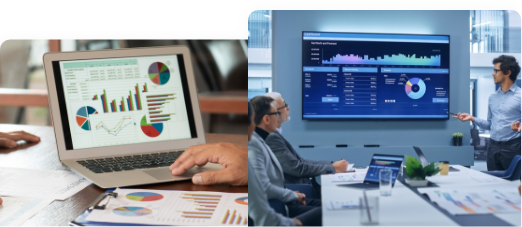 The goal of customer sentiment analysis is to use automation to learn how customers feel about a company's offerings. Recognizing overarching feelings in interactions at a certain point in the customer journeyserves as a barometer that reveals how consumers feel about the company. Understand how your customers feel when you hire sentimental analysis developers in Edmonton, Canada.
Sentiment analysis models use natural language processing (NLP), machine learning, statistics, and a set of algorithms to identify patterns in written and spoken communications and assign them positive, negative, or neutral sentiments. Because of this, irony, ambiguous language, and seemingly conflicting material may all be understood. It's also possible to quantify the phenomenon and investigate its roots.
Benefits Of Customer Sentiment Analysis
Knowing how consumers feel about your goods and business may help you fine-tune and optimize your marketing efforts for maximum return on investment. More than that, it lets you tailor your services to each consumer by gauging their opinions of your business.
Product and service enhancements may be made possible via the use of sentiment analysis, which provides insight into the nature of a customer's experience with your company's offerings by analyzing their actual feedback. Problems and faults that require fixing, as well as opportunities for enhancement and modernization, might be uncovered in this way. It also aids in the early detection of industry trends, the exploration of new markets, and the analysis of unsuccessful product launches.
Sentiment analysis allows for continual brand reputation monitoring, leading to significant improvements in PR management. In this approach, bad remarks and mentions may be dealt with immediately, before they become public knowledge.
Strive for excellent customer service.This department is generally the initial point of contact between customers and a business. You may learn a lot about what makes customers pleased or unhappy by analyzing their comments about your customer service. By doing so, you may identify the causes of your consumers' frustration and remove them entirely.
Empower the customer support representative with knowledge by providing context via sentiment analysis. By doing so, you'll be better able to relate to and understand the customer's perspective. In addition to making the experience seem more tailored to the individual, this may also help you prepare for any potentially challenging interactions in advance. A well-trained representative is a priceless asset to any business.
Tips For Doing A Customer Sentiment Analysis
Whenever a consumer has a problem while using your product or service, you must act swiftly and make calculated choices to fix the issue.
By conducting surveys to gauge morale and addressing employees' problems, businesses may show their employees that their opinions are respected and heard.
Customers' feelings and attitudes might change over time, and this tool can help you track such shifts.
Always be aware of what customers think, both positively and negatively.
Pay close attention to audience segments, such as characteristics or items that appeal to them, and how to incorporate them into your goods or services.
Be open with your expertise and provide your development team with the tools they need to create a product with an unmatched performance by disseminating detailed metrics.
Evaluate where you stand about the competition by analyzing consumer evaluations and comments.
As you can see, this tool has a wide range of potential applications for furthering an organization's comprehension of consumer comments.
Sentiment Analysis: Real-World Examples From Various Industries
Sentiment analysis in business is used to sift through customer feedback to find patterns and insights that can be used to enhance the shopping experience or provide better customer service. This includes analyzing the tone of responses to surveys as well as reviews left on Amazon, as well as reviews left on websites for movies and other products. It works well with various types of text analytics to do preventative market research and evaluate brand reputation.
It is possible to decipher real-time responses on Twitter and other social media by using sentiment analysis. Feelings, thoughts, and plans towards a certain brand, product, or service may be better gauged with the use of social media monitoring.
Sentiment analysis is used to better comprehend patient intent and emotion when seeking particular information in the healthcare business, and to enhance the patient's overall experience.
Experts in sentiment analysis use machine learning and robotic process automation to aid clients in optimizing business processes, assessing past performance, and planning for the future. Additionally, it may be used in the areas of news item analysis, guiding investment choices, and forecasting market movements.
Experts in sentiment analysis aid insurance firms in creating chatbots that facilitate the claims-filing process and other user-facing tasks.
In the public sector, sentiment analysis may help identify and counteract disinformation and cyberattacks. The context and tone of questionable postings on social media might provide light on their true nature. Contact Hyperlink InfoSystem to hire a leading sentimental analysis development agency in Edmonton, Canada.
Hourly
For short-term project or need a specialized service, hire our skilled Django developers on an hourly basis.
Hire Now
We sign NDA for all our projects.
Monthly
For rather precise, limited budget, less time and long-term partnership, consider a source of Django developers on a monthly basis.
Hire Now
We sign NDA for all our projects.
Quarterly
If you need constant support or guidance and expecting your target audience and project requirements may change then hire a Django developers on a quarterly basis.
Hire Now
We sign NDA for all our projects.
Process We Follow
1. Requirement Gathering
We analyze the requirements with the clients to understand the functionalities to combined into the app. This process allows us to form a development plan and transform the client's thoughts into an efficient and functional app.
2. UI/UX Design
Our developers use efficient UI trends to design apps that are not only pleasant to the eye but also intuitiveness and flexible. Our applications do not only complete the needs of our clients but also are simple and convenient to the end-users.
3. Prototype
We develop a preliminary visualization of what the mobile app would look like. This helps to generate an idea of the appearance and feel of the app, and we examine the users' reactions to the UI and UX designs.
4. Development
Our team of experts in Native, Hybrid, and Cross-Platform app development, using languages such as Swift, Kotlin, PhoneGap, Ionic, Xamarin, and more to produce high-quality mobile apps for the various operating systems.
5. Quality Assurance
We have a team of developers who carefully test every app to ensure that they provide an excellent user experience and meet the requirements of our clients. Apps developed by our development team are bug-free because they perform through a series of experiments before deployment.
6. Deployment
We follow the best practices when deploying our apps on different app stores, where they can be easily noticeable to considered users.
7. Support & Maintenance
All digital solutions need development. The deployment of an app is not the ultimate stage. Even Post-deployment, we work with our clients to offer maintenance and support.
Process We Follow
1. Requirement Gathering
We follow the first and foremost priority of gathering requirements, resources, and information to begin our project.
2. UI/UX Design
We create catchy and charming designs with the latest tools of designing to make it a best user-friendly experience.
3. Prototype
After designing, you will get your prototype, which will be sent ahead for the development process for the product.
4. Development
Development of mobile application/ web/blockchain started using latest tools and technology with transparency.
5. Quality Assurance
Hyperlink values quality and provides 100% bug free application with no compromisation in it.
6. Deployment
After trial and following all processes, your app is ready to launch on the App store or Play Store.
7. Support & Maintenance
Our company offers you all support and the team is always ready to answer every query after deployment.
Latest Blogs
Explore the Latest Blogs on Trends and Technology.