Smart Home - Home Automation
Smart homes are the result of the digital revolution's permeation across society and its eventual application in the domestic sphere.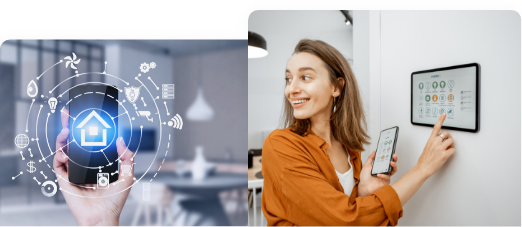 Smart homes are the result of the digital revolution's permeation across society and its eventual application in the domestic sphere. Hyperlink InfoSystem is a top smart home development company in Vancouver, Canada.
It's no secret that the conveniences of modern technology have made their way into people's homes. Automation systems installed in people's homes have proved crucial. Everything from the thermostat to the light switch and on and on through an infinite number of other devices are part of the home automation system.
The idea of a "smart home" revolves around the use of a network of interconnected electronic devices that can be programmed to do various tasks and so provide the occupants with a wide range of conveniences. Although it can appear like any other home from the outside, a smart home can be a representation of cutting-edge art in its purest form.
The Benefits of Automating Your Home
It's prudent to put money into home automation systems. They enable lights to be managed, so you can choose cutting-edge LED lighting items that use much less power than their traditional counterparts and even less if you use home automation to regulate when they are turned off.
A mix of green goods and energy-saving technology means that the systems of a smart home use less energy, enabling you considerable savings and this is what the ultimate advantage is all about.
Increasing energy efficiency is followed by savings on your power bills, so with a smart home system, you will use less energy and spend less than normal.
In addition, you have command over things like irrigation systems, climate control, alarms, lights, and even housekeeping. In a nutshell, home automation allows you to devote more time to rest, family, and other pursuits that are important to you.
If properly implemented, home automation can increase your family's safety. This is quite useful since the systems can be tailored to react in certain scenarios, such as if you forget to lock the door.
You can set your smart home system to automatically turn on the lights if there is an intruder. You can rest easy knowing that in addition to this safety technology, other initiatives provide round-the-clock security.
Not only does it keep an eye on your home and allow you to control anything from your phone, but it can also be customized to work with your media equipment.
You can switch off the sprinklers in the garden from the comfort of your bedroom, or adjust the level of the music playing on the patio or deck outside. You can breeze through mundane chores with the help of your smart home.
When you automate your home, you can manage its functions from afar, saving you time and effort. In other words, setting the temperature in your smart home when you come home from work doesn't need as many twists and turns as you may think. Your mobile device can issue the order from anywhere, so long as you have service.
Our Services InSmart Home Development
Smart Home App Development
We build mobile and online apps that enable consumers to monitor, control, and modify their smart devices - whether at home or afar.
Machine Learning Expertise
Because of our expertise in areas such as intelligent image/video analysis and natural language processing (NLP), we can create Smart Home solutions that need little human involvement but accomplish their goals.
We provide full-service Smart Home development for companies building a new kind of gadget, from bespoke enclosure design to hardware testing.
To facilitate the business logic of Home Automation systems and to link them to the cloud, mobile applications, controllers, and other devices, we provide firmware and middleware solutions.
UX/UI Design For A Smart Home App
Developing polished, user-friendly interfaces for smart home apps is a specialty of our seasoned UI/UX design team. We employ the newest design tools and established processes to build dynamic app displays in conformance with major style guidelines and industry standards. When it comes to smart home applications, our design team is adept at building user-centric dashboards to centrally monitor device performance and statistics.
Helping You Create A Smart Home Is A Specialty Of Hyperlink InfoSystem.
We've established ourselves as the industry standard for developing high-tech dwellings. To combine your device into the worldwide Home Automation system, Hyperlink InfoSystem will design integration layers, device drivers, APIs, and AI-based middleware. In thismanner, your device will be able to communicate data with 3rd-party systems and online services.
We are committed to investing in R&D and becoming experts in cutting-edge development tools for Home Automation. We can add voice assistants to low-memory devices and interface gadgets that utilize various connection technologies thanks to this method, which also enables us to produce competitive connected home solutions. Contact us to hire smart home developers in Vancouver, Canada.
Hourly
For short-term project or need a specialized service, hire our skilled NodeJS developers on an hourly basis.
Hire Now
We sign NDA for all our projects.
Monthly
For rather precise, limited budget, less time and long-term partnership, consider a source of NodeJS developers on a monthly basis.
Hire Now
We sign NDA for all our projects.
Quarterly
If you need constant support or guidance and expecting your target audience and project requirements may change then hire NodeJS developers on a quarterly basis.
Hire Now
We sign NDA for all our projects.
Process We Follow
1. Requirement Gathering
We analyze the requirements with the clients to understand the functionalities to combined into the app. This process allows us to form a development plan and transform the client's thoughts into an efficient and functional app.
2. UI/UX Design
Our developers use efficient UI trends to design apps that are not only pleasant to the eye but also intuitiveness and flexible. Our applications do not only complete the needs of our clients but also are simple and convenient to the end-users.
3. Prototype
We develop a preliminary visualization of what the mobile app would look like. This helps to generate an idea of the appearance and feel of the app, and we examine the users' reactions to the UI and UX designs.
4. Development
Our team of experts in Native, Hybrid, and Cross-Platform app development, using languages such as Swift, Kotlin, PhoneGap, Ionic, Xamarin, and more to produce high-quality mobile apps for the various operating systems.
5. Quality Assurance
We have a team of developers who carefully test every app to ensure that they provide an excellent user experience and meet the requirements of our clients. Apps developed by our development team are bug-free because they perform through a series of experiments before deployment.
6. Deployment
We follow the best practices when deploying our apps on different app stores, where they can be easily noticeable to considered users.
7. Support & Maintenance
All digital solutions need development. The deployment of an app is not the ultimate stage. Even Post-deployment, we work with our clients to offer maintenance and support.
Process We Follow
1. Requirement Gathering
We follow the first and foremost priority of gathering requirements, resources, and information to begin our project.
2. UI/UX Design
We create catchy and charming designs with the latest tools of designing to make it a best user-friendly experience.
3. Prototype
After designing, you will get your prototype, which will be sent ahead for the development process for the product.
4. Development
Development of mobile application/ web/blockchain started using latest tools and technology with transparency.
5. Quality Assurance
Hyperlink values quality and provides 100% bug free application with no compromisation in it.
6. Deployment
After trial and following all processes, your app is ready to launch on the App store or Play Store.
7. Support & Maintenance
Our company offers you all support and the team is always ready to answer every query after deployment.
Latest Blogs
Explore the Latest Blogs on Trends and Technology.