Sports
Hire sports app developers in Canada to develop highly intuitive apps to attract sports lovers. Contact us to hire sports app developers in Canada.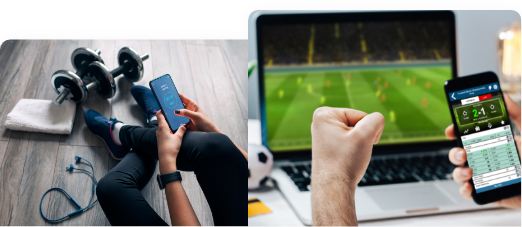 All sectors have developed as a result of technological progress throughout time. A rise in sports fans has also led to a flourishing sports business. There has been a significant increase in the demand for sports news, and smartphones are the primary reason why. If you're in the sports sector and you want to speed up your expansion, you should include mobile development in your offerings. Hire sports app developers in Canada to develop highly intuitive apps to attract sports lovers.
Most players nowadays like to play their games on their mobile devices because of how easy it is. Therefore, to increase user engagement, it is essential to have a mobile application that is tailored to the demands of your company. When it comes to developing fantasy sports apps for mobile devices, Hyperlink InfoSystem is your best bet.
Technologies To Integrate With Sport App
The app's user experience is improved by the use of augmented reality and virtual reality features, such as live streaming of sports. Fans of any sport will feel the same way when they witness the action unfold in person. Users can relax in a comfortable setting while participating in their favorite sports thanks to the realistic simulation provided by virtual reality. Therefore, technology is essential for creating a top-notch sports app.
AI (Artificial Intelligence)
Artificial intelligence (AI) has revitalized the whole market, and the sports business is no exception. With AI, you can provide your consumers with individualized attention and enhance their overall experience to keep them as customers for the long haul. Different parts of this technology can be used to enhance your sports-related offerings.
Social Networks Integration
The sports app with built-in social media integration makes it easier for fans to express their opinions and share their experiences across many networks. It not only makes your product more appealing to people by enhancing their experience with it, but it also helps you establish a solid identity for your company. The software can also be used as a promotional instrument to raise the profile of your company.
Development Of Portable And Cross-Platform Applications
There is a need to investigate both technologies as part of the sports app's development because of their long histories in the field. Including a wearable app in your marketing strategy can increase your company's exposure and get you closer to your target audience. Cross-platform app development allows you to reach a wider audience and turn more of them into paying clients. There are various kinds of applications that you can develop, including:
Ticket Booking Application
It's a fantastic experience to cheer for your side from the stands. Building a website or mobile app for purchasing sports tickets is a certain way to skyrocket the success of your startup. Everyone who enjoys watching sports like football, cricket, basketball, tennis, etc., live from the stadium will be eternally grateful to you for figuring out a simple way to get tickets to these events.
You can obtain instantaneous access to your favorite matches by developing a live-streaming sports app. The greatest of your spectacular dating stories will be shown in the app. This means that you won't miss a single moment of the ongoing updates.
Fantasy Sports Application
The ease with which fantasy sports fans can create their virtual teams and the variety of games played throughout the world contribute to the growing popularity of the genre. The app's success will skyrocket after it's been updated with some cool new features.
Create an esports app that let users watch their favorite games whenever they want, exactly like their favorite shows or movies. Furthermore, they provide you access to a plethora of services like push alerts, discussion boards, match highlights, etc., that completely change the game for you as a user.
The demand from sports enthusiasts will rise if a dedicated sports news app is developed. The app that provides the most up-to-date sports news, whether it is for football, cricket, or any other sport, can quickly become a fan favorite. In addition to the latest news, you can also give customers game schedules and updates on all the athletic events taking place across the world.
Benefits You Can Expect From Using Hyperlink InfoSystem
There is no comparison to the features and functionality of our fantasy sports applications.
Quality Assurance in Applications
For us, the quality of fantasy sports software depends on the quality of its games. Our QA team makes sure of this by doing several gameplay tests just before delivering the product.
The developers at our company have worked on a wide variety of successful sports apps, so they know the ins and outs of the technology, the best practices for creating fantasy apps, and the approaches that have been shown to work.
Beautiful Designs And Smooth Operation.
We have assembled a team of skilled fantasy sports designers, and our objective is to provide applications that are not only simple to use but also entertaining to play and look amazing.
Development of Reliable and Scalable Applications
By keeping the user in mind at all times, we can guarantee that the fantasy sports applications we create are robust, user-friendly, and built on tried and true app development principles.
The sports sector of the future might benefit greatly from the use of mobile applications. These applications have the potential to transform the sports sector into a more efficient, intelligent, and accessible on-demand realm, allowing users to do anything from order tickets to receive all the wonderful sports information live on their smartphones. Contact us to hire sports app developers in Canada.
Latest Blogs
Explore the Latest Blogs on Trends and Technology.