Swift App Development Company in Canada
Hyperlink InfoSystem is a leading Swift app development company in Toronto, Canada. Hire Dedicated Developers in Canada, USA, UAE and India.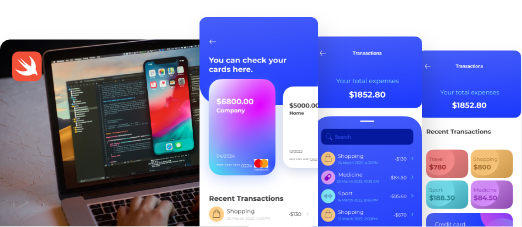 Swift may be used to create applications for Apple's iOS, iPadOS, macOS, Apple TV OS, Apple Watch OS, and Linux. Swift, developed by Apple, is a strong and intuitive programming language with a low learning curve and a clean, minimalist design. Because of this, it is perfect for novice programmers. Hyperlink InfoSystem is a leading Swift development agency in Toronto, Canada, Hire Dedicate Swift Developers from us Today.
Among the open-source languages used by experts, Swift is rapidly rising in both popularity and use. Swift is used to creating some of the most widely used applications in the world.
Justifications For Writing Code In Swift
Swift was developed specifically for use on Apple's iOS and other mobile platforms, as well as Linux. There's no denying this language's potential to one day be the de facto standard for all Apple goods. Since there is always an opportunity for development and exploration, the number of committed programmers and Swift enthusiasts is ever-increasing.
Swift may not be among the top 10 programming languages just now, but it is getting a strong following and evolving rapidly. As it stands now, the outcome is unmistakable: it is more popular than Objective-C.
Any developer may use this technology since it is freely available online. In the short time that this language has existed, they have had a significant impact on its growth.
Swift coding ensures uniformity and safety. The additional protections greatly simplify the process of preventing errors and greatly enhance the text's readability.
The goal of developing this language was to provide a system with better performance. Swift is the name of the language, which makes sense given that it is far quicker than Objective-C. Quicker execution times are achieved compared to Python. If we compare it to Python, the difference is much more striking — it is 8.5 times quicker.
The Advantages Of Swift
You may easily invite other programmers to work on this project and add new features thanks to the modular nature of the code. Further, it is receiving increasing focus from Apple, whereas Objective-C is now inthe second position. Swift is a new programming language, but it has already begun to operate with Linux and other platforms outside Apple's exclusive ecosystem. Many programmers see great potential in this language and have begun working with it.
Swift makes it simple to keep an app updated once it has been developed. Swift merges the header (.m) and implementation (.h) files of Objective-C into one (.swift ). Keep in mind that there are requisites for using Swift. Although Swift is pre-installed and ready to go on macOS, installing it on Linux requires the installation of additional dependencies, such as Python.
For Swift, the Application Binary Interface (ABI) serves as the binary counterpart of an API. While ABI stability is a significant milestone for any programming language, Swift claims that "the ultimate advantage for the Swift ecosystem was providing binary compatibility for apps and libraries." Indeed, the ABI enables interoperability between programs written in various versions of Swift as well as Objective-C.
Swift is not only a quick and efficient option, but also a highly secure one. This new method of programming allows developers to easily find and eliminate errors. The resulting code is neat and easy to understand. The input interface makes it less likely that errors will slip by undetected.
Automatic Memory Management With ARC
Swift makes use of Automatic Reference Counting (ARC), a technique developed to provide iOS's missing garbage collector. Garbage collectors are used to get rid of stale class instances in languages like Java, C#, and Go. They help cut down on memory use but may increase processing time by as much as 20%. When developing for iOS before ARC, programmers had to continually monitor and adjust the total number of instances of each class manually. Swift's ARC will clean up after you by identifying unused instances. It helps you boost your app's performance without requiring more storage or processing power.
Possibility Of Cross-Platform And Full-Stack Support
So far, IBM's efforts to get the language hosted on the cloud have been successful. Swift is compatible with a wide variety of back-end server systems. The use of Swift for both the backend and front end of an application, like full-stack JavaScript development, allows for considerable getting exchange and reuse, which in turn speeds up the development process and minimizes development efforts. In addition, Apple has offered assistance for all of its products, including Macs, MacBooks, iPhones, iPads, Apple TVs, Apple Watches, and Apple Wearables. Linux and Windows systems are supported in addition to Apple's.
Swift is well-known as a quick programming language since writing an app in Swift often takes less time than in Objective-C. Swift makes both coding and reading code a breeze. Since this language is shorter, it reduces the amount of time spent writing code for each job.
Swift Development In Canada
Many successful iOS mobile application development projects have been completed by Hyperlink InfoSystem using the Swift programming language. Consequently, we can help you not only with Swift app development for iOS mobile and tablet devices but also with expert missions for difficult problems, such as auditing your Swift code or analyzing your app's performance, or designing its architecture.
As a top Swift Development Agency in Toronto, Canada, we will assist you with the development of excellent digital solutions.
Process We Follow
1. Requirement Gathering
We analyze the requirements with the clients to understand the functionalities to combined into the app. This process allows us to form a development plan and transform the client's thoughts into an efficient and functional app.
2. UI/UX Design
Our developers use efficient UI trends to design apps that are not only pleasant to the eye but also intuitiveness and flexible. Our applications do not only complete the needs of our clients but also are simple and convenient to the end-users.
3. Prototype
We develop a preliminary visualization of what the mobile app would look like. This helps to generate an idea of the appearance and feel of the app, and we examine the users' reactions to the UI and UX designs.
4. Development
Our team of experts in Native, Hybrid, and Cross-Platform app development, using languages such as Swift, Kotlin, PhoneGap, Ionic, Xamarin, and more to produce high-quality mobile apps for the various operating systems.
5. Quality Assurance
We have a team of developers who carefully test every app to ensure that they provide an excellent user experience and meet the requirements of our clients. Apps developed by our development team are bug-free because they perform through a series of experiments before deployment.
6. Deployment
We follow the best practices when deploying our apps on different app stores, where they can be easily noticeable to considered users.
7. Support & Maintenance
All digital solutions need development. The deployment of an app is not the ultimate stage. Even Post-deployment, we work with our clients to offer maintenance and support.
Process We Follow
1. Requirement Gathering
We follow the first and foremost priority of gathering requirements, resources, and information to begin our project.
2. UI/UX Design
We create catchy and charming designs with the latest tools of designing to make it a best user-friendly experience.
3. Prototype
After designing, you will get your prototype, which will be sent ahead for the development process for the product.
4. Development
Development of mobile application/ web/blockchain started using latest tools and technology with transparency.
5. Quality Assurance
Hyperlink values quality and provides 100% bug free application with no compromisation in it.
6. Deployment
After trial and following all processes, your app is ready to launch on the App store or Play Store.
7. Support & Maintenance
Our company offers you all support and the team is always ready to answer every query after deployment.
Latest Blogs
Explore the Latest Blogs on Trends and Technology.