Text To Speech (TTS) Technology
Hyperlink InfoSystem is a leading text-to-speech development company in Canada where we provide options for cloud, high-availability server, and on-device deployment.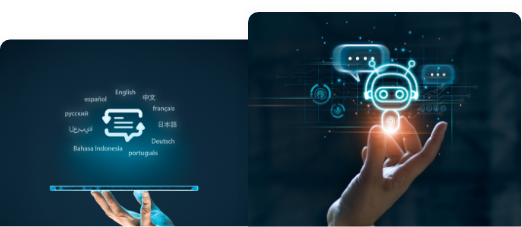 Everything you need to add award-winning text-to-speech (TTS) capabilities to your apps is provided by Hyperlink InfoSystem's TTS tools. By using their respective native APIs, our TTS solutions can be included in systems running Windows, Mac OS X, Linux, iOS, and Android. We are a leading text-to-speech development agency in Vancouver, Canada where we provide options for cloud, high-availability server, and on-device deployment.
Consumers have come to anticipate the same level of seamlessness in their digital interactions that they enjoy with conversational AI tools like Siri and Alexa. Sites and services that employ text-to-speech software make their material accessible to a wider audience, including those who are traveling, those who have mobility issues, those who need to juggle many tasks at once, and those who speak a language other than English.
Converting written material into an audible format is primarily a tool for increasing accessibility. Some of the persons who benefit the most from this technology include those who are visually handicapped, those who learn better by aural means, those who are dyslexic or illiterate, and those who have speech impairments. Businesses in consumer-facing sectors, like as healthcare and retail, can stand out from the competition by providing a more humanlike experience using intelligent TTS systems that provide speech interactions.
Benefits Of The Text-To-Speech For Companies, Organizations, And Publishers
TTS (Text-to-Speech) solutions from Hyperlink InfoSystem can be used in a wide variety of contexts, including but not limited to websites, mobile apps, e-books, e-learning materials, documents, conversational customer experience, and experience systems in the fields of transportation, media, robotics, embedded devices, self-service applications, the Internet of Things, and more.
When businesses, organizations, and publications use TTS, everyone wins.
Voice-enabled pre- and post-sale services improve customer satisfaction in several ways: they lessen the strain on human agents, allow for more individualized care, increase productivity, and cut down on overhead expenses.
Emotional and consistent branding across all accessible touchpoints, thanks to the use of a single TTS voice.
Access to more customers across the globe thanks to high-quality, natural-sounding TTS voices available in a variety of languages.
Optimised development and maintenance - a robust TTS technology that is supported on the most common platforms, accessible both in the cloud and on-premises, and scalable according to the actual demands of the company, saving time and money in the long run.
Greater freedom for the creator of digital material, since text-to-speech programs are often seen as extra steps that must be taken by the user. Cloud-based formats or software as a service (SaaS)can help with this. With a few easy lines of code, the audio is created instantaneously; For new or updated material, this audio version is automatically updated.
Websites using TTS are more accessible to the world's 774 million illiterate people and the 285 million people who are visually impaired. Also, having online information read aloud does not hinder usability for those who do not have any difficulties. Everyone else, even non-native speakers and those who have been using the system longer, can benefit from it as well.
Spend less time and money on maintenance thanks to web-based or cloud-based TTS technology running on a SaaS (software as a service) platform that allows you to listen to information online with ease.
The Internet of Things (IoT) makes it simpler to roll out solutions, and it's playing an increasingly important role in helping companies make the transition to digital operations. Companies across all sectors are increasingly relying on digital marketing methods to reach and engage with their target audiences. TTS provides a simpler method for Internet of Things (IoT) linked devices to interact with users.
Word-of-mouth promotion - enhancing the online content consumption experience by providing users with more options. Users are more likely to return to and promote a website if they like their time there. Additionally, Forbes claims that even in this day and age of social media marketing, word of mouth is still the most significant medium.
With TTS technology, HR departments and e-learning specialists can make learning modules and employee training simpler to learn for workers, anywhere and at any time, which in turn improves employee performance with corporate learning programs.
Types Of Text-To-Speech Tools
Many modern electronic gadgets come equipped with TTS software that can convert text to voice. This encompasses not only traditional computers but also Chrome, mobile devices, and digital tablets. This TTS doesn't need any third-party applications or software to utilize.
Some online resources, such as online dictionaries, have text-to-speech (TTS) features built right in. To have this page read aloud, for instance, activate the "Reading Assist" feature in the site's settings.
Users can also access text-to-speech (TTS) applications on their mobile devices, such as smartphones and digital tablets. Apps like this often have advanced functions like color-coded text highlighting.
Chrome's TTS tools: Chrome is a newer platform with a variety of TTS options. Among them are Snap&Read Universal and Read&Write for Google Chrome. All you need is a Chromebook or another computer running the Chrome web browser to access these resources. For additional reading aids in Chrome, have a look here.
Numerous literacy software applications exist for both desktop and portable computers, including text-to-speech software. Many of these software packages also have text-to-speech (TTS) functionality, which is useful for those who are blind or have trouble reading. Contact us to meet with a leading text-to-speech development agency in Vancouver, Canada.
Process We Follow
1. Requirement Gathering
We analyze the requirements with the clients to understand the functionalities to combined into the app. This process allows us to form a development plan and transform the client's thoughts into an efficient and functional app.
2. UI/UX Design
Our developers use efficient UI trends to design apps that are not only pleasant to the eye but also intuitiveness and flexible. Our applications do not only complete the needs of our clients but also are simple and convenient to the end-users.
3. Prototype
We develop a preliminary visualization of what the mobile app would look like. This helps to generate an idea of the appearance and feel of the app, and we examine the users' reactions to the UI and UX designs.
4. Development
Our team of experts in Native, Hybrid, and Cross-Platform app development, using languages such as Swift, Kotlin, PhoneGap, Ionic, Xamarin, and more to produce high-quality mobile apps for the various operating systems.
5. Quality Assurance
We have a team of developers who carefully test every app to ensure that they provide an excellent user experience and meet the requirements of our clients. Apps developed by our development team are bug-free because they perform through a series of experiments before deployment.
6. Deployment
We follow the best practices when deploying our apps on different app stores, where they can be easily noticeable to considered users.
7. Support & Maintenance
All digital solutions need development. The deployment of an app is not the ultimate stage. Even Post-deployment, we work with our clients to offer maintenance and support.
Process We Follow
1. Requirement Gathering
We follow the first and foremost priority of gathering requirements, resources, and information to begin our project.
2. UI/UX Design
We create catchy and charming designs with the latest tools of designing to make it a best user-friendly experience.
3. Prototype
After designing, you will get your prototype, which will be sent ahead for the development process for the product.
4. Development
Development of mobile application/ web/blockchain started using latest tools and technology with transparency.
5. Quality Assurance
Hyperlink values quality and provides 100% bug free application with no compromisation in it.
6. Deployment
After trial and following all processes, your app is ready to launch on the App store or Play Store.
7. Support & Maintenance
Our company offers you all support and the team is always ready to answer every query after deployment.
Latest Blogs
Explore the Latest Blogs on Trends and Technology.