Unreal Engine Game Development Company In Canada
Hyperlink InfoSystem is a leading Unreal engine game development company in Canada. Hire Dedicated Game developers in Canada.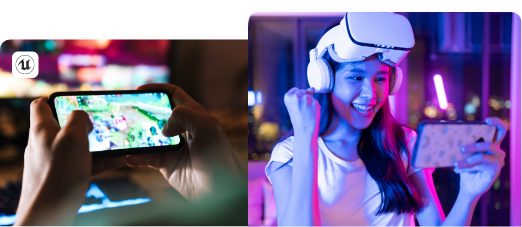 With our complete Unreal Engine development services, you can provide your consumers with a thrilling and exciting metaverse gaming experience. We develop immersive virtual worlds that represent creative and aesthetic greatness, allowing you to launch astonishingly interactive and lifelike games. Develop excellent hyperrealistic games when you hire a top Unreal Engine development company in Calgary, Canada.
Hyperlink InfoSystem is developing a flawless platform of services powered by the Unreal Engine to boost your company's performance. You can get high-quality, immersive Unreal Engine development services at a reasonable price.
Our team of specialists with their talents and acquired knowledge of all these years can deliver uncompromised quality services and faultless outcomes, leveraging one of the top engine software in the industry, i.e., Unreal engine 4.
At Hyperlink InfoSystem, our game developers specialists operate in professionally equipped game production studios with sophisticated technology such as Unreal Engine. They are devoted to building unique games with sophisticated visuals as per our client's needs.
What We Do With Unreal Engine
Interactivity And Gameplay
We utilize the power of Unreal Engines Blueprint visual programming, Variant Manager, sophisticated multiplayer frameworks, artificial intelligence (AI) compatibility, and customizable UI components, visuals, and widgets to create exhilarating interactive gameplays.
With the help of visual effects editing tools, clothing tools for simulating garments and textiles, stand-based hair and fur simulations, and we can leverage the full potential of UE4 (and UE5 very soon!).
We modify people, cars, buildings, landscapes, and other types of things utilizing mesh and animation editing tools, managing complicated animation behaviors using Animation Blueprints, and recording motion capture connected to characters.
Our Metaverse-Specific Unreal Engine Development Services
Considering a move to Unreal Engine, eh? Our porting service will help you move your project from any platform to Unreal Engine without losing any of your hard work or any of the essential features.
Dynamic Metaverse Environments
We provide hyper-realistic metaverse gaming settings where players can experience a truly immersive virtual world and take advantage of play-to-earn gaming chances made possible by NFT tokenization and trading.
We develop insightful simulations that provide a rich sensory experience by combining precision, originality, and realism.
Hyperrealistic 2D and 3D games
Using the Unreal Engine, our programmers create stunning 2D and 3D games with responsive controls and cutting-edge visuals.
We create agile, engaging, and user-centric augmented and virtual reality solutions that exactly correspond with your expectations by combining Unreal's tools and technologies with a thorough grasp of your project's needs.
Mobile and web-based solutions
We have powerful mobile and web-based solutions designed to meet the specific needs of our consumers and can thus serve both mobile and desktop users. You can use any system or gadget with our solutions since they work with all of them.
Why Choose Hyperlink InfoSystem?
Every game is put through extensive testing for concerns with compatibility, functionality, bugs, errors, and performance. We test extensively across all supported platforms and provide you supplied with the final result promptly.
Every solution we provide is backed by comprehensive maintenance and support to guarantee its continued dependability and suitability to your developing business requirements.
The Unreal Engine developers we employ have extensive experience with the whole development lifecycle. We are adept in Unreal Engine's state-of-the-art features and C# programming which enables us to develop high-performance and immersive games, simulations, and AR/VR solutions for numerous platforms.
Use Unreal Engine to Create Blockchain-Based Games
In addition to our expertise in blockchain development and our extensive experience developing virtual reality and augmented reality games, Hyperlink InfoSystem's Unreal Engine developers can also assist you with the technical and developmental demands of your Unreal Engine-based game.
Blockchain Cryptocurrency Exchange
Asset managers, brokers, dealers, token issuers, exchange operators, and crypto custody providers can all benefit from our layered security architecture and scalable blockchain-based cryptocurrency exchange software that we provide for them.
Blockchain Smart Contract Development
Using the Unreal Engine Software Development Kit (SDK), our programmers develop distributed smart contracts that add features to the blockchain and make asset transactions completely open and auditable. Our team will design and develop a full-featured smart contract that will improve the effectiveness and financial safety of your Metaverse gaming environment.
Blockchain Gaming Solutions
Tokenized assets, digital items/products, and players' in-game histories can be safely stored and verified with the help of our bespoke, cryptographically coded blockchain gaming systems.
Why Use Unreal Engine For GameDevelopment?
The Unreal Engine is a free and open-source 3D production engine used to make anything from cutting-edge video games and simulations to augmented reality and virtual reality products.
Thanks to its versatile features, Unreal Engine can be used for a wide variety of projects of varying sizes. The platform makes it easier to create games that work well across several platforms.
Assets And Samples Available
There are hundreds of assets, plugins, and examples available for use with the Unreal Engine Marketplace that can be used to enhance the games' user experience and user interface by current industry standards.
Using the platform's in-built editor, you can easily create realistic-looking textures, shadows/lights, and effects without adding extra time to the development process.Develop high-quality games when you hire top Unreal Engine developers in Calgary, Canada.
Process We Follow
1. Requirement Gathering
We analyze the requirements with the clients to understand the functionalities to combined into the app. This process allows us to form a development plan and transform the client's thoughts into an efficient and functional app.
2. UI/UX Design
Our developers use efficient UI trends to design apps that are not only pleasant to the eye but also intuitiveness and flexible. Our applications do not only complete the needs of our clients but also are simple and convenient to the end-users.
3. Prototype
We develop a preliminary visualization of what the mobile app would look like. This helps to generate an idea of the appearance and feel of the app, and we examine the users' reactions to the UI and UX designs.
4. Development
Our team of experts in Native, Hybrid, and Cross-Platform app development, using languages such as Swift, Kotlin, PhoneGap, Ionic, Xamarin, and more to produce high-quality mobile apps for the various operating systems.
5. Quality Assurance
We have a team of developers who carefully test every app to ensure that they provide an excellent user experience and meet the requirements of our clients. Apps developed by our development team are bug-free because they perform through a series of experiments before deployment.
6. Deployment
We follow the best practices when deploying our apps on different app stores, where they can be easily noticeable to considered users.
7. Support & Maintenance
All digital solutions need development. The deployment of an app is not the ultimate stage. Even Post-deployment, we work with our clients to offer maintenance and support.
Process We Follow
1. Requirement Gathering
We follow the first and foremost priority of gathering requirements, resources, and information to begin our project.
2. UI/UX Design
We create catchy and charming designs with the latest tools of designing to make it a best user-friendly experience.
3. Prototype
After designing, you will get your prototype, which will be sent ahead for the development process for the product.
4. Development
Development of mobile application/ web/blockchain started using latest tools and technology with transparency.
5. Quality Assurance
Hyperlink values quality and provides 100% bug free application with no compromisation in it.
6. Deployment
After trial and following all processes, your app is ready to launch on the App store or Play Store.
7. Support & Maintenance
Our company offers you all support and the team is always ready to answer every query after deployment.
Latest Blogs
Explore the Latest Blogs on Trends and Technology.