Woocommerce Web Development Services In Canada
Hyperlink InfoSystem is the best Woocommerce development company in canada. Hire dedicated web developers from us.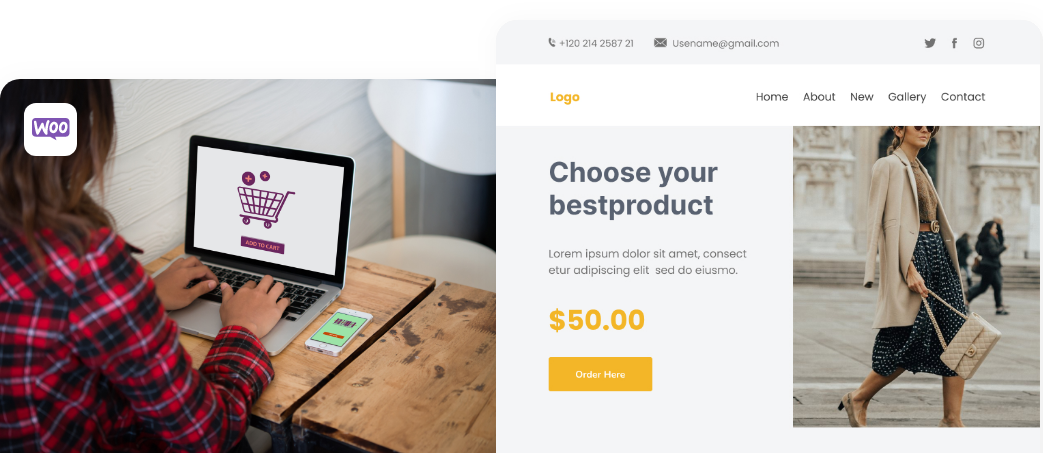 WooCommerce is a sophisticated and widely used WordPress plugin that enables developers to develop high-performance eCommerce stores for a wide range of industries. WooCommerce website creation is used by over 28% of all eCommerce sites and provides unrivaled scalability, customizable options, and strong community support.Hire WooCommerce developers in Ottawa, Canada to develop an excellent eCommerce platform.
Hyperlink InfoSystem specializes in bespoke WooCommerce development services that are both functional and user-friendly. Whether you want to convert an existing WordPress website into a scalable eCommerce shop or create a powerful and feature-rich eStore from scratch, our WooCommerce developers in Canada are always up for the job. We provide the greatest solutions for website design, development, and marketing.
Our WooCommerce Design Services
Plugin and Extension Development
You canhire Hyperlink InfoSystem WooCommerce developers to design extensions and plugins to enhance the functionality of your eCommerce business. We realize the significance of providing consumers with solutions that are tailored to their specific requirements and expectations. We assist our customers in installing and configuring available plugins that enhance the user experience, and we also provide post-launch support and maintenance.
Integration And Migration of WooCommerce
Our migration services guarantee a smooth and flawless transition from your current platform to the WooCommerce platform, with full data integrity and security and no downtime. Our professionals ensure that the procedure runs well and that no items, orders, or client information are lost.
WooCommerce Support And Maintenance
Our WooCommerce staff is accessible around the clock and provides high-quality, dependable support and maintenance for your website. We ensure that it is always up and running and provides the greatest performance possible by resolving any bugs or difficulties. We do frequent security checks and upgrade the website's versions and features regularly to ensure that the shop achieves its maximum potential and provides the greatest user experience.
WooCommerce Customization
Our WooCommerce developers are professionals in offering bespoke services that correspond with your workflow and business procedures, whether you require extra functionality or want to overhaul your whole shop. We have the expertise to design functionality that is ideal for themes, modules, and plugins that assist increase the capabilities of your current shop while still achieving the desired appearance and feel.
Design And Development of WooCommerce Themes
We use WooCommerce's flexibility to create and build custom themes that accentuate the aesthetic attractiveness of your e-store. Our UI/UX designers stay up to date on the newest trends, giving your shop a competitive edge. All of our WooCommerce gateway themes are designed with usability and SEO in mind.
Because most buyers use applications or websites through mobile devices, creating an adaptable website for your eCommerce company is critical. A responsive website might help you reach a wider audience. Hyperlink InfoSystem assists our customers in developing completely responsive websites.
Design a WooCommerce website that includes features like cross-browser compatibility, SEO optimization, and so forth. We assist our customers in reaching mobile consumers and providing better service to them.
Why Should You Use WooCommerce to Run Your Online Store?
WooCommerce is the world's most popular content management system, and it offers a complete and rich solution for selling anything.
Industry Leader: WooCommerce WordPress is a force to be reckoned with, powering some of the world's biggest online businesses and providing you with everything you need for a robust and lucrative site.
Versatility: WooCommerce is the most adaptable eCommerce platform for growing your company online. If you are unable to expand your WooCommerce site with one of the 400 approved extensions, Hyperlink InfoSystem can design one for you. Without a doubt, the options are limitless.
Scalable: There is no limit to how you can utilize WooCommerce with robust hosting, a good database configuration, and forward-thinking development. The platform is utilized in novel ways to service all sorts of e-commerce sites and runs massive, high-traffic sites.
As usual, we make certain that all of our WordPress WooCommerce solutions, such as WordPress themes and website designs, are mobile-friendly. We understand how important it is for a website to be compatible with the most recent gadgets and mobile devices. In today's increasingly mobile era, the most crucial thing to consider when building someone's business or website is a mobile-optimized design.
You Should Hire Hyperlink InfoSystem To Develop Your WooCommerce Store
We are certified WordPress developers at Hyperlink InfoSystem. Our developers are highly skilled PHP code specialists that endeavor to build completely customized and distinctive online experiences for their customers.
Our eCommerce QA professionals adhere to stringent technical review criteria. In that endeavor, our developers will analyze the code to ensure that all best practices are followed and that your site operates by the specifications that we established from the beginning. Hire WooCommerce developers in Ottawa, Canada to develop a bespoke eCommerce platform.
Hourly
For short-term project or need a specialized service, hire our skilled Front-End developers on an hourly basis.
Hire Now
We sign NDA for all our projects.
Monthly
For rather precise, limited budget, less time and long-term partnership, consider a source of Front-End developers on a monthly basis.
Hire Now
We sign NDA for all our projects.
Quarterly
If you need constant support or guidance and expecting your target audience and project requirements may change then hire Front-End developers on a quarterly basis.
Hire Now
We sign NDA for all our projects.
Process We Follow
1. Requirement Gathering
We analyze the requirements with the clients to understand the functionalities to combined into the app. This process allows us to form a development plan and transform the client's thoughts into an efficient and functional app.
2. UI/UX Design
Our developers use efficient UI trends to design apps that are not only pleasant to the eye but also intuitiveness and flexible. Our applications do not only complete the needs of our clients but also are simple and convenient to the end-users.
3. Prototype
We develop a preliminary visualization of what the mobile app would look like. This helps to generate an idea of the appearance and feel of the app, and we examine the users' reactions to the UI and UX designs.
4. Development
Our team of experts in Native, Hybrid, and Cross-Platform app development, using languages such as Swift, Kotlin, PhoneGap, Ionic, Xamarin, and more to produce high-quality mobile apps for the various operating systems.
5. Quality Assurance
We have a team of developers who carefully test every app to ensure that they provide an excellent user experience and meet the requirements of our clients. Apps developed by our development team are bug-free because they perform through a series of experiments before deployment.
6. Deployment
We follow the best practices when deploying our apps on different app stores, where they can be easily noticeable to considered users.
7. Support & Maintenance
All digital solutions need development. The deployment of an app is not the ultimate stage. Even Post-deployment, we work with our clients to offer maintenance and support.
Process We Follow
1. Requirement Gathering
We follow the first and foremost priority of gathering requirements, resources, and information to begin our project.
2. UI/UX Design
We create catchy and charming designs with the latest tools of designing to make it a best user-friendly experience.
3. Prototype
After designing, you will get your prototype, which will be sent ahead for the development process for the product.
4. Development
Development of mobile application/ web/blockchain started using latest tools and technology with transparency.
5. Quality Assurance
Hyperlink values quality and provides 100% bug free application with no compromisation in it.
6. Deployment
After trial and following all processes, your app is ready to launch on the App store or Play Store.
7. Support & Maintenance
Our company offers you all support and the team is always ready to answer every query after deployment.
Latest Blogs
Explore the Latest Blogs on Trends and Technology.