Xamarin Mobile App Development In Canada
At Hyperlink InfoSystem, we utilize Xamarin to create mobile apps, sometimes in tandem with other tools and languages to ensure that the final result is as tailored as possible to the requirements of each customer.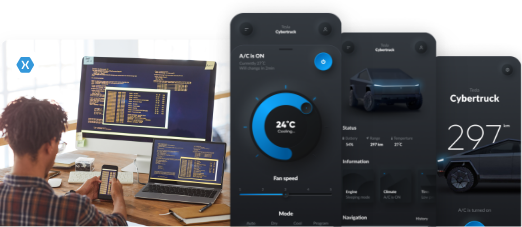 Microsoft's open-source Xamarin platform is used to build native mobile apps, meaning that the code uses platform-specific APIs throughout development. This includes iOS and Android. Contact Hyperlink InfoSystem to hire a leading Xamarin development agency in Winnipeg, Canada.
Xamarin is an excellent choice if you just want to create code for numerous platforms since it is designed to use the same code base for developing applications on different platforms. This allows you to enjoy both the portability of cross-platform software and the speed and efficiency of native apps.
As well as having the same performance as native programs, thanks to Xamarin's usage of hardware acceleration particular to each platform, applications built with the platform feature standard UI controls because of this. You can immediately call Objective C, Java, C, and C++ using Xamarin's interoperability. Consequently, libs developed for one platform can be used in another.
Why Choose Xamarin?
Development For All Devices
With Xamarin, you can create apps with a consistent user interface across several platforms, including mobile devices, wearables, and even Smart TVs.
The programming language used to create Xamarin, C#, is accessible, feature-rich, and adaptable. When compared to other programming languages, learning this one is a breeze.
You can save money by not having to find separate teams of developers that are fluent in each platform's unique set of languages when you use Xamarin. All platforms can be developed by a single team with identical native results and excellent user experiences.
Xamarin allows developers to write in C# and port their apps to the three most popular mobile platforms (iOS, Windows Phone, and Android) while reusing as much as 90% of their code. Since we can now work on all three platforms simultaneously, and any fixes we make will be reflected in the next round of compilation for all three platforms, this translates to significant time and money savings.
Xamarin gives us access to all of the mobile hardware by providing a native user interface. 100% native apps are what we receive with Xamarin, exactly as if they had been written in Objective-C, Swift, or Java. In a nutshell, Xamarin guarantees a fantastic user experience, which is crucial for every app.
Offers Complete Integration
This is especially true with native systems, which are regularly updated and improved. There are as many third-party libraries for Xamarin as there are for native code. As a result, we no longer face any of the potential obstacles associated with installing operating system upgrades on our native devices.
Covers the entire life cycle of an app
With the help of technologies like Xamarin Test Cloud and Xamarin Insights, Xamarin can handle the whole software development life cycle, from prototyping to production.
Our Xamarin Development Services
Our Xamarin developers use Xamarin Studio and Visual Studio to create native apps that look great on any device by streamlining the process of making them work across many displays. Designers on our team use Visual Studio to develop Apple Watch applications with world-class usability.
With Xamarin, you can build 100% native apps while sharing 100% of your code across all platforms. With Xamarin's tools, organizations can rapidly create the enterprise-grade mobile applications they need.
Through the use of Xamarin Test Cloud and Xamarin, our skilled Xamarin app developers check and double-check every app. To ensure that your corporate software functions without a hitch, UI tests are performed as part of the testing process. Our Xamarin app development service is designed to help you get the most out of your app.
Locate, integrate, and manage aesthetically pleasing UI controls, libraries, and external web services with little effort. Xamarin's compatibility with SAP, IBM, Salesforce, and Azure makes it a useful tool for expanding your enterprise's data. We'll assist you in harnessing the benefits of cloud computing for your company.
Smart analytics and statistics for making crucial business choices can be obtained with the help of a straightforward API like Xamarin Insights. We ensure that your business-critical mobile applications are constantly monitored and that any issues are resolved without delay.
Why Outsource Xamarin App Development To Hyperlink InfoSystem
Safety And Complete Command
Due to the high cost in terms of time, money, and reputation that can result from a security breach, we take security very seriously. Master Services Agreements (MSAs), NDAs, and Statements of Work (SOWs) are the usual legal agreements we put our signatures on.
Our nimble approach will be to your advantage. Specifically, you receive streamlined planning, regular and clear reporting, tight collaboration with the development team, and so on.
Convenient Cooperation Model With Simple Pricing
There are a variety of partnership structures that we might recommend when we operate together. We'll propose the best match for your project and give you the lowdown on how much it'll cost.
Transparent Communication
We promise you frequent, in-depth reports and updates on the status of your product and the process by establishing open lines of contact. If you need to make any adjustments to the project, you can always get in touch with the same individual.
Build Intelligent Mobile Apps On Xamarin
Integrating robust APIs like vision, language, and voice into your mobile apps will provide them with human-like capabilities. To help your business learn more and make better choices, our professionals can create intelligent mobile applications on the Xamarin platform using cognitive APIs.
At Hyperlink InfoSystem, we utilize Xamarin to create mobile apps, sometimes in tandem with other tools and languages to ensure that the final result is as tailored as possible to the requirements of each customer. Contact Hyperlink InfoSystem to hire a leading Xamarin development agency in Winnipeg, Canada.
Process We Follow
1. Requirement Gathering
We analyze the requirements with the clients to understand the functionalities to combined into the app. This process allows us to form a development plan and transform the client's thoughts into an efficient and functional app.
2. UI/UX Design
Our developers use efficient UI trends to design apps that are not only pleasant to the eye but also intuitiveness and flexible. Our applications do not only complete the needs of our clients but also are simple and convenient to the end-users.
3. Prototype
We develop a preliminary visualization of what the mobile app would look like. This helps to generate an idea of the appearance and feel of the app, and we examine the users' reactions to the UI and UX designs.
4. Development
Our team of experts in Native, Hybrid, and Cross-Platform app development, using languages such as Swift, Kotlin, PhoneGap, Ionic, Xamarin, and more to produce high-quality mobile apps for the various operating systems.
5. Quality Assurance
We have a team of developers who carefully test every app to ensure that they provide an excellent user experience and meet the requirements of our clients. Apps developed by our development team are bug-free because they perform through a series of experiments before deployment.
6. Deployment
We follow the best practices when deploying our apps on different app stores, where they can be easily noticeable to considered users.
7. Support & Maintenance
All digital solutions need development. The deployment of an app is not the ultimate stage. Even Post-deployment, we work with our clients to offer maintenance and support.
Process We Follow
1. Requirement Gathering
We follow the first and foremost priority of gathering requirements, resources, and information to begin our project.
2. UI/UX Design
We create catchy and charming designs with the latest tools of designing to make it a best user-friendly experience.
3. Prototype
After designing, you will get your prototype, which will be sent ahead for the development process for the product.
4. Development
Development of mobile application/ web/blockchain started using latest tools and technology with transparency.
5. Quality Assurance
Hyperlink values quality and provides 100% bug free application with no compromisation in it.
6. Deployment
After trial and following all processes, your app is ready to launch on the App store or Play Store.
7. Support & Maintenance
Our company offers you all support and the team is always ready to answer every query after deployment.
Latest Blogs
Explore the Latest Blogs on Trends and Technology.