Your new website needs the best WordPress theme, right? There are several WordPress themes available. You ought to pick an eye-catching, high-caliber WordPress theme. The appearance of your website may be impacted by your choice of the ideal WordPress theme. With so many themes available, it might be difficult to go through them all and select the best one for your unique needs.
According to Statista, With an 11 percent usage rate, Divi was the most popular website in Denmark using WordPress Theme technology. With 7% of the usage distribution each, Astra Theme and Hello Elementor came in second.

In this article, we will discuss a step-by-step approach with technical details, an SEO-friendly website, and more in this comprehensive article that help you to choose the best WordPress theme.
Also Read, Why You Should Make Your Business Website User Friendly In 2023
What Is a WordPress Theme?
A WordPress theme is a tool that alters how your website looks. These themes will determine your website's interface's design, typography, color scheme, and other elements.
The files that make up a WordPress theme are used to construct your website. A theme includes things like stylesheets, images, and template files. Together, all of those files create the overall appearance of your website.
Your theme, however, consists of more than just images. Many themes also increase the functionality of WordPress' backend. While some have unique blocks that expand the standard WordPress Editor, some contain content other than Pages and Posts.
You might create a post type called Portfolio Items that enables you to create and enter data about prior projects. As an alternative, you might be able to enter a customized "team members" block that enables you to easily highlight your staff in various ways.
Your ability to adopt technology and trends in e-commerce website development will have a big impact on how successful your online business is. Your goal is to choose a theme that combines the functions you need with the style and feel you prefer.
Even while you can alter your theme later, choosing one that gives you what you need right now might help you construct and launch your site more quickly and easily. If you want to create a website, you can hire WordPress developers from top website development companies that can help to develop user-friendly and secure web development solutions.
What is the Process of Choosing the Best WordPress Theme for a Website?
To meet evolving user expectations and stay competitive in the continuously expanding world of technology and trends, websites must be updated frequently. We will explore how to select the ideal WordPress theme for the website.
Determine Your Unique Requirements
Before you can start browsing WordPress themes, you must first ascertain the needs of your website. Consider your website's objective, the message you want to express, and the target audience.
A theme with lots of graphic components might be preferable if you wish to display visual content. You can focus your search and select topics that are relevant to your objectives by being specific about your needs. Consider the design and layout. It is important to consider the WordPress theme's style and layout.
Your theme should be organized simply, and the design should complement the style of your company. Look for themes with large amounts of space, clean navigation, and legible font. Consider how the theme's style and layout may affect the speed and usability of your website. Large pictures in themes or complicated animations may make your site load slowly, affecting how users interact with it.
Examine the Customization Options
Customization choices may enable you to create a website that is distinctive and tailored to your brand. To customize the fonts, widget areas, and more, look for WordPress themes that offer this option. You can now change your website without having to pay a developer to do it for you thanks to this.
Think about Support and Updates
Buying a WordPress theme from a reputable seller guarantees you timely updates and support. Look for themes from well-known manufacturers with a track record of providing ongoing support and updates.
What to Consider When Selecting a WordPress Theme?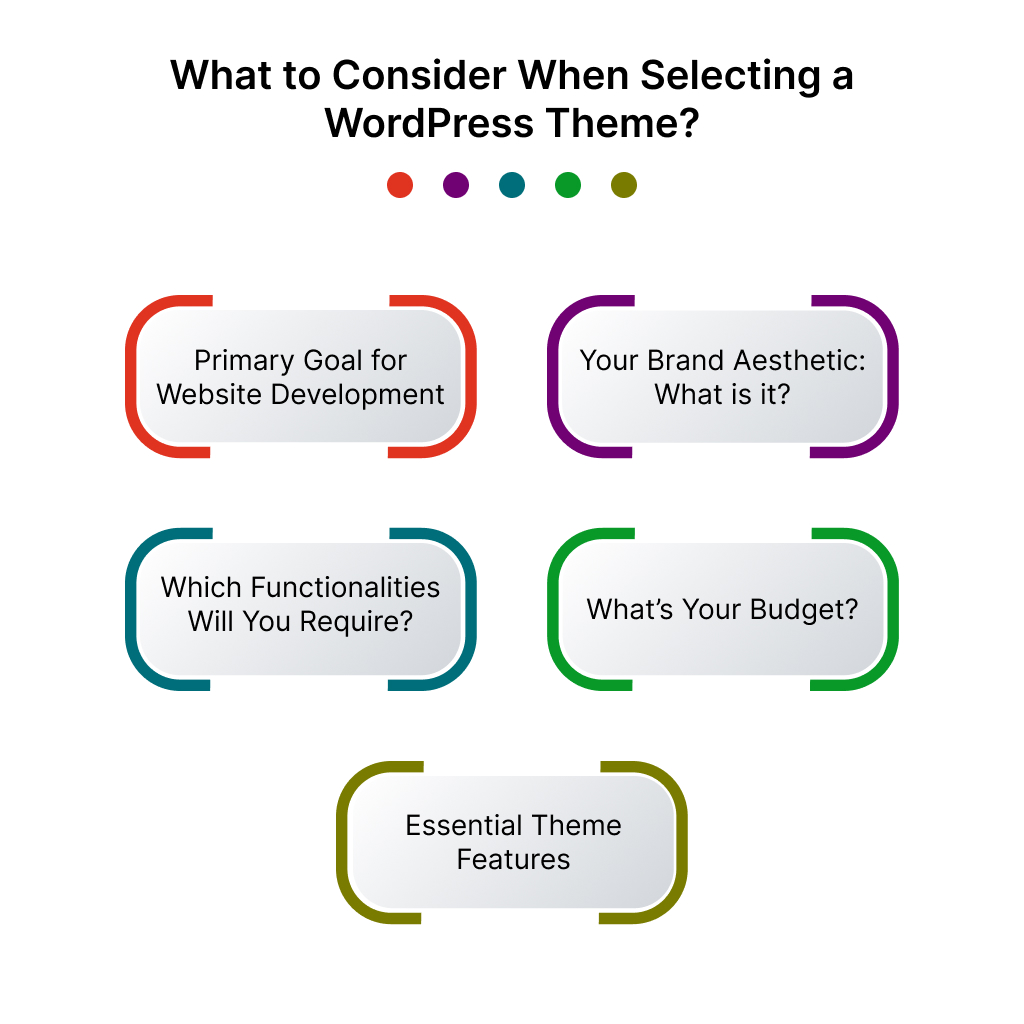 To showcase various types of information, several themes are created. What is the objective of your website? Here are some potential examples:
1) Primary Goal for Website Development
You might want to start a topical blog to position yourself as an authority in your industry, a magazine-style website to share about affiliate items, or a news site for posting information. The text flow is crucial for each of them, so choose a theme that emphasizes readability and arranges your material in a way that makes it easy to skim.
Suppose you want to encourage potential consumers to arrange a call, make a reservation, or sign up for your newsletter. In that case, you might want to welcome them to your business, define your offerings, and include a call to action. A call to action section, a professional landing page design, and specialized pages for services, portfolios, and contact information are frequently included in themes created for businesses.
Display Your Artistic Endeavours
To expand your audience and get fans, you might choose to publish your photography or artwork online. There are numerous specialized themes available to present photographs in original ways without becoming overpowering. Look for a layout that emphasizes photos and gallery-specific features.
Create a Membership Website
You don't necessarily need a theme that manages the technical aspects if you're wanting to start an online community (a plugin can handle that). However, you do need a theme with sophisticated menus that clearly distinguish between member and non-member information and features.
Promote Your Services and Products
If you're creating an online store, search for a theme that has WooCommerce completely integrated and stunning product pages that blend in with the rest of your website.
2) Your Brand Aesthetic: What is it?
The majority of themes allow for a lot of customization; for example, you can frequently change the color scheme to match the colours of your company. However, the overall design will have a distinctive look and feel, making customization simpler if you can do so straight away.
Airy and bright? Choose a theme with lots of white space, straightforward typefaces, and a straightforward, one-column design.
Fun and eccentric? Search for a theme that makes use of original design elements like text overlays, contrasting forms, and overlapping images.
Strictly business? Look for designs with recognizable components, such as hero photos and three-column feature sections.
Current and creative? Look for unique menu locations, animation elements, and graphic styles.
3) Which Functionalities Will You Require?
Do you require membership forums, retail pages, restaurant menus, or other specialized features? There are undoubtedly a few WordPress themes available that meet your criteria because there are so many to pick from.
Even while plugins can offer a lot of functionality, it's best to start your site off with a theme that works well with the plugins you require (like WooCommerce or MemberPress) or even comes with that feature built-in.
Custom post kinds are offered by several niche themes to support original material as well. Themes might include post types for consultants like Portfolio or musicians like Album or yoga studios like Instructor.
When numerous people will be contributing to the same site, template-based features like these can make working with the back end easier and the outcomes more uniform.
4) What's Your Budget?
And lastly, think about your budget. There are many possibilities in the WordPress Theme directory, and many of them are free. However, specialized themes and those with sophisticated, distinctive design elements or functionality may be charged an annual price. Consider your entire budget because this amount will be in addition to any other hosting and domain registration expenses. Hire WordPress developers to get highly secure, scalable, and cost-effective website development solutions.
5) Essential Theme Features
To ensure that every visitor has a wonderful experience, a decent theme will adjust to various platforms, gadgets, and browsers. To develop a single-column layout, which is considerably easier to read on mobile devices and necessary for effective search engine optimization, you'll need a design that shifts content around on smaller screens. A theme that is "mobile-first," or created especially for tiny screens, is preferable. You'll be serving the majority of your audience because mobile and tablet traffic makes up more than half of all traffic.
Additionally beneficial to your SEO and visitor experience is a website that loads quickly. In general, a theme loads more slowly with the more built-in features and customizations it has. Sliders and animations are two design components that can strengthen your website. Select a theme that just has the functionalities you'll utilize.
If the theme you're thinking about lacks certain functionality you'll require, don't worry—you can nearly always add more using plugins. How smoothly your theme connects with other plugins is the most essential factor to take into account. You're off to a terrific start if it's already configured to function with, say, a top-notch translation, event, or mega-menu plugin.
A website that is accessible must be built, not merely great to have. In addition to reducing your audience by excluding users with particular needs, an inaccessible website puts you at risk of litigation and other legal issues. Although the majority of contemporary themes have code to ensure that your site is fully accessible, it's a good idea to verify the theme's degree of compliance before using it.
Choose a theme whose developer is active. To keep your site secure and to make sure that your theme is compatible with the most recent WordPress versions, you should update it frequently. A timestamp indicating the most recent update should be visible when viewing a theme in the WordPress library. Additionally, many third-party themes provide a support package, which is especially beneficial for novices.
Finally, choose a theme with a solid reputation. Do an online search to find reviews and comments about the theme of your choice. Was the developer responsive to reports of issues or bugs? Did the theme function well? Was it simple to use? Look for a theme with many installs and positive ratings; the more people who have used a theme, the more likely it is that problems have been resolved and that there will be many people available to assist you.
For an e-commerce website development project, it is essential to choose suitable WordPress themes that enhance user experiences and reach your target audiences. Work with a reputable WordPress development company that has experience establishing online stores if you're thinking about e-commerce website development.
Tips to Choose the Perfect WordPress Theme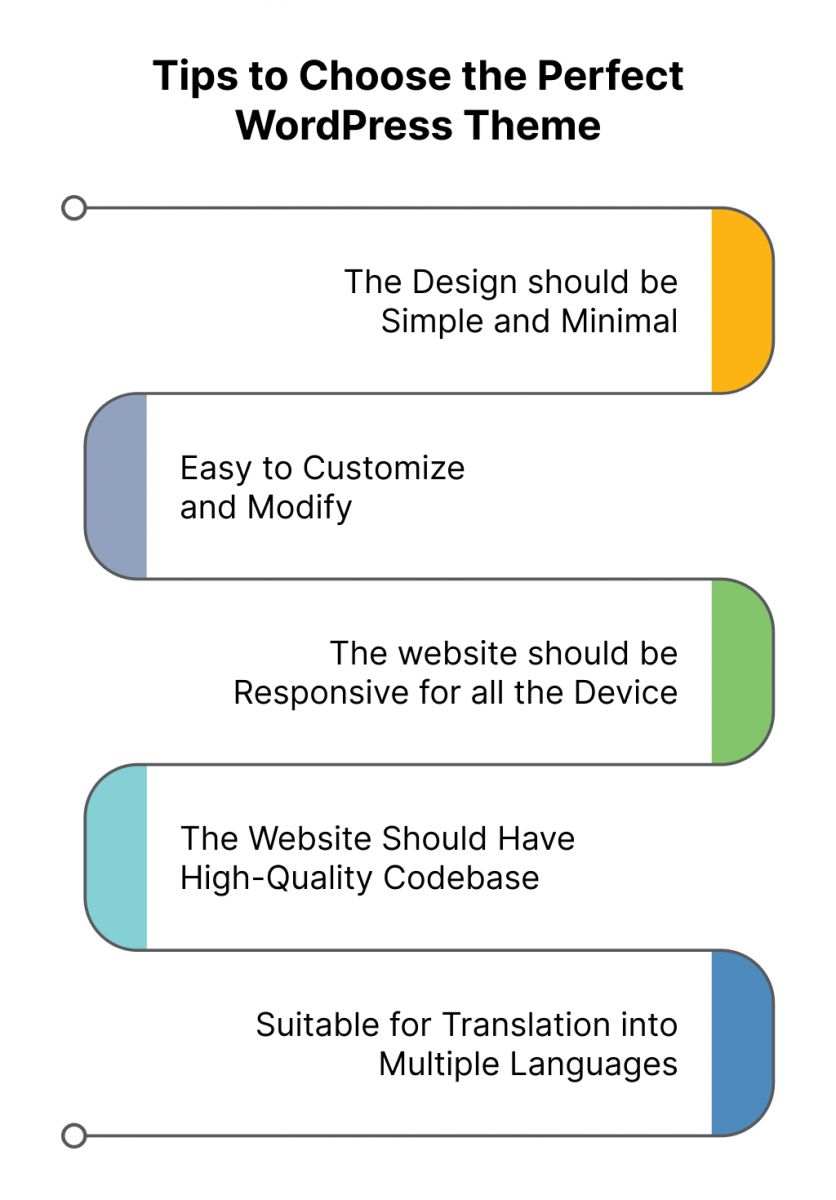 Let's examine the tips that can help you choose the best WordPress theme for your website.
1) The Design should be Simple and Minimal
You could occasionally require those items, you usually don't need all of the other features. Find a theme with a design layout that will support your objective. It must have a pleasing appearance without sacrificing simplicity or utility.
Make sure the presentation style for the theme is not overly complex. The goal of your website is to emphasize essential information about your company while assisting consumers in finding the information they require as quickly as possible. A theme is not a good theme if it looks amazing but does nothing to increase your consumer base or email newsletter subscribers. It is recommended that you choose a simple theme in general.
2) Easy to Customize and Modify
If the demo theme is exactly what you need, you'll still want to make particular tweaks to the theme to make it reflect your distinctive brand. The WordPress theme customizer or theme options panel will be used for the majority of adjustments. You can develop unique pages or unique WordPress themes from scratch using a drag-and-drop page builder plugin for WordPress, such as SeedProd. Hire dedicated developers with in-depth knowledge of WordPress and its possibilities if you want the best results.
3) The website should be Responsive for all the Device
You must make sure your WordPress website is mobile-friendly. Most WordPress themes are going to be responsive. This indicates that the theme will modify the layout to fit various screen sizes and devices. It doesn't necessarily follow that a WordPress theme does responsive design well just because it is responsive.
You should test your theme across all screen sizes. This is simple to perform; just resize your browser window and observe how the theme changes. You can test your new WordPress theme in various browsers to make sure it functions properly in each one.
4) The Website Should Have High-Quality Codebase
The core of your website will be your WordPress theme. In addition to the general design, ensure it loads quickly and is updated frequently.
Your speed and performance may be significantly impacted by the size of your WordPress theme. You should make sure that your theme is lightweight and has quick loading times because your loading speeds will affect everything, including your user experience and WordPress SEO. To find out how quickly a theme loads, you can always perform a website speed test.
You only need to install the theme and do a performance test for free themes. When using premium themes, you may execute a speed test on the sample URL to get a sense of how quickly the theme loads. Making sure your theme is current is important because WordPress is continuously getting updated.
On the WordPress.org theme listing page, you can see the most recent update date for free WordPress themes. Your theme should ideally have recently undergone an upgrade and have a consistent update history. You can almost always be sure that a theme has been updated to function with the most recent WordPress version if you're looking at premium WordPress themes. The WordPress developer or development team will have additional resources available to them dedicated to updating the theme because you paid for it.
5) Suitable for Translation into Multiple Languages
You can look for translation-ready WordPress themes if you're looking for a free theme. In the WordPress.org theme depository, select the 'Feature Filter' menu option to do this. A premium WordPress theme will often indicate its language compatibility on the theme page if you're looking for one. However, you may also use a WordPress translation plugin to make a bilingual WordPress website.
Also Read, Hire dedicated web developers in Canada
Which WordPress Theme is Best for a Personal Website?
To create a seamless and customized online presence, numerous things must be taken into account while choosing the finest WordPress theme for a personal website. First, select a responsive theme to ensure the best user experience for visitors using computers and mobile devices on a variety of devices. Additionally, pick a theme that aligns with your website's goal and conveys your individuality. The theme should fit your taste, whether it's a minimalist layout for a tidy and businesslike atmosphere or a more imaginative layout for presenting your artistic work. Prioritise themes that are highly editable so you may change the colors, fonts, and layouts to fit your tastes.
Fast loading speeds, SEO optimization, and accessibility features should also be taken into account because they improve user engagement and search engine rankings. Last but not least, choose a theme that offers exceptional customer service and frequent updates to guarantee continuous compatibility and security. WordPress development is a great alternative for a variety of businesses because it provides a wide range of customization and enhancement choices for your website.
You may choose the appropriate WordPress theme that will successfully improve your website and make a positive impact on your audience by carefully weighing these factors. Are you looking for skilled professionals for your website development? Hire experienced WordPress developers from a reputable WordPress development company.
How Can Hyperlink InfoSystem Assist You With Choosing the Best Theme for Your WordPress Website?
As a leading website development company in Canada, we have dedicated developers who can assist you to choose the best theme for your website. We have a team of qualified developers who have extensive experience and expertise in the most recent technology and trends. We will take the time to learn about your company's goals, target market, and particular needs before making suggestions for themes that precisely reflect your vision. Their knowledge enables them to suggest themes that not only improve your website's looks but also maximize its usability and user experience.

Closing Thought
It's important to carefully analyze the needs, design and layout, responsiveness, customizability choices, support and updates, and plugin compatibility when selecting the finest WordPress theme for your website. The blog provides everything you need to know about how to choose the best WordPress theme for your website, the crucial aspects to consider when choosing a theme, and much more. Hire WordPress developers to get top-notch website development solutions that meet unique business requirements.