The remarkable surge in technological advancements worldwide has significantly bolstered businesses in establishing their brand presence. To achieve this, a robust mobile and web application system is crucial. To develop a successful application, a proficient team of developers is essential. They can be your dedicated web developers, aiding your brand in crafting impactful applications for business success. Entrepreneurs seeking skilled and adept software developers must ensure their needs are met and goals achieved.
Additionally, businesses should align their future visions and recruit exceptional individuals committed to long-term collaboration. This article will delve into the comparison between hiring Dedicated Developers and Freelance Developers, shedding light on the considerations involved. Read on for valuable insights.
Why Hire Dedicated Developers?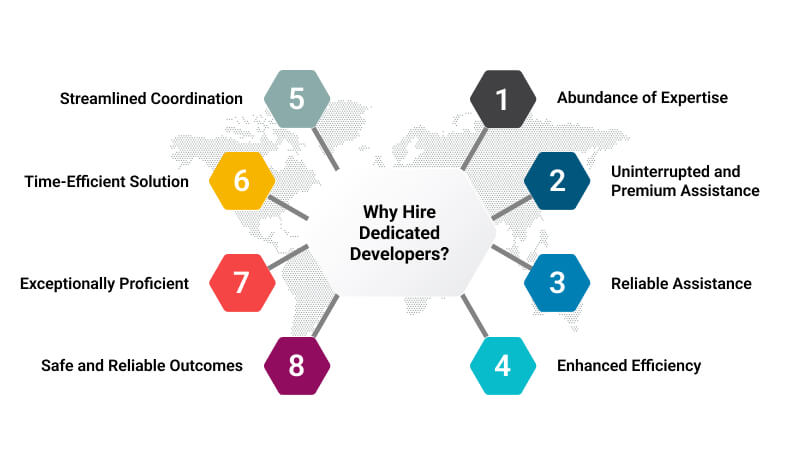 Software developers engaged in ongoing or extended projects are recognized as dedicated developers. These professionals commit as full-time resources to specific assignments allocated by their company.
Software development firms select these dedicated developers to meet the requirements and goals of their clients. Opting to Hire Dedicated Developers remotely or on a full-time basis from app development companies ensures the delivery of both quality and quantity within a defined timeframe.
1) Abundance of Expertise
The availability of talent stands as a compelling factor driving companies to opt for dedicated developers for their extensive projects. By hiring dedicated developers, businesses gain the flexibility to onboard professionals in alignment with their preferences and technological requirements. Should a company aspire to partner with esteemed development firms, they can effortlessly bring on board an Angular developer to cater to front-end needs and a Laravel developer for back-end services. This approach grants companies access to a pool of highly skilled full-time developers.
2) Uninterrupted and Premium Assistance
Dedicated developers, solely committed to a specific project within a mobile app development company, offer consistent and effective support to clients as and when needed. This significant advantage fosters a strong sense of trust and collaboration between product proprietors and the entire development squad.
3) Reliable Assistance
Application developers serve as a dependable support system for organizations, even amidst high work pressures. Their expertise allows them to efficiently tackle tasks with minimal effort and time, ensuring optimal results.
Dedicated developers possess the skills to identify and address management-related challenges, offering innovative solutions to counter them. They maintain a repository of ready solutions to swiftly navigate through any complexities that may arise.
4) Enhanced Efficiency
A dedicated team of developers adheres to a structured daily routine. Once the tasks are outlined, these dedicated developers diligently follow the established guidelines and engage in the assigned work. After completing one task, they seamlessly transition to the next, ensuring a continuous workflow and readiness for further optimizations.
5) Streamlined Coordination
Upon assignment of a project to a dedicated developer, the designated individual furnishes an overview of the task to fellow team members. Top-level management is relieved of direct involvement in the dedicated developer's task. Managing app development is an all-encompassing responsibility. Within specified timeframes, developers meticulously execute their assignments, striving for superior outcomes.
Hiring dedicated developers team effectively oversees the entire process. As a central managerial figure, the dedicated developer ensures smooth coordination. This simplified management structure promotes heightened productivity, minimal delays, and superior outcomes.
6) Time-Efficient Solution
Dedicated developers serve as time-saving heroes, particularly in completing project development tasks. Tight deadlines can lead to time constraints that impede project management and development progress. Therefore, opting for a dedicated developers' team is an optimal choice for reducing workload pressures.
7) Exceptionally Proficient
Acquiring a developer offers a paramount advantage - their expertise and top-tier skills contribute to the creation of efficient applications and software. It's crucial to conduct comprehensive research on their expertise and knowledge before hiring. An experienced developer adeptly aligns with the company's requirements and vision, thereby fostering numerous advantages for organizational growth.
8) Safe and Reliable Outcomes
Application developers consistently strive to provide optimal and risk-free outcomes. When a company collaborates with seasoned developers, it can expect efficient and reliable project delivery with minimal risks. This instills confidence in the company, eliminating concerns about potential drawbacks and ensuring seamless operations.
Why Hire Freelancers?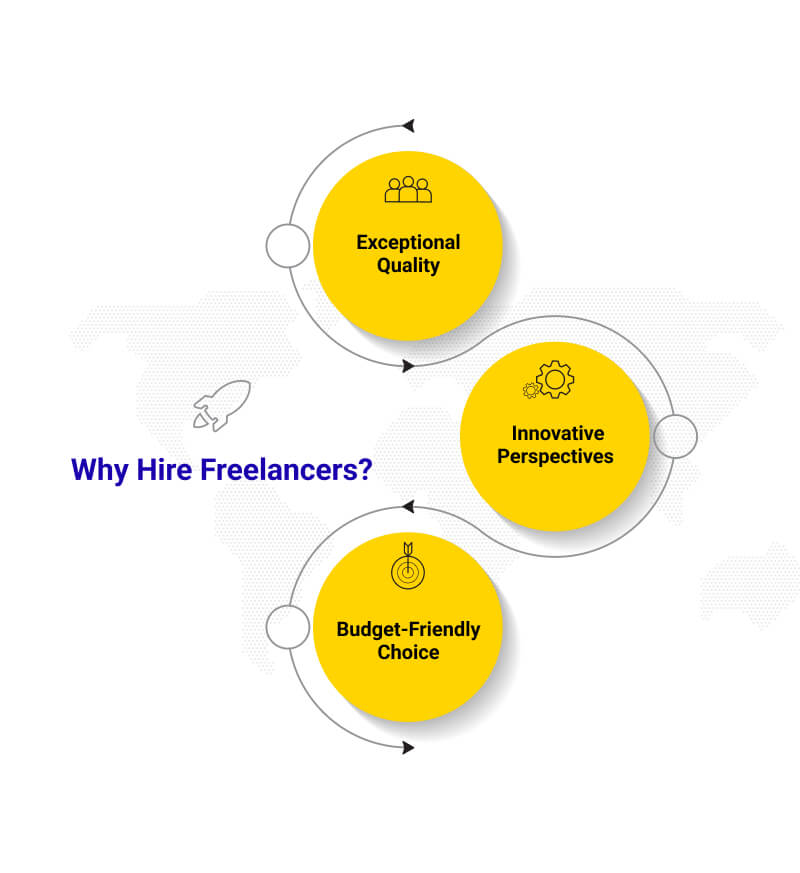 Freelance developers operate independently and aren't affiliated with any specific company. This autonomy enables them to engage in multiple projects simultaneously. However, in terms of the company's reliability, opting for freelance developers might not be the most secure option.
1) Budget-Friendly Choice
Startups and businesses in their early stages often favor freelance developers due to their cost-effectiveness. Additionally, freelance developers eliminate the need for workspace, further contributing to the overall cost efficiency.
2) Innovative Perspectives
Freelance web developers often introduce novel and enhanced ideas that can greatly enhance the development of fresh projects, including cross-platform and web-based applications, to make them more visually appealing. Occasionally, these developers can contribute valuable insights that foster growth in the company's business.
3) Exceptional Quality
When a company seeks to engage a freelance developer possessing a specific skill set, opting for a freelance developer is a prudent choice. Freelance developers specialize in specific niches and exhibit expertise in particular technologies, delivering high-quality work. This presents a valuable opportunity for startups to elevate their brand reputation.
Dedicated Developers VS Freelance Developers
Opting for a dedicated developer proves to be a wise choice for any organization, given the developer's exclusive commitment to a single programming project. These dedicated professionals come well-equipped with the essential technologies and tools required for efficient app development, ensuring a streamlined process.
On the other hand, freelance developers operate on their own terms and schedules, often resorting to unauthorized and insecure tools. While hiring a freelance developer can be cost-effective for organizations aiming to minimize expenses, prioritizing quality and premium services necessitates the adoption of advanced tools and technologies for the development of products and applications.

Conclusion
As businesses increasingly turn to technology to stay competitive, the ability to hire app developers who align with your vision and project demands becomes paramount. Whether you opt for a dedicated team committed to your long-term success or tap into the diverse skill sets of freelancers, the key lies in choosing the path that aligns seamlessly with your business aspirations.
Take A Glance,