Medical app development has become a key innovation engine in the quickly changing environment of healthcare technology. These innovative programs are redefining the medical sector as a whole in addition to changing how Canadians obtain and manage their healthcare.
A variety of medical applications are available in Canada on the Google Play Store, each of which caters to a different patient's requirements and interests. The originality and effectiveness of these technological advances in healthcare will be highlighted in this article as we examine the top 10 medical applications available in Canada on the Google Play Store.
Top 10 Medical Apps in Canada of Google Play Store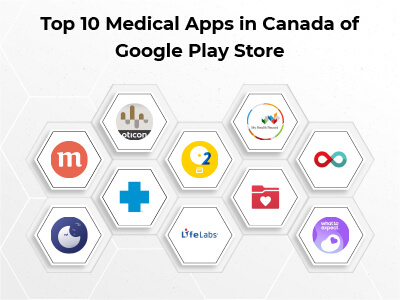 1. Maple – Online Doctors 24/7
Experience the convenience of accessing healthcare quickly through Maple, Canada's premier virtual care app, boasting an impressive 750,000 five-star reviews. With Maple, you can seamlessly communicate with healthcare providers via secure text messaging, audio, or video, receiving diagnoses, prescriptions, sick notes, medical advice, lab test requisitions, and more—all with ease.
Say goodbye to the waiting room and the hassle of travel; instead, save valuable time by joining the millions of Canadians already benefiting from Maple's on-demand healthcare solutions tailored to your needs and schedule. Remarkably, 91% of medical issues are fully resolved after just one virtual visit. Regardless of your location within Canada, Maple swiftly connects you to a healthcare provider in minutes, around the clock, 24/7. This remarkable healthcare app development ensures you receive prompt and efficient care when you need it most.
2. Oticon Companion
Thanks to the expertise in Android app development, Oticon Companion empowers users with discreet and enhanced control over their hearing aids. This app allows for personalized adjustments to optimize the listening experience in various environments, provides a handy feature to locate lost hearing aids, offers remote support from hearing care professionals, and offers a host of additional functionalities.
The Oticon Companion App seamlessly integrates with all Oticon Bluetooth hearing aids. Depending on the specific hearing aids and your mobile device, the extent of access to app features may vary. Android app development has made it possible for users to enjoy a comprehensive suite of tools and customization options to make the most of their hearing aids.
3. Blue Cross Mobile
With the expertise of hired app developers, the Blue Cross and Blue Shield of Minnesota member mobile app offers convenient access to personal health plan information for Medicare, individuals, and most employer-provided plan members, anytime and anywhere. Whether you require the capability to send your ID card to a healthcare provider or search for a doctor while you're on the go, this app is your dependable companion.
4. FreeStyle Libre 2 – CA
The FreeStyle Libre 2 Flash Glucose Monitoring System, developed in collaboration with a leading app development company, is a state-of-the-art continuous glucose monitoring (CGM) device. It offers real-time alarms and is designed for individuals aged 4 and older, providing an effective tool for managing diabetes.
5. MyHealth Records
Accessible on both iOS and Android devices, the My Health app boasts a user-friendly interface that enables users to easily access their medical information. It provides a comprehensive overview of medication history, and vaccination records including upcoming immunizations, hospital discharge summaries, pathology results, and various other important health records.
Also Read, Cost For Doctor Appointment App Development Like Zocdoc
6. Sleep Monitor: Sleep Tracker
While wearable fitness trackers and watches are capable of monitoring your sleep, many sleep tracker apps take a simpler approach. This program measures and records your sleep patterns using the microphone and speaker integrated into your smartphone. Simply place your smartphone nearby or on your bedside table before turning in for the evening.
7. LifeLabs - Net Check In
LifeLabs - Net Check In is a medical app crafted by Innovative Computer Software. Simplifying your visit to LifeLabs has never been more convenient. With LifeLabs' innovative Save My Spot™ feature, driven by Net Check-In, you can now remotely check in using your smartphone, tablet, or web browser. This means you can make the most of your time while your appointment waits for you!
8. MyChart
MyChart, an application developed by Epic Systems Corporation, places your health information at your fingertips, enabling you to efficiently oversee the care of both yourself and your family members. MyChart offers a range of capabilities, allowing you to:
Engage in direct communication with your healthcare team.
Access and review test results, medication details, immunization records, and other essential health information.
Seamlessly integrate your account with Google Fit to seamlessly import health-related data from your personal devices directly into the MyChart platform.
9. GiveBlood
GiveBlood, a medical app crafted by Canadian Blood Services, serves as the official app for the organization. This app streamlines the donation process for donors across Canada (excluding Quebec), offering a convenient way to schedule, manage, and monitor their contributions while on the move. Users can effortlessly locate nearby donor centers and efficiently confirm their donation appointments with ease.
10. Pregnancy Tracker & Baby App
Pregnancy Tracker & Baby App, a parenting application created by What to Expect, is the preferred choice of over 15 million parents for tracking their baby's growth journey.
What to Expect, the globally recognized and most relied-upon brand in pregnancy and parenting presents an all-encompassing pregnancy and baby tracking app. It provides a huge library with tens of thousands of accurate medical articles to help you navigate the complexities of pregnancy and motherhood.

Conclusion
The top 10 medical applications on the Google Play Store in Canada are proof that the field of healthcare technology is constantly developing. With the help of these applications, users may take charge of their health, get crucial information, and communicate with medical specialists. From tracking fitness goals to managing chronic conditions, these apps cater to diverse healthcare needs.
As the demand for innovative healthcare solutions continues to grow, the field of medicine delivery app development, Android app development, and iOS app development play a pivotal role. Hire dedciated team of developers is at the forefront of creating user-friendly, effective, and secure healthcare applications that benefit users nationwide.
In this age of technology, healthcare is not limited to clinics and hospitals; it's now accessible at your fingertips. With the aid of these medical apps and the expertise of a dedicated app development company, Canadians can enjoy a more convenient and efficient healthcare experience, ultimately leading to improved well-being and quality of life.