Real estate app development has changed the game by providing creative answers that speed up the procedures of purchasing, selling, and renting real estate.
There is a never-ending competition among these applications to be named the "best real estate app in Canada," as they compete to provide consumers with the most complete and user-friendly platforms for navigating the complicated Canadian real estate market.
This article will examine Canadian real estate applications, demonstrating the technological innovations that have transformed how Canadians interact with the real estate industry. These apps offer a range of features, from property listings and market analysis to virtual tours and mortgage calculators, making them essential tools for anyone involved in the Canadian real estate landscape.
Also Read, Why Should You Hire App Developers In Canada?
Best Real Estate Apps in Canada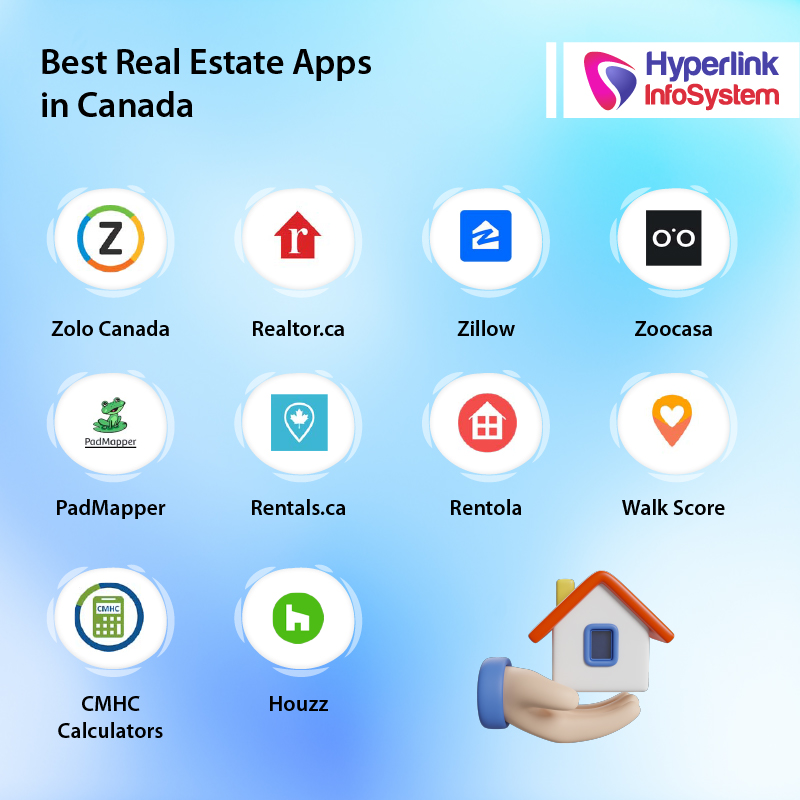 1. Zolo Canada
Zolo Canada, recognized as Canada's leading independent real estate marketplace, proudly serves a vast user base of over 10 million individuals monthly. This platform offers a comprehensive search experience, allowing users to refine their property searches by various criteria such as city, address, MLS number, price range, as well as the number of bedrooms or bathrooms. With Zolo, you can customize your property search to align precisely with your preferences and requirements when seeking your ideal property.
2. Realtor.ca
Realtor.ca, a platform owned and operated by the Canadian Real Estate Association (CREA), stands as a prime example of innovation and collaboration with leading app development companies in Canada.
This dynamic app offers users the opportunity to discover, list, and lease homes effortlessly. With its partnership with proficient app development companies, Realtor.ca provides robust functionality, allowing users to meticulously filter property listings by city, specific neighborhood areas, postal codes, or even MLS listing numbers.
Each listing presented on the app showcases essential details, including price, address, descriptions, and an array of photos to aid in your decision-making process.
3. Zillow
Zillow, a distinct entity from Zolo, is renowned as the foremost real estate marketplace in the United States. Its popularity has grown to such an extent that it's practically synonymous with house-hunting in the U.S., particularly during the pandemic, when many found themselves scrolling through its listings.
In 2019, Zillow expanded its reach to Canada and has since garnered success in the Canadian real estate landscape as well. Furthermore, Zillow's partnership with leading Android app development experts ensures that users can not only engage in property transactions but also research realtors and access reviews from fellow users, enhancing the overall experience of navigating the Canadian real estate market through their user-friendly app.
4. Zoocasa
Zoocasa, in collaboration with a top-notch iPhone app development company, seamlessly integrates property listings and a comprehensive brokerage service to provide Canadians with an all-inclusive solution for selling their homes.
On Zoocasa's user-friendly app, you can effortlessly explore rental properties and homes available for sale, gaining access to vital information such as previous selling prices and insightful market trend reports. While Zoocasa is headquartered in Toronto, its reach extends across the nation, enabling users to access property listings from various regions of the country through their expertly crafted iPhone app.
5. PadMapper
PadMapper boasts a user-friendly and visually engaging interface, thoughtfully designed with a map and sidebar that enhance navigation simplicity.
This app is a treasure trove of property listings, featuring over a million homes available for search, spanning both Canada and the United States. PadMapper particularly shines as a go-to resource for renters, offering a wide array of rental units, including sublets, catering to the diverse needs of those seeking rental accommodations.
6. Rentals.ca
Rentals.ca, as the name aptly implies, primarily caters to tenants in search of rental accommodations, making it a must-visit for those on the hunt for rental properties.
This comprehensive platform offers an extensive collection of property listings spanning across Canada. Tenants can conveniently apply various filters to narrow down their search, such as by city, neighborhood, specific address, desired price range, and number of bedrooms, among other criteria.
7. Rentola
Rentola serves as a convenient bridge connecting both tenants and landlords, simplifying the process of finding the ideal rental property.
Within its platform, Rentola offers an extensive array of rental options, including apartments, houses, and rooms, spanning across the entirety of Canada. Irrespective of your budget constraints, Rentola ensures that you can discover the perfect living space for your needs. All you need to do is utilize the search box located at the top of the page, specifying your desired area of residence, and initiate the search.
8. Walk Score
Walk Score stands as a valuable app for evaluating the walkability and bike-ability of a neighborhood, along with assessing the efficiency of public transit, all represented through a user-friendly scoring system ranging from 0 to 100.
This score serves as a practical indicator of how convenient it is to carry out daily errands without relying on a car for your commute. While it's always advisable to explore a neighborhood in person before making a property purchase decision, Walk Score serves as an invaluable tool to bridge the gap in your knowledge, providing essential insights that would otherwise only be attainable through residing in the area.
9. CMHC Calculators
The Canada Mortgage and Housing Corporation (CMHC) offers convenient tools, accessible on both desktop and mobile platforms, designed to help you determine which types of homes are within your practical price range. While these tools are not traditional mobile apps, they offer seamless usability across devices.
The Mortgage Calculator empowers you to visualize your potential monthly payments under various scenarios, considering factors like different down payment amounts, amortization periods, and payment frequencies.
10. Houzz
Houzz is a remarkable home design application boasting an extensive collection of over 20 million interior design photos and creative ideas to transform your living space into a warm and inviting home.

Conclusion:
As a result of the top 10 real estate apps competing to be the best on the market, the real estate industry in Canada has undergone a tremendous transformation. These mobile applications have transformed real estate transactions by giving customers effective tools for purchasing, selling, and renting homes.
It's critical for real estate businesses and business owners to think about collaborating with a committed team of developers from a renowned mobile app development company in order to guarantee the ongoing success and improvement of these applications.
By hiring dedicated team of developers, real estate app providers can stay ahead of the curve, continuously improving their platforms to meet the evolving needs of users.