A dedicated development team has become one of the most effective cost-cutting and quality-maintenance strategies. You can get the best skill set in the industry by hiring a specialized development team.
By engaging the assistance of software development service firms, businesses can acquire expertise without performing multiple interviews. However, selecting dedicated developers teams involves more than just having a quick and smooth onboarding procedure.
If you intend to hire dedicated development team to accomplish your project in the manner you desire and within your budget. You'll need an expert who can multitask and perform an amazing job according to the company's criteria to do this. In this post, we will go over the several benefits of employing a customized software development team to meet your requirements.
What is a Dedicated Development Team?
A dedicated development team is a long-term collaboration model between a client's team and a team of developers that is outsourced. Along with fixed price (FP) and time and material (T&M), this is one of the most widely used collaboration types.
When you hire dedicated developers teams, you receive a group of experts specially chosen to meet your unique company goals. Because they are technically your employees, this team is comparable to an in-house team.
You do not, however, have to work with a specific team to handle administrative, human resources, tax, and social benefits concerns, unlike employees. Instead, you may focus on more important business matters while your development partners handle the rest.
In conclusion, a dedicated team model gives you access to a carefully chosen expert team that is dedicated to finishing a single project. Additionally, they bear all administrative costs.
You save money by using a full-time team of skilled, competent individuals for development. A committed development team is better linked to the individual commissioning the work and committed to the task at hand. The team can reach the project's commissioning party for updates, and they will do so going forward. The project's development can be followed from any place.
Different working models have been produced due to developments in cloud-based technologies. The dedicated development team, which rose to prominence using these technologies, is one example. If you want to create a stunning mobile application then hire app developers. Top dedicated app developers provide various industries based solutions including Fintech, Healthcare, Education, Retail, Real-Estate, On-demand App Development, and many more.
The Top Reasons to Hire a Dedicated Development Team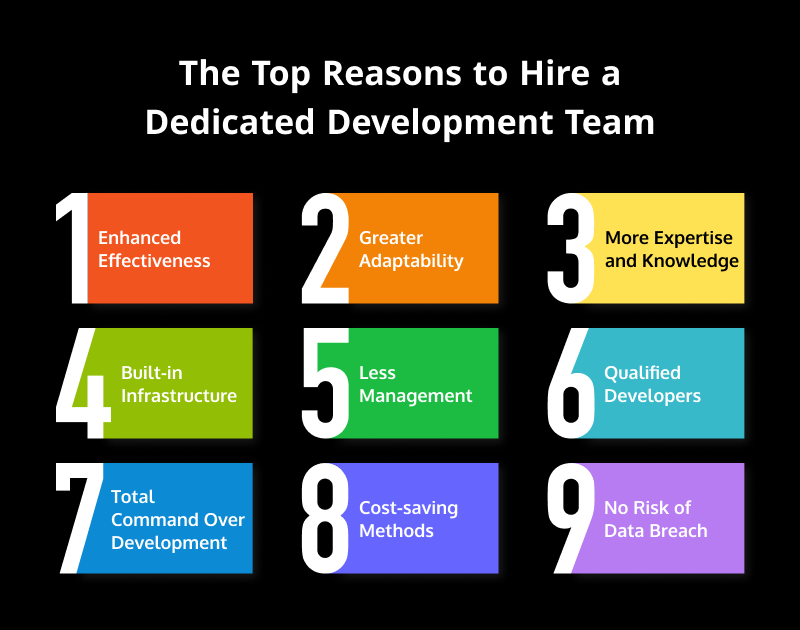 Hiring a dedicated development team has various benefits, such as
A dedicated development team will perform more effectively since they are entirely focused on your project and are knowledgeable about the unique goals and objectives of your business. There may be fewer mistakes and quicker turnaround times as a result. Hire dedicated developers who provide you with the technical expertise and commitment you need to succeed.
You can swiftly scale up or down a specialized development team depending on your project's requirements, which will save you money over time. Hire mobile app developers who have extensive knowledge of the latest tools, technologies, and frameworks to develop robust mobile applications.
More Expertise and Knowledge
A committed development team will have a plethora of expertise in their sector, which will help you more effectively accomplish your project goals. Searching for app developers for hire? Many app development companies have skilled full-stack developer teams available to work on your mobile app project and deliver exceptional results.
Dedicated development teams will take care of infrastructure so you don't need to spend time on it. The most talented dedicated app developers are building innovative, user-friendly, and tailor-made mobile applications for your particular requirements.
On-site staffing avoids the time commitment and day-to-day management challenges that are frequently encountered.
You will receive a team of highly skilled experts who have gone through numerous tests and interviews to prove their competence. Hire app developers who excel in their craft. Top dedicated app developers offer top-notch app development solutions and have a proven track record of creating successful mobile applications.
At each stage of the development process, cost-saving techniques can be used, such as altering the team size.
Total Command Over Development
At each level of development, you have complete control over the entire process and can change the current method or create a brand-new one.
Hiring a dedicated development team reduces the chance of a data breach because most legally guarantee the protection of intellectual property and data security. You can hire full-stack developers who have the expertise to handle both front-end and back-end development, ensuring a seamless user experience.
The Launch of a New Product
Startups and organizations can effectively start the development process as soon as feasible by hiring a specialized software development team. To save time and money when developing, we advise startups and established businesses to use a software developers team method.
Long-Term Project Updates
It is best to get a talented team to complete it on time if the organization needs to update its current stack. Now, companies can change their demands while maintaining the quality of the final product.
The business must think about forming a specialized development team if it wants to expand. Software team models from countries like India, where you can hire dedicated development team for less money, or whose members have relevant expertise in your field and tech stack, are good choices for outsourcing software development. The corporation wins in both scenarios.
Businesses with Limited Resources
High developer rates make it difficult to hire dedicated app developers in some countries, including the United States, France, Germany, and others. In this situation, it is crucial to be able to outsource to a country with lower rates. The process to hire dedicated development team:
Understand Your Project Requirement
You should outline your project in detail before seeking developers and app agencies. Because it gives the entire team a clear direction and road map to follow, every project manager knows this is essential for every area of software development.
A dedicated team, though, might argue that it is more crucial. This is because they are an outsider with no familiarity with your business' procedures or culture. They are also unable to join your team as a brand-new employee.
Search the vendor market for a prospective match after you've established your prerequisites. But remember that you still need to hire your crew. Simply put, you're seeking for a partner company to help you put one together.
There are undoubtedly many solutions available. This underlines how crucial it is to have the clarity you acquired in the stage before (creating your product vision). Consider the following as you narrow down your list of probable prospects. First, think about where your development staff is located. Onshore, offshore, and nearshore are the three possibilities that are available here.
The hard job of putting together a committed team starts after you've selected your provider and signed a contract. Keep in mind that you lack a team at this time. The vendor business will only help you create one. To do this, they might help you with the hiring process or find developers from their talent pool. It should be emphasized that each project will have a different development team, in terms of its specific makeup.
For instance, the internal UX designer may already have a working prototype of an app. Your team may now simply require developers and QA engineers. Both iOS and Android developers are required if you want cross-platform software. Additionally, some projects can need their team to include additional specialized responsibilities. Hire dedicated development team to work on your project. They offer highly scalable and feature-rich mobile applications.
What You Need to Know Before Hire Dedicated Developers?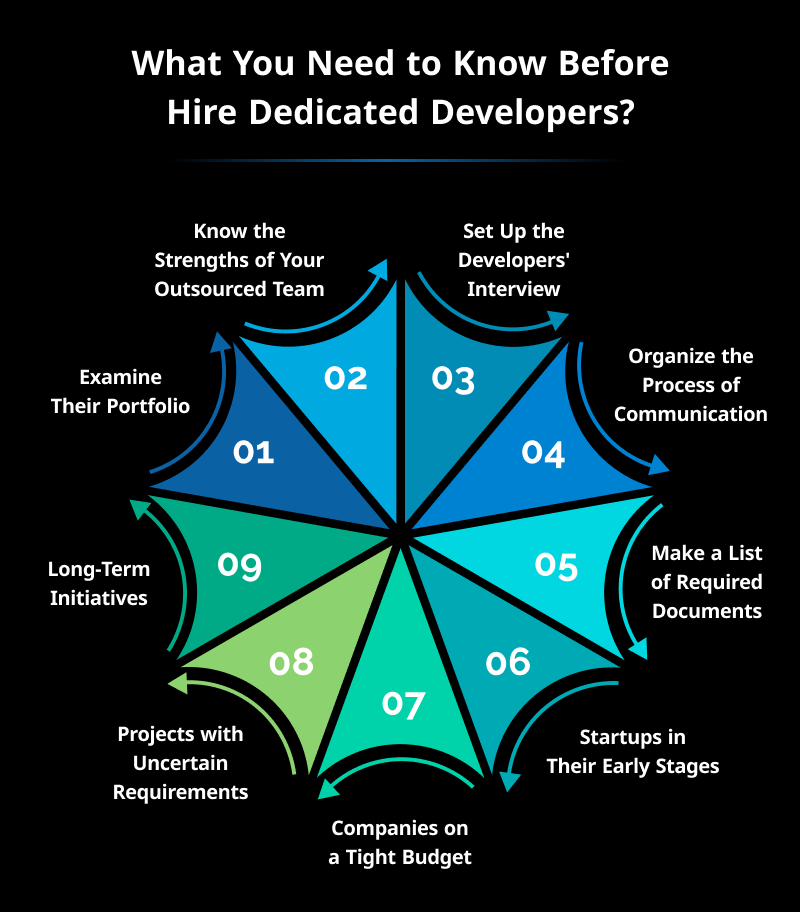 Before hire dedicated developers, you should consider various factors that will help you to build a strong and dedicated full-stack developer team.
Several businesses provide services for committed developers. To choose a top app development company and developer, however, you must first conduct some research, learn more about the developer and the business, look at the items they have already created, and enquire about their success rates. You can determine whether the app development company and the developers are appropriate for your project by conducting such an investigation.
Know the Strengths of Your Outsourced Team
Discover the skills of your remote staff through project work and interviews. They might be a good fit for your other initiatives, just like your internal staff. Future time and effort can be greatly reduced if you are aware of the considerably greater capabilities of your outsourced workforce. Additionally, after the assignment is finished, you can employ them again to help you with another project.
Set Up the Developers' Interview
In the very competitive world of today, you don't need to hire an in-house developer. You can hire remote developers. Conduct a virtual or in-person interview before hiring to evaluate the developers' talents.
Organize the Process of Communication
Since interactions play a significant role in the development process, you must keep the team informed frequently. You will be able to determine via your interactions whether there are barriers to communication within the team and whether or not the team members get along with one another well.
Make a List of Required Documents
Consider creating paperwork for the product you want to create. A product manager must be hired due to this necessity. You can get assistance from a product manager with the functional layout of the product, primary project leads, etc.
The dedicated team model is suited for difficult long-term projects with growth potential. A specialized development team is a way to go when your idea lacks the product-market fit and requires a discovery phase.
Startups in Their Early Stages
Consider employing a specialized development staff if your firm is in its early stages and plans to grow. It will enable you to swiftly assemble a team, save money on hiring processes, and develop the product more quickly. The augmented staff handles the extra work while your in-house team focuses on business-related activities.
Companies on a Tight Budget
An outsourced team approach can also benefit small enterprises and startups with limited resources. Some projects and countries, including the United States, France, Germany, and others, make hiring an in-house group unprofitable due to high developer rates. The ability to outsource to lower-cost countries is crucial in this circumstance.
Projects with Uncertain Requirements
A specialized team is a way to go when your idea lacks the product-market fit and requires a discovery stage. Because the discovery stage is the foundation for the entire development mechanism of the project, it may take months of testing and interviews to eventually settle down. The dedicated development team approach allows you to focus on the discovery stage without having to worry about overspending.
For difficult, long-term projects with room for expansion, the committed team approach is appropriate. If you want to fully realize the potential of your project, you'll need a competent team of developers to help you. If the team members you begin working with are committed to the project, you can be certain that they will see it through to completion.
Let's quickly examine tech giants like WhatsApp as well. They hired a committed group of developers to help them with their iOS application.
Also Read, Hire Top App Developers In Toronto To Build A Successful Mobile App
How Much Does it Cost to Hire a Dedicated Development Team?
A committed development team is a business strategy that entails ongoing collaboration between the client and the company offering development services.
The service provider typically keeps a regular full-time schedule while working remotely from their office. The team is also put together by a professional vendor following the needs of the client. It might be made up of professionals with a certain area of expertise, like engineers. Or it may be a full-stack team comprising project managers, business analysts, UI/UX designers, developers, and QA experts.
The client has the option of personally overseeing the development process or assigning this responsibility to the selected project manager. The best solution for businesses without a well-defined project scope and needs is a specialized team. With this type of collaboration, the customer can make up for a need for more experts by hiring specialists who will give the project their full attention.
Hiring a specialized development team is rather obvious in terms of cost. It depends on the compensation received by each team member as well as the commission earned by the service provider, which also covers all related administrative costs. Depending on where the dedicated vendor is located, the cost will range from $5,000 to $25,000. Hire remote developers that can be a cost-effective option for companies looking to expand their development teams. Also, a remote developer is ready to collaborate with you, no matter where you are located.
Also Read, What Is The Best Way To Hire Remote Developers For Your Project?
Hire Remote Development Teams with a Variety of Engagement Models
There are three main hiring models for remote developers:
Dedicated team
Extended team
Outsourced team
1) Model of Dedicated Team
A dedicated developers team is a business strategy in which the company hires an entire development team that is completely dedicated to their task. A client's company has complete control over the development process and can expand the software team as needed.
2) Model of Extended Team
An extended software team model is a business model that combines in-house developers from the customer with distant professionals from the outsourcing provider.
3) Model of Outsourced Team
An outsourced team is a company strategy in which the owners delegate their internal development process to a vendor in another country.
Searching for the top app developers for hire? You can contact top mobile app development companies like Hyperlink InfoSystem, who deliver best-in-class app development solutions.

Wrapping Up
Hiring a specialized development team gives you the added advantage of utilizing highly qualified services at a reasonable price. For one-time, transient, and long-term initiatives, this paradigm is appropriate. Businesses must comprehend the nuances of employing and working with outsourced teams if they are to benefit from it. Top mobile app development companies have highly skilled developers known for delivering cutting-edge and top-quality mobile applications.
As a top mobile app development company in Canada, you can hire a dedicated development team from Hyperlink InfoSystem with expertise in app and software development to achieve your business goals.