IT outsourcing or IT outstaffing: which is better? There is a recurring issue while creating software: what makes them different? Which is more efficient, to put it another way, employing a team from abroad or letting a service provider manage the complete software development lifecycle? This question may not be so old, given that outsourcing and outstaffing to far-flung places like Ukraine is a relatively recent trend in the IT business that has only been for 10 to 15 years or less.
It's still important to let you know when outsourcing is your preferred option and when you'd rather prefer outstaffing because more and more software organizations are choosing to optimize their software development budgets by moving to remote and less expensive regions.
This concept has become popular among firms to accelerate expansion or complete tasks for which they need more internal resources. Therefore, carefully weigh your options if you're looking to develop a new mobile app or are working on a complex IoT service. If you want to get the best-in-class software development solution you can hire dedicated developers.
In this article, we will discuss the difference between outsourcing and outstaffing, benefits, and more. These guides help you to raise your business.
Outsourcing: What is it?
In outsourcing, a business hires another business to deliver services that it could otherwise produce on its own. Outsourcing software development or hiring contractors is one of the most crucial decisions you will have to make. A software development outsourcing partnership simply involves designing the project idea and sending it to your vendor for development. Hire top app development companies who provide software development solutions and deliver exceptional mobile app development services to meet your unique business needs.
Outstaffing: What is it?
Outstaffing is a form of vendor-client collaboration where the latter offers team extension services to the former. Comparing outstaffing vs outsourcing, it is clear that the former is a far quicker option to add some new talent to your company. Let's imagine you already have a team of developers on staff, but more is needed to complete your project's objectives. The decision between software outsourcing and outstaffing is made when you need a little extra talent to get the project where you need it to be. Many software development company specializes in creating innovative and highly scalable mobile applications for all businesses.
How Outstaffing Differs from Outsourcing?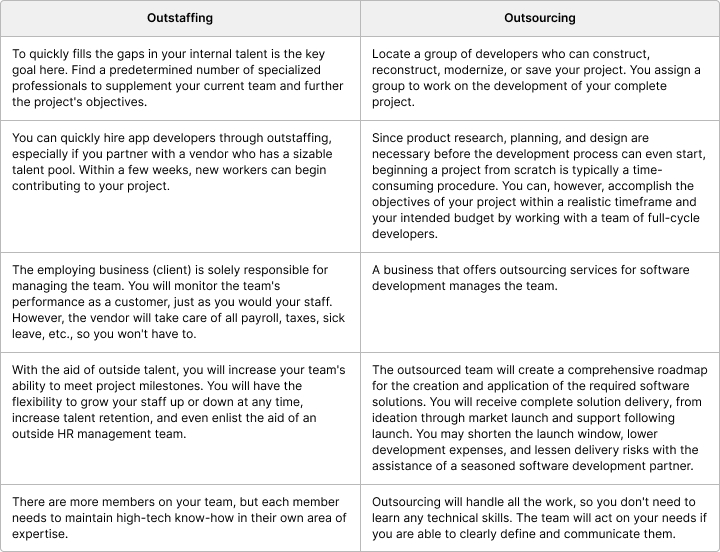 What are the Benefits of Outsourcing?
You should look into company models like outsourcing if you are looking for prospects.
Hiring a freelance development team is typically less expensive than looking for and selecting full-time employees. You are aware of the high costs associated with software development, especially if you live in the US. Employing contractors from Eastern Europe or Asia, for instance, is significantly more affordable and efficient in this sense.
Access to a Vast Talent Pool
You have a wide range of options because you can employ professionals with a certain set of abilities anywhere in the world.
Less Time Spent and Less Responsibility
There is no need to discuss the process's technical details because the client is not required to serve as the development team's leader.
No Requirement to Purchase Hardware and Software
Your contractor will bear all of these expenditures since he will decide again on this matter; he will account for them in the estimate for his cooperation with you.
You're Not Responsible for Quality.
Your project's code quality and uniformity are important. Since the vendor is responsible for the code's accuracy and quality, you do not need to keep track of it. This implies that you do not need to possess any special abilities.
Additionally Hiring Staff
Finding the best applicants will be handled by the contractor. They possess a sufficient pool of staff, wisdom, and a strategy for luring fresh experts. Additionally,
you may forget about the hassle of choosing and employing specialists.
Companies that outsource typically have a variety of human resources. Additionally, their technicians are ready to begin right away. It is therefore perfect for individuals who are short on time.
Therefore, outsourcing is a perfect option for creating an internal department or giving some work to current employees of the company. Hire app developers who have the expertise and are ready to create cutting-edge solutions for your business. Top app development company offers custom software development solutions that drive growth and enhance user experiences.
What are the Benefits of Outstaffing?
Outstaffing includes several benefits and drawbacks that you should be aware of, just like outsourcing. What are the key advantages?
Elimination of Labor Disputes
The ordering company is not involved in potential labor problems because the employee signs an employment contract with the outstaffing company rather than with it.
Management of Human Resources is Made Easier
The outstaffing company handles all paperwork, including recording vacation and sick time and producing written reports. This lessens the workload for the client company's administrative and accounting departments.
There is No Need to Deal With all Financial Issues
All matters about the computation, accrual, and payment of salaries, bonuses, taxes, and other fees are handled by outstaffers. The only cost the customer makes is the amount specified in the contract.
It should be mentioned as well that this type of management offers the client organization legal protection when dealing with personnel concerns. In this situation, the outstaffer company—a legitimate employer—takes on all risks related to the employees. The mobile app development company provides end-to-end software development solutions that align with your business goals.
Why do Businesses Prefer Outsourcing and Outstaffing?
You could require specialized skills your business still needs to get in-house, such as familiarity with the more common decentralized financing. When you outsource those jobs, you have access to qualified experts who can complete the work quickly and effectively, freeing up your time to concentrate on other areas of your company.
More and more businesses are interested in learning how to improve the caliber and effectiveness of their performance. They look for creative techniques to complete things more quickly and effectively than in the past. Businesses frequently outsource or outsource software development, and this is standard practice across many different industries. A few examples include marketing, advertising, and hiring.
Businesses often opt to outsource and hire freelancers since they require someone who can meet deadlines and produce products on time. It would be wiser to hire dedicated developers who can do a project overnight if it needs to be finished by tomorrow morning rather than wasting time trying to do it yourself. In this manner, missed deadlines won't cost your business money.
Businesses are constantly racing to scale up, increase market share, and increase client base. They aim to finish this as soon as they can without sacrificing quality. One of the reasons they outsource or outstaff their IT requirements is because of this. Choose a top-rated software development company for unmatched expertise and innovative solutions.
IT Outsourcing or IT Outstaffing - Which Is Right for You?
Now that you are aware of the differences between outsourcing and out staffing, how can you decide which is preferable for your business? To enable clients to place orders straight from your restaurant or production plant, think about developing an app. Since producing food for people is your major business, you wouldn't typically have an IT department. The best course of action for you would be to outsource your software development rather than hire app developers as you lack an existing IT department.
However, if your company specializes in software development and you want to create a food-ordering app, it could be best to hire outside help if you just need more hands on deck. Since you already have a workforce and the necessary infrastructure, you would only hire as needed. In contrast, if you don't have enough staff, you can hire mobile app development company.
Any business needs qualified professionals, but not every business has the means and capabilities to hire and retain a large staff. For this reason, a lot of businesses adopt outsourcing and outstaffing solutions. The initial requirements, objectives, and capabilities of your firm will strongly influence the model you choose.
Due to their affordable rates and high-quality output, many businesses prefer remote software development teams. You can quickly and effectively complete business projects by either outsourcing or outstaffing. But when should you outsource, and where would you prefer to employ contractors? The mode you choose will depend on your needs.
Once your project is complete, outsourcing it to a capable team is prudent and practical. If you don't have any prior experience working with an offshore company, you might look to the markets that offer the necessary transparency, NDAs to safeguard your business information, etc. Because outsourcing is a partnership, most business ties with overseas companies result in long-lasting, productive cooperation.
Outstaffing is the strategy you require if you wish to oversee the performance of the distant worker and take on extra responsibilities. You can complete the team's missing pieces and take complete control of the jobs you handle for them by recruiting committed specialists. Hire mobile app developers and benefit from their extensive knowledge and expertise in software development.

Bottom Line
Both outsourcing and outstaffing are excellent options if you need to recruit outside help for your projects. However, outsourcing can be a better choice for you if your objective is to lower your expenses, increase efficiency, and concentrate on distant work.
The main difference between outsourcing and outstaffing is that the former concentrates on engaging providers to handle complete projects, processes, and team development, while the latter is more concerned with employing specific team members. Outstaffing is a great choice for receiving remote assistance if a company has the necessary roles, resources, and expertise. If not, outsourcing some other type of service might be the best option. As a top app development company in Canada, Hyperlink InfoSystem has extensive knowledge of both outsourcing and outstaffing business models.