How would you describe a marketplace? You conduct business there, right? Customers buy your products and services there. An online marketplace app accomplishes the same thing but it puts goods and services in users' hands. With a twist, you might show clients examples of your services and sell them while they're relaxed and at home, making them happy in the process. Although you don't actually own any products or services, you do provide a platform via which clients and service providers can conduct business.
Imagine someone selling something to someone else in your home, and you still receive payment while having little involvement in the transaction. An excellent way to generate money. Imagine profiting from hundreds of such transactions just by arranging a safe digital marketplace where interested buyers and sellers may interact. Sounds innovative! A secure setting for trade in a few clicks is exactly what an online marketplace software platform aims to offer. Moreover, Creating an online marketplace website involves thorough planning as well as consideration of user experience and functionality. An online marketplace offers a virtual setting for traders to conduct business.
This sounds good, but is investing in an online marketplace app platform worthwhile? The answer is unequivocally yes! Of course, you don't have to trust it just because some startling figures are demonstrating the growing desire for an online marketplace. The market for marketplace apps worldwide is anticipated to grow at a CAGR of 11.2% between 2022 and 2030. Therefore, setting up an online marketplace for your business is a sensible option for earning extra cash. Designing and implementing features such as product listings, search capabilities, user profiles, and secure payment methods are all part of website development for an online marketplace.
Want to discover the fundamentals of creating a marketplace app? This article will provide you with a thorough understanding of the advantages of the marketplace software platform, the procedures for developing an online marketplace app, and much more. So read ahead!
What is an Online Marketplace?
A digital eCommerce platform, an online marketplace, allows shoppers and sellers to exchange goods and services. As a middle party, the market mediates agreements between parties, handles payment processing, and arbitrates disputes. Online markets exist in a wide range of sizes and shapes, from tiny niche websites that concentrate on certain products and services to complex multi-category systems that serve millions of users worldwide. An online marketplace website acts as a digital hub for connecting consumers and sellers, showcasing their products, and facilitating transactions.
The websites and applications for marketplaces stand out for their amazing and effective buying experiences. Businesses use marketplaces to interact with a large audience and develop their brand in a timely and efficient manner. However, customers have access to a variety of products and services both at home and while they're out and about. They include well-known online marketplaces like Etsy, Amazon, and eBay.
Building a website for an online marketplace involves designing and implementing features including product listings, search capabilities, user profiles, and secure payment mechanisms. You can hire software developers with the expertise to deliver dependable, scalable solutions to specific market requirements, which is important to design software for online marketplaces.
Also Read, How Much Does Mobile App Development Cost In Canada 2022?
Different Types of Online Marketplace Applications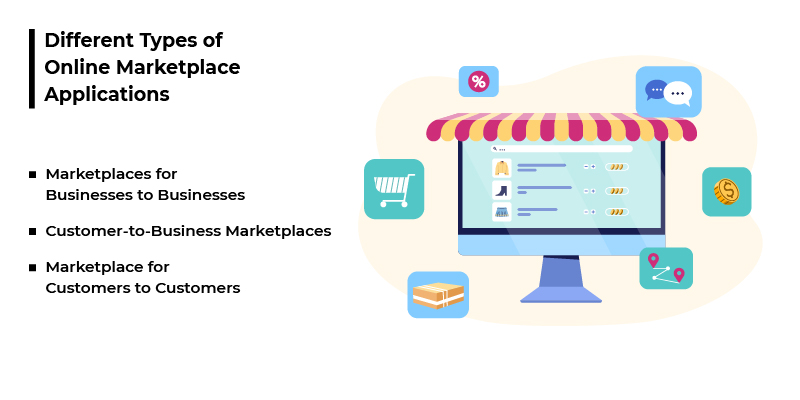 Marketplaces for Businesses to Businesses
On a website known as a B2B marketplace, wholesale providers can sell their goods or services to numerous customers at once. Since this kind of marketplace is typically run by a third party, businesses can benefit from using it. The following advantages are available to vendors that use marketplaces:
Ability to provide goods and services to a more extensive customer base
Extended avenues for sales
They do not have to develop their e-commerce platform.
Can easily begin selling
No significant upfront expenditure is necessary.
An online B2B marketplace's concept revolves around automating the selling and buying process, offering excellent customer service, and enhancing deal transparency. Top B2B marketplaces include Made-in-China, Amazon, eWorldTrade, Alibaba, and Made-in-China.
Customer-to-Business Marketplaces
Both customers and businesses are users in the B2C marketplace paradigm. In this business model, companies offer their goods and services directly to customers rather than to other companies.
One-stop stores where clients can purchase various things online include many B2C marketplaces. There are many renowned B2C marketplaces because this model is one of the most common in use today. AliExpress is an amazing illustration of a sizable B2C online marketplace. It has hundreds of suppliers and offers products ranging from vehicles to garments. The website Booking.com offers a range of lodging options and serves as a conduit between tourists and hoteliers.
Marketplace for Customers to Customers
C2C markets bring persons with comparable interests, tastes, and financial circumstances together to enable the trade of services. According to the premise underpinning this type of marketplace, customers can share stuff (as on Etsy) or services (as on Uber or Airbnb) in exchange for cash or other goods and services.
The sharing economy includes C2C markets, which let consumers rent instead of purchasing resources to enable them to use them more efficiently. Having the ability to serve both clients and providers is a key component of this type of market. Customer to Customer models are superior to Business to Business and Business to Consumer models because they have shorter sales cycles and longer connections. Building engaging and user-friendly websites for online markets requires web development.
How to Develop an Online Marketplace App in 6 Steps?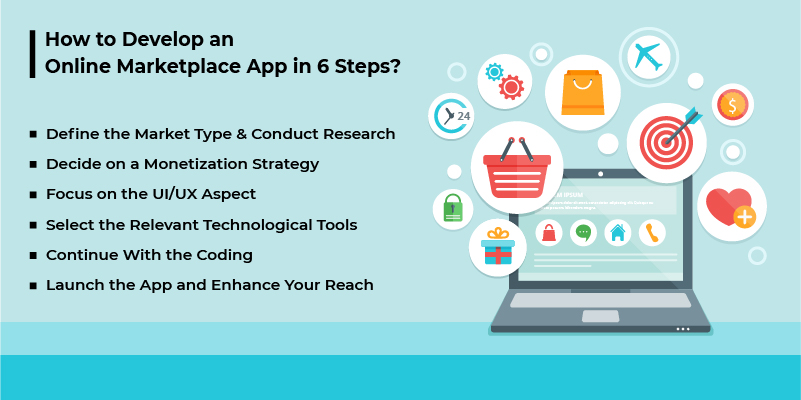 Creating a marketplace might be difficult, but it can also be lucrative. There are crucial processes and concerns to bear in mind whether you're selling actual things, providing services, or connecting consumers and sellers in a specialized niche or industry.
Developing websites for online markets requires the implementation of secure payment channels and the creation of interesting user interfaces.
We advise starting with an MVP. A minimum viable product is a product version that only provides the features necessary to solve a key user problem. An MVP's primary goal is to provide instant benefits, reduce development costs, and collect data and feedback that may be utilized to improve future iterations.
1) Define the Market Type and Conduct Research.
Before you begin developing your marketplace software, decide what type of marketplace you want your app to be.
Then conduct market research. It is critical to developing a successful marketplace app since it allows you to understand your target audience and evaluate the competitive landscape. Do not skip this step if you want to build a marketplace that will generate genuine income.
The first stage in market research is to identify your target audience. This entails determining your target customer's demographic, regional, and psychographic traits.
2) Decide on a Monetization Strategy.
You should also choose your app's monetization type ahead of time, as the marketplace business model you choose has an impact on the rest of the mobile app development process and tech stack. You can monetize your marketplace by doing the following:
Every transaction incurs a commission.
The subscription cost for sellers for a set period of use
A price for publishing a new listing or a separate fee for listing marketing
Offering advertising space for sale
3) Focus on the UI/UX Aspect
The next stage is to start developing the marketplace app. Designing the UI/UX of your application based on your specified target audience, goals, and features is the first stage in that process.
In most circumstances, it is preferable to develop an MVP for your application. The UI/UX design for this edition, however, should still be refined. A well-designed user experience and modern UI will help you gain more valuable input from the community and make an excellent first impression on your target audience.
4) Select the Relevant Technological Tools
Any technical marketplace app development issue that arises during the process can be resolved with the appropriate tools. Nowadays, there are hundreds of technological solutions, the majority of which perform a wide range of functions that frequently overlap. This makes it difficult to select the best marketplace app tech stack, which is often a question of developer preference. When you looking to develop your online marketplace you can hire app developers who have experience in designing mobile applications that offer seamless browsing, safe transactions, and intuitive user interfaces.
5) Continue With the Coding
Software development is the process of creating and coding programs that power and facilitate the seamless running of online marketplaces. An online marketplace program's front and back ends are made during the coding phase. The back end of an app refers to the server-side logic that underpins its functioning, including user authentication, data storage, and interaction with outside services. The app's user-facing front end enables users to interact with its features, including listing browsing, online shopping, and review publishing.
Both during and after the coding phase, testing is necessary. This involves identifying and fixing any bugs or functional issues with the app, as well as making sure that it functions properly on a variety of platforms and devices and meets the app's performance, security, and user experience requirements.
6) Launch the App and Enhance Your Reach
To build a successful marketplace app, you should try to appeal to as many individuals as you can. This demands that your program be accessible across several well-known social media platforms and that you can guarantee that it is scaleable and prepared for a sizable user base.
This is why cross-platform development technologies, like React Native, are so helpful for developing applications that are ready for the market.
You can develop your platform and make it accessible on both Google Play and Apple's App Store if you are still deciding which platform your target audience prefers (as is common with MVPs). The application of various technologies and frameworks to produce dynamic and aesthetically pleasing websites for online markets is known as web development.
A software development company with a focus on developing unique solutions for online markets and other industries. Hire app developers who have experience designing online marketplace apps and a track record of successful projects. A mobile app development company can assist you in creating user-friendly and efficient apps for your online marketplace.
How Much Does It Cost to Build a Custom Marketplace App?
Creating a marketplace platform is a complicated process that involves careful strategy, implementation, and management. The cost of the platform might vary depending on numerous aspects, including:
The higher the cost, the more complicated the marketplace app. A basic platform will be less expensive than a complicated platform with advanced functionality.
The cost of your platform may be affected by its design. A simple, minimalist design will be less expensive than a sophisticated, visually appealing design.
The hourly rate of the development team might also have an impact on the cost of establishing a marketplace platform. More expensive teams have more experience.
The cost of building a marketplace app could range from a few thousand dollars to several hundred thousand dollars depending on these factors. A basic marketplace app costs around $80,000 to develop. A platform with more capabilities and a higher level of sophistication might cost between $80,000 and $100,000.
It's vital to keep in mind that these are only estimates and that your project's particulars will determine the final price. A development team should be consulted for a more exact estimate. You can hire developers remotely to can collaborate with experts from around the world, and get access to a vast talent pool.
Also Read, Top 10 Educational App Ideas For Startups To Launch In 2023
The Most Popular Online Marketplace Mobile Apps in Canada
Amazon is a popular online marketplace app in Canada that provides a wide selection of goods in numerous categories.
eBay is another well-known Canadian online marketplace that links buyers and sellers by allowing users to buy and sell new and used things.
The Walmart app allows Canadians to purchase a variety of things, including food, gadgets, apparel, and more, with the added convenience of online shopping and delivery.
Canadian clients can quickly make purchases from an online marketplace for electronics, appliances, and entertainment devices by using Best Buy's mobile app.
Etsy is a popular marketplace app for handmade and one-of-a-kind things, connecting Canadian craftsmen and merchants with shoppers who value unique products.
Although not a consumer-facing software, Shopify runs several online marketplaces in Canada, allowing businesses to sell their products and services online.
Wayfair's app provides Canadians with a convenient platform for shopping and home renovation requirements, with a large range of furniture, home decor, and other household items.
Must Read, Top 10 Reasons Your Business Needs An Inventory Management Software
What are the Advantages of an Online Marketplace Software?
Connecting service suppliers and clients through a marketplace app. A marketplace approach streamlines the routine market transaction procedure, so its advantages don't just apply to you. The following are some benefits a marketplace app platform provides:
Marketplaces assist sellers in reaching a larger audience and facilitating customers' purchases. Customers may search for the services they want, and the app will connect them with the best vendors in a few simple steps.
You collaborate and partner with neighborhood businesses that are eager to assist customers. Customers can browse the offers made by several suppliers and select the one that best suits them, so to speak.
For buyers and sellers, a marketplace app platform promotes a safe online environment. Both parties can profit from its advantages at a reduced cost, in comfort, and with a top-notch user experience. You can build a superior marketplace website by hiring top-notch experts. Hire web developers who have experience creating scalable and secure platforms for online markets.

Wrapping Up
The increasing number of users and the expansion of the eCommerce industry only serve to emphasize the appeal of marketplace apps. And, based on current trends and statistics, it is not going away. When you could focus on establishing and maintaining the fundamentals, most of your time and resources would be spent on creating special features that set you apart from the competitors. Platform builders may always be used to create aesthetically beautiful apps with simple navigation. But how can you make a marketplace app that meets your demands and specifications as a business? Do not allow such little things to deter you from expanding your company.
You can either engage a marketplace app development company or assign the work to your internal team to get started on the project. Therefore, it's critical to consider all of your possibilities to make a wise and fruitful choice. As a leading software development company in Canada, we provide end-to-end development solutions. If you want to develop online marketplace software you can hire software developers from Hyperlink InfoSystem who can build a reliable and scalable platform.