All people enjoy music. There is frequently not enough time to listen to every song on a list and buy the ones you like. Thankfully, music streaming mobile app development has revolutionized how we consume music.

The global user base for music streaming services is anticipated to reach 2.81 billion by the end of 2025. We have an easy user experience and quick access to music thanks to modern technology and app development companies. Mobile devices and blazing-fast Internet connections only reinforce this propensity.

Before, people had to purchase expensive music CDs in order to listen to tunes. To listen to just one song, one needs to purchase the entire CD. MX players were also necessary if you wished to play a CD. Also requiring adequate care were the CDs.
The advent of the internet made life for consumers incredibly simple. Even though there was no copyright violation, music companies and artists nevertheless suffered significant losses as a result of this. Through the internet, people started to freely download and distribute music among their peers.

But times have altered! Running to the tape store no longer provides the same rush. You may use a lot of free music streaming apps to make things even more accessible. Additionally, the music of your choice is available for download online.

India's top online music streaming service is JioSaavn. Saavn, or South Asian Audio and Video Network, introduced one of the best music apps to India in 2006. Back then, it sold material for business-to-business sectors.
The app's user base has grown so significantly that it is now a global digital distributor of Bollywood, English, Tamil, Telugu, and other regional Indian music. However, chose to evolve into a business-to-consumer music streaming service.
Table Of Content
A Synopsis of the Music Streaming Industry
Introduction Of JioSaavn
JioSaavn's Business Model
Key Partners of JioSaavn
What Makes JioSaavn a Successful Music Streaming App?
A Splendid Music Streaming Platform Like Jiosaavn's Technologies
Cost To Build A Music App like Jiosaavn
Key takeaways
FAQS
A Synopsis of the Music Streaming Industry
A global market for music streaming apps has been made possible by the millennial-driven spread of high-speed internet, IoT, and cloud technology.
The market for streaming music and audio has experienced consistent growth and is anticipated to continue to do so. As a result, more and more musicians and businesses choose to have their songs and podcasts aired on music streaming services.

The last 10 years have seen an unimaginable increase in the demand for music streaming services as a result of improved technology enabling individuals to acquire goods and services quickly.
It's also the reason why the market has seen a recent influx of top app development companies like Saavn. Talk about how to create music apps like Saavn, for example. or "How do these apps generate revenue." As you keep reading, the answers will definitely become clear.
Also Read, Top 4 Live Cricket Streaming Mobile Apps In Canada
Introduction Of JioSaavn
JioSaavn is a platform with songs in 14 different languages. Saavn now has the rights to 36 million songs in nearly 15 different languages.
More than 22 million people use Saavn each month. Additionally, those who create fresh podcasts and independent music can upload them to JioSaavn. The search filter is another wonderful function given by JioSaavn app developers. One can use this to filter their search by artist, song, album, radio, and more.

There are numerous songs here that span many genres and tongues. This has been quite useful to them in developing their talent. Users can create a suitable playlist or select from the curated charts and playlists that JioSaavn creates based on their user preferences.

JioTunes is the next feature that is accessible to Jio customers. Users can very easily set caller songs using the JioSaavn app. Numerous options are available for this. If the music isn't already in the list of caller tunes, the user can ask for it to be added if it's not already there.
JioSaavn's Business Model
By 2025, the market for music streaming applications is anticipated to reach $17.50 billion.
According to Statista, 14% of people use paid music streaming services frequently. Saavn's business module is very dissimilar from Itunes'. Saavn purchases rights from record companies and makes money through subscriptions and commercials.
Additionally, it has produced a few of its original programs. For Rs. 120 per month, Saavn Pro subscribers can get uninterrupted, ad-free streaming. Reliance acquired the majority of Saavn's stock in March 2008 and merged with it. Right today, it is worth more than $1 billion.
Subscription-Based Revenue
Users have the option to subscribe and thereby enjoy music without advertisements. As The app JioSaavn is not entirely free. JioSaavn Pro is the name of this. If a user is brand-new to the application, they will receive three months of free JioSaavn Pro access before returning to the standard platform. A portion of the money from these subscription fees goes to JioSaavn.
According to the company's pricing policy, new users are entitled to free pro access for the first three months. After that, you can use the service for a low monthly and annual subscription fee of Rs 99 each. The user must pay and renew the membership if they want to continue using the pro service. Despite not being their primary source of income, this accounts for a sizable portion of it.
Advertising-Based Revenue
In addition to receiving money from subscriptions, JioSaavn also makes money by showing users-targeted adverts. JioSaavn generates income primarily through showing visual and audio advertisements on the app. This digital platform's advertisements bring in more money.
Various brands use the platform to connect with their potential customers and have an influence. On JioSaavn, numerous brands run advertisements. This is only available to customers who haven't signed up for JioSaavn Pro. The app is one of the top choices for marketers to use as an advertising platform because of its big audience and subscriber base.
Also Read, How Much Does It Cost To Create An App Like Netflix?
Key Partners of JioSaavn
To increase its revenue and reach, JioSaavn has partnered with a wide range of businesses in various industries. Here are some of JioSaavn's major collaborators.

Amazon The first music service to launch on Alexa and other voice assistants connected to Amazon was JioSaavn in India.

Android and iOS apps Prior to iOS, it was released originally on Android. JioSaavn has created apps that work on practically all platforms, including Android and iOS.It is now accessible through the Chrome Webshop as well.

Shazam As a result of this collaboration, Saavn's music collection was added to Shazam. Saavn was able to reach a bigger audience as a result.
Customer ratings improved along with the inclusion of new tools and improved experience. Customers got a better music-listening experience because of Shazam's numerous consumer interaction capabilities. They improved as a result of their partnership.

Sony Music, T-Series, Eros, Warner Music, and others are some of JioSaavn's additional partners. Nokia, Samsung, Lay's, General Motors, and other companies are also partners. Each important partner has increased JioSaavn's revenue and assisted in their expansion.
What Makes JioSaavn a Successful Music Streaming App?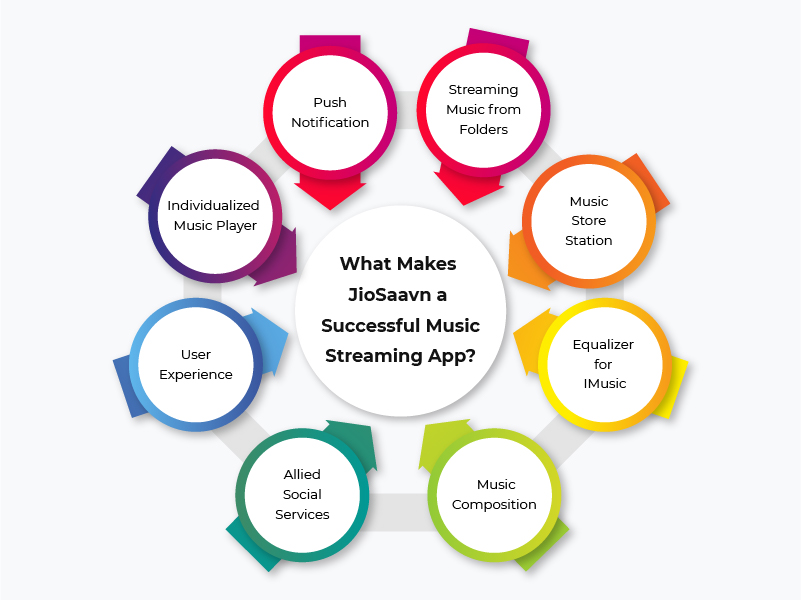 Certain characteristics must be considered when creating a music app like Saavn in order for it to stand out from the competition. While some of these are simple and obvious, others elevate the user experience of the app to a whole new level.
Streaming Music from Folders
While it's common knowledge that music apps limit the music that may be played within their user interfaces (UI), they happily accept any audio file that has been saved in any folder on the phone.
The ability of such music streaming apps to play songs that have been downloaded outside is one of its most appealing features. For those who are new to streaming and want to test the waters without sacrificing their own playlist, this function is fantastic.
Music Store Station
Music stores have a huge collection of carefully chosen tunes and audio files that are always accessible. Every streaming service that offers on-demand audio has a music store where users can download songs.
Equalizer for IMusic
There are several presets like Classic, Pop, Rock, etc. accessible, but if someone wants to customize the sound in their own way, an in-app virtual multiband equalization is also available. By including a built-in equalizer, users can adjust the sound output to their preferences.
Music Composition
For a simple and user-friendly experience, every music app offers the option to make playlists, queue songs, and sort favorite tracks. A good music streaming service must offer sufficient organizational tools.
Allied Social Services
By doing so, users can communicate with friends, find out what they're listening to, exchange tunes with others, and interact with communities of like-minded people. The majority of media streamers also give users the opportunity to connect to social media sites.
User Experience
When a user browses through a streaming app, it should be simple to use and have a smooth, informative flow. The characteristics that elevate an app to the next level are by far the user interface and user experience.
Individualized Music Player
People interact with an app on a deeper level when they apply their own unique aesthetic tweaks to it, which fosters brand loyalty. A music player can be made much more user-friendly by adding changes like typeface, color, and dark and bright modes, among other things.
Push Notification
Push notifications deliver the most recent information, such as song releases, new playlists that are already built, etc., as well as social updates from followers and friends.
The user experience for customers is improved by these features, which also significantly increase engagement and scalability. A small player that latches onto the notification bar while the player is active is also provided.
A Splendid Music Streaming Platform Like Jiosaavn's Technologies
You need to grasp how an audio streaming platform that can supply rich and potent audio content is constructed in order to comprehend how to create an app like JioSaavan or a similar music app for Android or iOS.
Every successful music streaming service began by focusing on a particular market niche while using the most basic technological support systems, and it subsequently grew its user base by including alluring features that increase user engagement and scalability.

A number of factors, including data storage, testing, UI/UX design and development, proxy servers, etc., are taken into account while creating music streaming software from scratch. All of a music app's features are made possible by these technical factors.
Key Technological Components of a music streaming service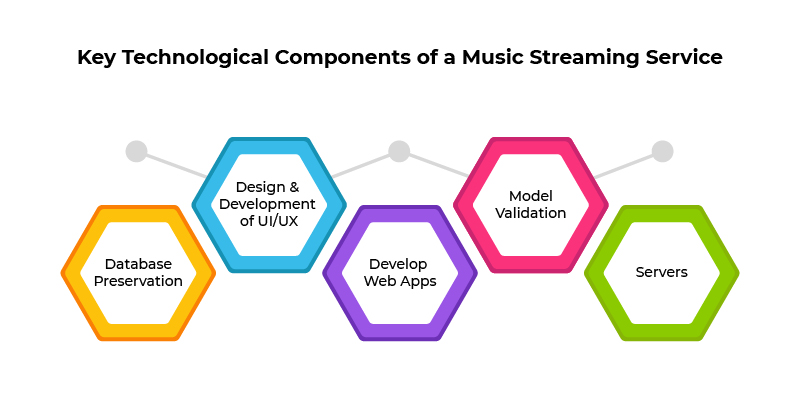 Database Preservation
You can store and encode an infinite amount of data traffic using Amazon S3's cloud storage facility in a safe and scalable manner.
You'll require an enormous quantity of storage capacity to create your database if you want to create a music app similar to JioSaavan. Your data is safeguarded from dangers and errors because of its architecture for absolute data durability, and you may access it whenever you need it from any system.
Design and development of UI/UX
Making an engaging and simple user interface that improves the user experience is the next step in creating your own music app. The best option to make it successful is to hire app developers. JioSaavn features an appealing UI and is comparatively simple to use.
When you subscribe, it supports 64kbps of audio quality, although 320kbps is supported. If you're a Pro user, you can also download music. With the use of the CEF software framework, Chromium may be integrated with other applications to provide web browsing features and give them access to HTML, Javascript, and CSS.
The UI of the program is built using CEF (Chromium Embedded Framework) in the majority of businesses. It is an open-source framework that works with various operating systems, including Linux, Windows, and macOS.
Develop Web Apps
Web applications like JioSaavn are frequently developed using the open-source HTML5 stack. Its APIs are simple to incorporate into webpages on practically all hardware and operating systems, including Android and iOS.
Great-quality media may be carried relatively effectively by an HTML5-based music streaming player due to its high scalability, customization capability, and interoperability.
Model Validation
Both native mobile apps and web applications always go through a thorough testing process where various test cases are examined for perfect functionality.
By implementing a design-centric testing strategy for offline, online, and event-driven test sequences, GraphWalker significantly increases efficiency. Model-based testing patterns are provided by tools like GraphWalker, which allows you to build your tests as graphs.
Servers
Any music streaming program must include proxy servers because they are necessary to transport audio, video, or indeed any multimedia data over the internet.
High-performance open-source web servers with NGINX come with multi-layer security and end-to-end encryption. These are the prerequisites for launching a music streaming service from the beginning. These proxy servers monitor online traffic and filter out malicious and questionable content, serving as an efficient content filter.
However, there are various approaches and audio streaming programs like Vplayed, Contus Vplay, and Wowza that offer you a comprehensive package of all the aforementioned features.
Cost Of Building A Music App like JioSaavn?
A lot of different elements and variables affect how much it costs to produce a music app like JioSaavn.
Storage
Web Hosting
Backend Development and Technology
Designing
Storage
Storage costs vary depending on a number of factors, including size, transfer rates, management systems, and security procedures. The efficient operation of any service, whether online or offline, benefits from maintaining a well-equipped and structured storage facility. A larger payment will be required for more features.
Web Hosting
Web hosting service providers offer a wide range of features and compatibility options, which also contribute significantly to their price point and are a crucial component of the skeleton of the streaming app.
Backend Technology and Development
The price point of this expense aspect cannot and should not be compromised between using the most recent technology developments and hiring skilled app developers. Any web or native app's backend is extremely important and requires expert management.
Designing
The design serves as the interface between the client and the service, making it just as crucial as the underlying technology. Making the front end intuitive and user-friendly requires strong UI/UX design.


Key Takeaways
The JioSaavn business obtained the rights to more than 50 million songs in 15 different languages. It is an Indian digital distributor of Bollywood, English, Tamil, Telugu, and other regional Indian music as well as an online music streaming service. Their mission was to unite content, commerce, and culture for the benefit of the entire ecosystem of label partners, brand advertisers, and independent artists.

Since JioSaavn is a freemium service, its fundamental functionalities are provided without charge but with restrictions or adverts. Paid subscriptions are required to access extra services including higher-quality streaming and song downloads for offline listening.

And sincerely hope that using JioSaavn as an example will help you create a music streaming application.