As eCommerce becomes a more popular method of doing business, an increasing number of businesses are looking to build their eCommerce websites. However, with so many platforms and options available, it can be difficult to know where to begin.
The eCommerce industry has grown interestingly during the global pandemic. Electronic commerce refers to the buying or selling of goods electronically using an online marketplace or the Internet. Computers, tablets, smartphones, and other smart gadgets can be used to do e-commerce. E-commerce transactions make almost any good or service accessible, including books, music, airline tickets, and stock trading.
The growing demand for convenience is driving the emergence of a digital-first culture, which is causing a rapid expansion of the e-commerce sector. According to analysis worldwide, e-commerce sales will reach US $6.3 trillion in 2023, supporting this upward growth trend.
This growth opens up a massive market for companies looking to sell their goods or services online. Traditional brick-and-mortar companies are quickly embracing change and creating online outlets for their interests, while some still have physical stores.
Businesses need to be nimble, to stay ahead of the competition and focus on the best tactics to accommodate the latest developments. In this article, we will discuss How you can start your e-commerce store and what strategies you can use to enhance your e-commerce store.
Also Read, How To Develop E-Commerce Mobile App Like Noon
How To Start A Successful E-commerce Business?
Step 1: Choose the most effective e-Commerce solution
The first step in launching an eCommerce business is determining what products or services you will provide. This can be difficult, especially if you don't know what kinds of online products people want to buy. Conduct some research to determine what people are looking for. Once you've decided what you're going to sell, you can begin creating product listings and designing your store.
Before you begin designing your store or adding products, you must first determine who your target audience is, and it will assist you in deciding what products to sell, how to market your store, and how to lure your target audience through website design.
Step 2: Decide the type of e-commerce you want to start after researching e-commerce models.
Given the size and level of competition in the modern e-commerce market, it is crucial to plan your e-commerce company model. There are four fundamental kinds:
Business-to-customer (B2C)
A typical business strategy in which an organization sells products to customers, starting from spices to shoes. B2C companies like Amazon, Walmart, and Alibaba can sell several brands under one roof.
Business-to-business (B2B)
Businesses sell goods or services to other businesses, in business-to-business (B2B) models. Orders frequently involve repeat purchasing. Rakuten, Alibaba, and Amazon Business are a few examples.
Customer-to-customer (C2C) models
Online marketplaces that link consumers to trade products and services are a common feature of C2C models. Online C2C companies like Craigslist, Etsy, and eBay are available.
Customer-to-business (C2B)
In a C2B transaction, people provide their products and services to businesses. Upwork, which enables companies to recruit independent contractors, is a good example.
Step 3: Plan Your Business.
You are prepared to create a business plan after laying the groundwork for it. The written document outlines your goals and a path for operations, finance, and marketing. It can help you arrange yourself and draw in possible investors.
Discover the market environment and present rivals for your product or service by conducting some research.
Step 4: Choose a company name and begin developing your brand.
Your company requires a name and a distinct brand identity next. The brand is essential to the success of your company if you are beginning a white-label e-commerce business.
Though it might be enjoyable, picking a company name necessitates some strategic consideration. You should make sure the web domain, social media handles, and legal name are all available in addition to having a distinctive yet simple name that accurately describes your product. Do your homework to ensure that it is culturally inclusive, especially if you want to expand internationally.
Step 5: Incorporate Your Company
Before starting your firm, you must register it by deciding on a legal structure, requesting an employment identification number (EIN), and acquiring any further permits and licenses required by the business model you have chosen.
Step 6: Create a website for your online store.
The next stage is constructing an e-commerce website when the necessary paperwork has been signed and your company has been duly registered. Your company's website serves as the "storefront" where customers can come, browse, and add products to their shopping carts. Your success depends on the operation of your company website.
Step 7: Choose the platform
It is difficult to choose the best eCommerce platform for your business. Any business owner must take into account numerous crucial platforms such as Shopify, Bogcommerce, WooCommerce, etc., given the abundance of options.
Choosing the ideal platform for your business will be crucial to determine its success. You can choose the best platform that can help you with your e-commerce development process. To simplify the process, you can reach out to web developers of Hyperlink InfoSystem to leverage their expertise and knowledge about the perfect web development platform.
Step 8: Find suppliers and create your goods or services.
You can start adding the names, descriptions, and images of your products once you've put up a prototype of your website. Additionally, you'll need to acquire your products, whether that entails developing them yourself in production or sourcing them from a wholesaler.
You should make enough inventory, if you're a craftsperson, to last the first several months. This could entail producing 20 pottery pots in each color and size or one of each color and size of a garment line. This figure will fluctuate based on your labor capacity and your marketing approach, such as how much traffic you're bringing to the launch of your website.
After that, logistics including branded packaging, warehousing, shipping, and inventory management will need to be set up.
Step 9: Start your business and market it.
Once your firm has been established, you can start tracking your metrics and key performance indicators (KPIs) as it expands. To increase visitors to your brand, keep experimenting with different digital marketing strategies.
You'll want to make sure that your shipping and fulfillment operate successfully for every customer among the inventory management, logistics, and marketing. It is a good idea to create backup plans in case something goes wrong.
These are the steps to start an e-commerce business. You can follow these steps to build your e-commerce company.
If you want to build a successful e-commerce brand, we will explain how you build the best e-commerce brand. E-commerce website development is the best thing. With an e-commerce website, you can raise your business. Moreover, it helps market your brand and services.
Now that we have established the concept of e-commerce brands, let's discuss what factors you should consider for E-commerce development.
Also Read, Top 5 Ways Virtual Reality Will Transform ECommerce
Factors to Consider For E-commerce Development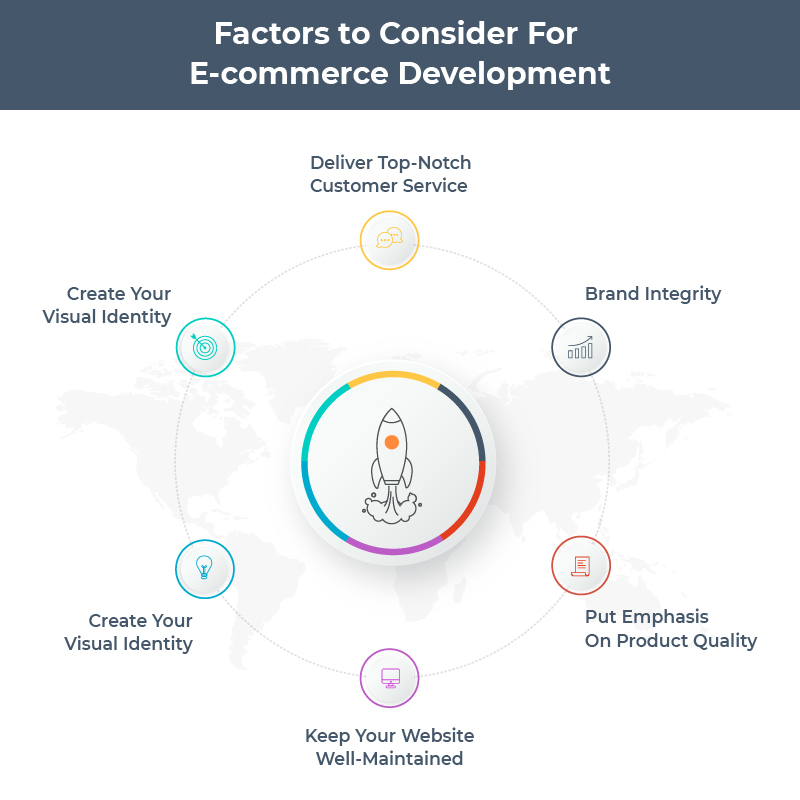 We have outlined successful e-commerce strategies that can help you develop your eCommerce brand. They are necessary for any e-commerce company that wishes to differentiate itself from the competition.
Take a look at some powerful techniques for building your eCommerce brand;
Put Emphasis On Product Quality
In all honesty, modern buyers won't tolerate inferior goods! The most well-known and well-liked eCommerce businesses produce and market high-quality products and services.
If you are starting a new eCommerce brand, you may focus on just one premium product. This is because it is simpler to give your product's overall quality and performance more attention.
Deliver Top-Notch Customer Service
Customers are what drive a business to success. Because without customers, you don't have a business! Giving feedback is made easier for customers by excellent customer service. It enables you to understand what your clients are considering and how you may improve their lives.
Responding to customer complaints will assist your eCommerce brand in figuring out where its business is falling short.
Moreover, Chatbots are revolutionizing e-commerce and empowering companies to provide superior purchasing experiences. The use of AI chatbots in business is rapidly expanding. By 2024, the global market for chatbots will be worth more than $1.3 billion, predicts Global Market Insights. Chatbots streamline a broad matrix of complex interactions and advance enterprises as part of a larger transition to automate corporate processes and technologies that support customer care in the e-commerce sector.
To effectively represent the brand in daily operations, your eCommerce brand should have a single narrative and a unified identity. A crucial step in achieving consistency across all mediums is creating style guides.
Avoid employing several styles or voices when representing brands with all available tools. They have the potential to erode consumer confidence and render your brand generic. Develop a website that reflects your brand voice with the help of a web designer who understands your brand voice.
Any eCommerce business must focus on the correct core population to be successful. For you to connect with their demands, you must accurately define your target market's reachable size and availability.
A new eCommerce company may be tempted to think that any web user is a potential customer. Despite being optimistic, it might not be feasible.
A vast resource that is increasingly gaining in popularity is social media. There has never been a better opportunity for an eCommerce business to leverage social media platforms for brand building.
An eCommerce company might establish a social media profile that emphasizes engagement and client support. You can hire web developers with prior experience that can understand your target audience and build a website accordingly.
Create Your Visual Identity
You want something original, memorable, and pertinent to your business while developing your brand's style. It should be determined by the objective of your business and consumer purchase patterns.
Because they are simpler to comprehend and consume, visuals are essential for building a brand online. They also aid in product branding. You want people to be able to identify you with one glance at you.
Additionally, consumers respect honest marketing. The aesthetic of your company must be acceptable and dependable. To achieve the best outcomes, use a good style that accurately reflects your company's mission. You can hire the best web designer for e-commerce web development and they can help you create your visual identity and make your brand successful.
Keep Your Website Well-Maintained
The process of maintaining a website optimized, operating efficiently, and performing at its best is known as website maintenance. The secret to a successful online presence is routine website maintenance, which may help you prevent problems that could harm your business, including hackers, poor SEO rankings, data loss, unsightly design, and many more.
You should keep your website updated and enhanced to ensure that it meets all the trends and technologies to give your users a better experience. If you want to provide a rich experience to your customers then, VR-based shopping allows users to view 3D images of the product and also see how the product will appear on them when they wear it.
Success E-commerce Strategies In 2023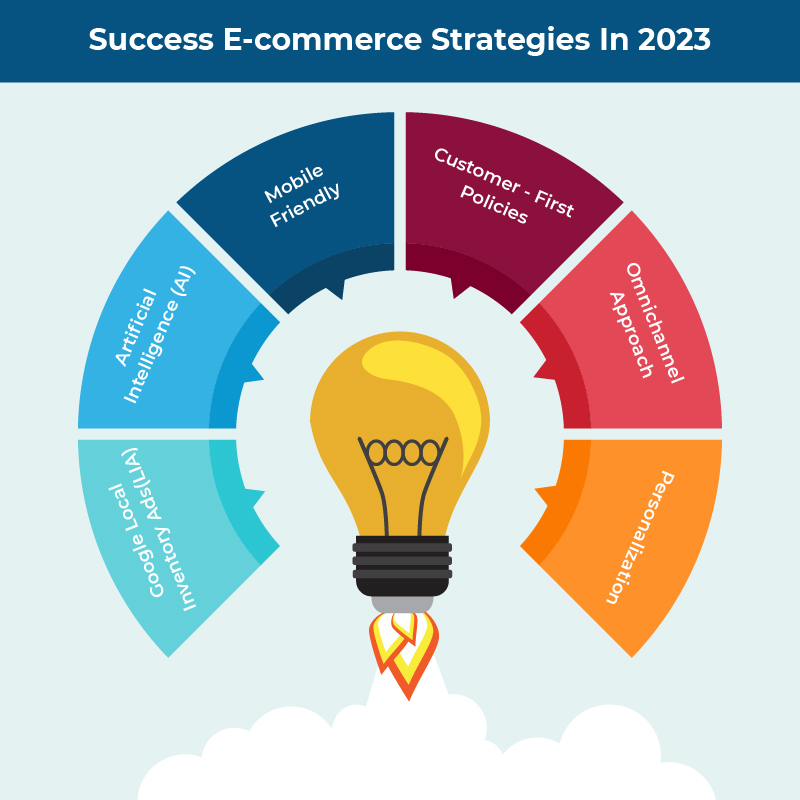 Among the many successful e-commerce strategies and trends to watch in 2023, here are the top ones:
1) Mobile Friendly
According to mobile-focused marketing strategies, they are on their phones when you need to reach your clients. According to Statista, By 2025, it is estimated that the value of e-commerce retail sales will reach 8.5 trillion U.S. dollars on a global scale. Therefore, for e-commerce firms to remain competitive, you must optimize your consumer experience for mobile.
With huge font sizes and buttons, a mobile-friendly e-commerce site will always adapt to the user's screen size. It loads quickly and has a simple design. Order updates, automatic two-way interactions for things like product recommendation quizzes, and accessibility to customer care can all enhance the customer experience.
2) Customer - First Policies
Customers are more likely to try your items when you have customer-first rules in place, which helps to increase customer satisfaction. For the customer's financial protection if the product is a failure, don't forget to offer free shipping and returns. Customers will feel more at peace and have more time to decide if there is a 30-day or longer return period.
By implementing a guarantee, businesses may assure that customers can easily return or exchange a product if they are dissatisfied with it or if it malfunctions. This can be crucial because consumers are becoming pickier about where and how they spend their money. Furthermore, it will allay any worries concerning product durability.
3) Omnichannel Approach
An omnichannel approach is yet another amazing strategy for e-commerce businesses. You might have heard about this so many times all these years. One of the reasons omnichannel is going to rule 2023 is its sales-focused approach.
Omnichannel offers tons of benefits for various segments whether you consider it for marketing, Sales, or even service strategies. It allows you to offer unique user experience and customer support through multiple channels such as the website, social media, phone, live chat support, and more while streaming all of them together.
Omnichannel allows your customers to reach out to you through the medium they are most comfortable with rather them forcing them to choose one of the assigned ways only. All you have to keep in mind is to keep your customer data synchronized through all the channels. It will not only allow you to offer a unique user experience but will also minimize the chances of rework you might have to do to manage the customer data.
4) Personalization
Another tenet of a successful eCommerce strategy is personalization. If you want to stand out in a crowded market, make sure your company customizes the buying experience for your customers. This can be done in a variety of ways, such as making product recommendations based on their previous purchasing patterns or sending them tailored discounts and offers.
Another way to personalize the purchasing experience is to use consumer information to create a more specialized experience on your website or mobile app. You could, for example, use their location to display items relevant to them or their purchasing history to display comparable goods that they might be interested in.
5) Google Local Inventory Ads(LIA)
There is no denying that over the past few years, Google LIA has grown in popularity. In 20 nations, including Australia, Austria, Brazil, Canada, Denmark, France, Germany, Ireland, Italy, Japan, the Netherlands, New Zealand, Norway, Poland, Spain, Sweden, Switzerland, the UK, and the US, Google has launched this project since it began in 2017.
Your eCommerce company needs to take action as Google keeps expanding its project to more and more nations. Check to check if Google LIA is available in your country.
6) Artificial Intelligence (AI)
The ability of eCommerce businesses to provide better client experiences and come up with innovative solutions is significantly impacted by AI. There is a lot of potential for AI solutions to assist eCommerce businesses with their daily operations and make them more focused and effective.
According to a HubSpot poll, many AI solutions are now so simple and convenient that 63% of people need to be made aware they use them. This demonstrates that you may inadvertently utilize AI without your users realizing it on your eCommerce website.
Your clients will be more likely to choose the proper item the first time if AR is used to preview products. Additionally, AR enables online shoppers to preview goods or use services in their own space and at their own pace before deciding whether to make a purchase. The realm of augmented reality shopping could appear to be a sci-fi future. However, firms are already utilizing augmented reality to market items.
We have discussed the above key e-commerce trends to look out for in 2023 based on the global e-commerce market.
Conclusion
The first hurdle is setting up your internet store; the second is expanding it. Consider incorporating some of these trends into your online plans for 2023 if you want to outperform the competition and make your store stand out from the crowd.
You do not have to make a significant investment in something that you are not confident will succeed. Try to start small with a limited number of clients and then iterate from there.
Customer experience is the one overarching trend that all others fall into in some fashion. You must give your customers the finest possible experience. Having a website that looks excellent on all devices, providing them with enough ways to finish their transaction, or providing total transparency and flexibility with their delivery options are just a few examples.
With the proper e-commerce growth strategy, your brand can adapt to the shifting global e-commerce market and prosper in the upcoming year. To optimize the customer experience, integrate your marketing and customer service software ecosystem. To help you develop your plan, use time-tested capabilities like automatic two-way chats, dynamic audience segments, and white glove services.
You should consider all e-commerce growth strategies to make your online store successful. Also, you can hire dedicated web developers to build e-commerce websites.
The Hyperlink InfoSystem has an expert team so you can hire web developers and take your business to new heights!